Brick Underground supports our readers with product recommendations specifically curated for New Yorkers. If you buy something through our links, we may earn an affiliate commission.
This $489,000 one bedroom in a brownstone at 341 West 87th St. on the Upper West Side looks dated in places, but architect Carl Shenton of Shenton Architects says that some of its old-fashioned elements give the place its soul.
"A lot of the original details seem to have been left in good shape," he says, singling out the old-school hearth, the wainscoting, and the trim around the windows. In short, he says, "the place has good bones."
Still, Shenton believes that there is much that can be done to modernize the space, including opening up what he calls "that typical 1980s" pass-through kitchen.
For this week's Reno Ready, Shenton revealed what else he'd do to update this apartment. Here are his recommendations.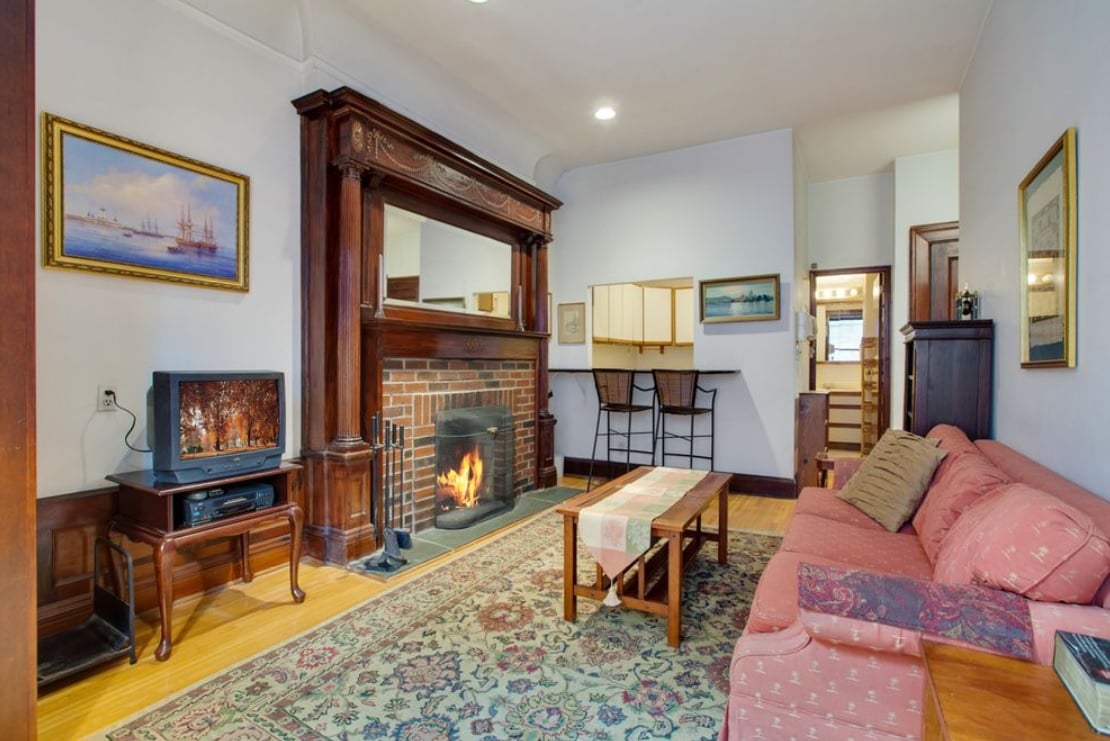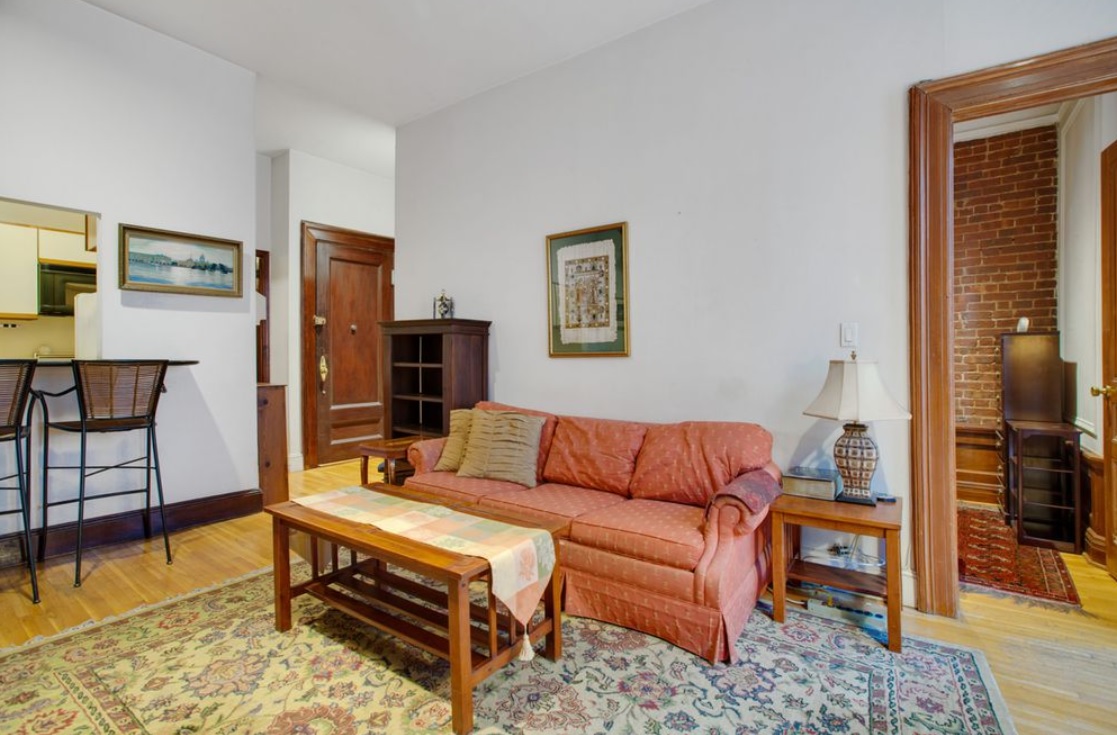 Living room (pictured here and at top)
Floors: Shenton isn't a big fan of the yellowish tint that these ancient wood floors seem to have taken on over the years. He suggests "sanding them down to the bare wood, then doing a whitewash stain, which will soak into the wood, making it lighter in color." He believes that this lighter, more modern look should cost around $1,500 for the entire unit.
Trim: Shenton would treat the wooden trim around the windows and the wainscoting above the wood-burning fireplace similarly to the floors. He'd first strip the wood, which has gotten nicked up and discolored over the years, and then add a semi-transparent stain that coordinates with the floor.
"This will unify the apartment," he says. "Everything will be a palette of light and white colors." He thinks that this process should cost between $2,500 and $3,000.
Radiator: The current white paint on the radiator is a bit "monastic," says Shenton, who advises spray-painting it in a gunmetal shade.
"It'll really pop and become a real feature in the apartment," he says. He thinks this should cost around $250.
Paint: Shenton would opt for a neutral white in this room, as it'll coordinate well with the newly whitewashed floors and trim. He'd go with Benjamin Moore's Snowfall White, which he describes as "white with a little warmth to it." He'd choose paint with a matte finish for the walls because "it's cleanable, but non-reflective."
For the ceiling, he'd go with the same shade of white, but in a flat finish because it'll make the ceiling look higher. A gallon of Benjamin Moore's Aura Interior line of paints is $75.
Fireplace: "If someone's looking to do a quick cosmetic fix here, the brickwork in the fireplace and in the bedroom would be the thing to do," Shenton says.
He proposes a paint process that'll use a dark gray undercoat and a lighter gray top coat to turn the brick a specific shade of gray that he feels will be complementary to the new gunmetal color on the radiator. As for the slate or granite beneath the hearth, he'd keep it as is.
"It just needs a good cleaning," he says. He believes that this paint process for the bricks on both the fireplace and in the bedroom should run around $2,000.
Lighting: "The lights in here are probably from the '80s or '90s," he says, explaining that large recessed lights that are around 6 inches in diameter were all the rage back then. He'd remove those and replace them with smaller recessed lights that are only about 3 inches in diameter.
"These days, we look for smaller, deeper fixtures," he says. "You don't want to see the bulb. You just want it to be functional." He says that such fixtures should cost around $50 per piece.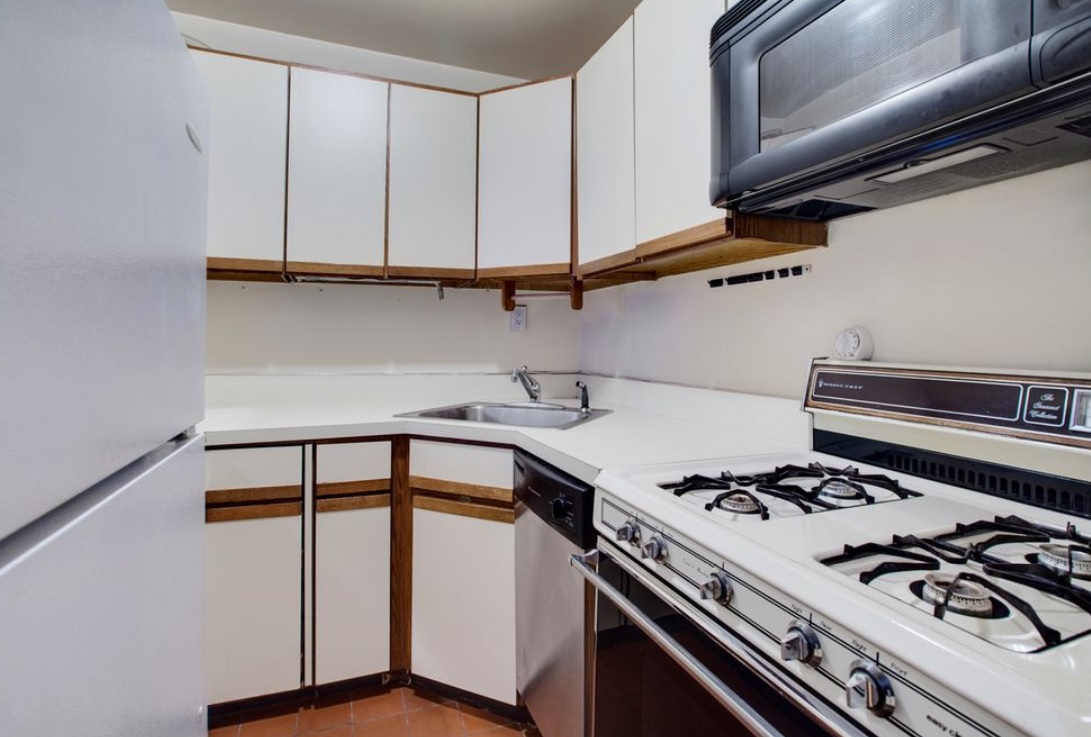 Kitchen
"In the 1980s, people wanted enclosed or semi-enclosed kitchens," Shenton says.
Nowadays, the opposite is true—many people want floor plans that are as open as possible. He'd start his renovation of the kitchen by knocking out the wall with the little breakfast bar that separates the kitchen from the living area, which will open up the space.
Cabinets: He'd remove all existing cupboards and replace them with new ones that extend all the way to the ceiling.
"I'd probably go with IKEA cabinetry here," he says. "It's difficult to beat in terms of quality for price point." He likes the Swedish company's high-gloss white Sektion cabinets with Ringhult doors.
"It's a modular system so it's easy to find things that fit your space," he says. Plus, the white will make the room look a lot bigger. He thinks that all new cabinetry can probably be purchased for around $4,500 from IKEA.
Countertops/Backsplash: Shenton would choose Carrara marble—which has a gray and white background with strong gray veining—for the countertops because it would go well with the whites and grays throughout the living space.
"It's modern, but also very classic," he says. He'd do the backsplash in the same material. The marble is around $60 per square foot installed, Shenton says.
Appliances: All new appliances are in order here. Shenton would suggest a built-in oven with a separate stovetop built into the counter instead of the free-standing range that's there now.
"It'll make the kitchen look less choppy," he says. He'd get a new dishwasher and put a panel on the front of it so that it'll match the surrounding cabinets. He'd also get a new fridge and a microwave. This 30-inch built-in Bosch oven is $1,614 at houzz.com. This 30-inch Bosch cooktop is $999 at Sears. This 24-inch panel-ready Bosch dishwasher is $900 at Best Buy. This Liebherr 30-inch counter-depth fridge is $3,209 at AJMadison. This Bosch 30-inch over-the-range microwave is $699.
Sink: He'd get a more contemporary sink, like this Kraus under-mount stainless steel single basin, which he calls "crisp and modern." He'd also get a new faucet, like this Grohe single-handle pull-out one. The sink is $234 at houzz.com. The faucet is $433.30 at The Home Depot.
Floors: "I'd take out the nasty terra cotta tile and have new oak flooring installed to match the rest of the apartment," Shenton says. He'd likely have to level the floor first, then add a new sub-floor, as well. He believes this should cost about $1,200.
Lighting: Shenton says he'd install under-cabinet lights, like these simple LED tape lights from WAC.
"They're very inexpensive and they give off very uniform lighting," he says. And since you also need functional lighting in a kitchen so as to be able to see what it is that you're cooking, he'd opt for four recessed LED lights. Prices for the under-cabinet lights start at $20 per 6-inch length at YLighting. Shenton thinks that the recessed lights should cost around $50 per fixture.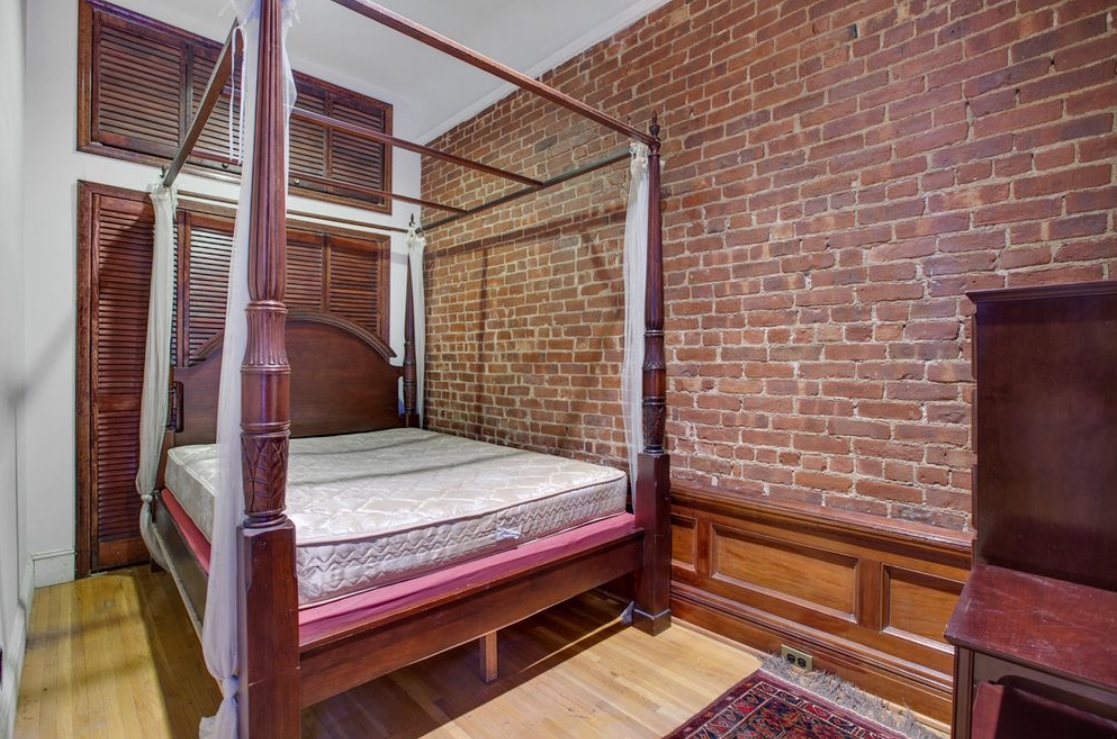 Bedroom
Shenton would do a lot of the same things to the bedroom as he would to the living room to keep a sense of continuity throughout the unit.
Brick wall: Shenton would use the same paint process on the bricks here as on the fireplace, painting them with a dark gray topcoat and a light gray undercoat. He thinks that this paint process should cost around $2,000 for the entire apartment.
Wainscoting: Shenton would strip the wood, and add a semi-transparent stain like he did in the living room. He thinks that this process should cost between $2,500 and $3,000 for the whole unit.
Paint: "I'd go with the same white as in the living room," says Shenton, noting that if you're doing the brick in gray, then that'll be enough of a feature in here. The rest of the room can be neutral. A gallon of Benjamin Moore's Aura Interior line of paints is $75.
Floors: Shenton would once again sand down and whitewash the floors, so that they'll look uniform throughout the home. He thinks this new flooring should cost $1,500 for the whole apartment.
Lighting: Shenton says he doesn't think recessed lights are necessary in a bedroom. He'd prefer a bedside or floor lamp.
"It'll give you warmer, more atmospheric lighting," he says. Prices for this FLOS Spun Light T-Table lamp start at $1,095 at YLighting.
"It's a little expensive, but in my view it's a beautiful modern design that is also somewhat timeless," Shenton says.
Closet doors: "The big visible thing here are those closet doors," Shenton says. "They're not original and they're fairly ugly."
As such, he'd try and make them look more like a wall so that they don't draw the eye. He'd get ultra-light medium density fiberboard, which, he says, can be easily cut into rectangular shapes. He'd have the contractor make simple flat rectangular doors and paint them to match the walls. He'd use concealed cabinet-type hinges, so that when the doors are closed, they stay hidden, and put on nice-looking pull handles.
"It'll look much more integrated and they'll be less distracting," he says. Shenton thinks that making and installing these doors should cost approximately $2,000.
Bedroom door: "The trim around the door looks historic, but it's not historic," Shenton says, explaining that brownstones weren't carved up like this way back when. He'd get rid of the door in favor of solid-wood pocket doors that will allow the room to be open to the living room when the bedroom's not in use.
"It'll make the space look larger," he says. And when the bedroom is being used? Just close the doors. He believes these doors should cost $2,400 installed.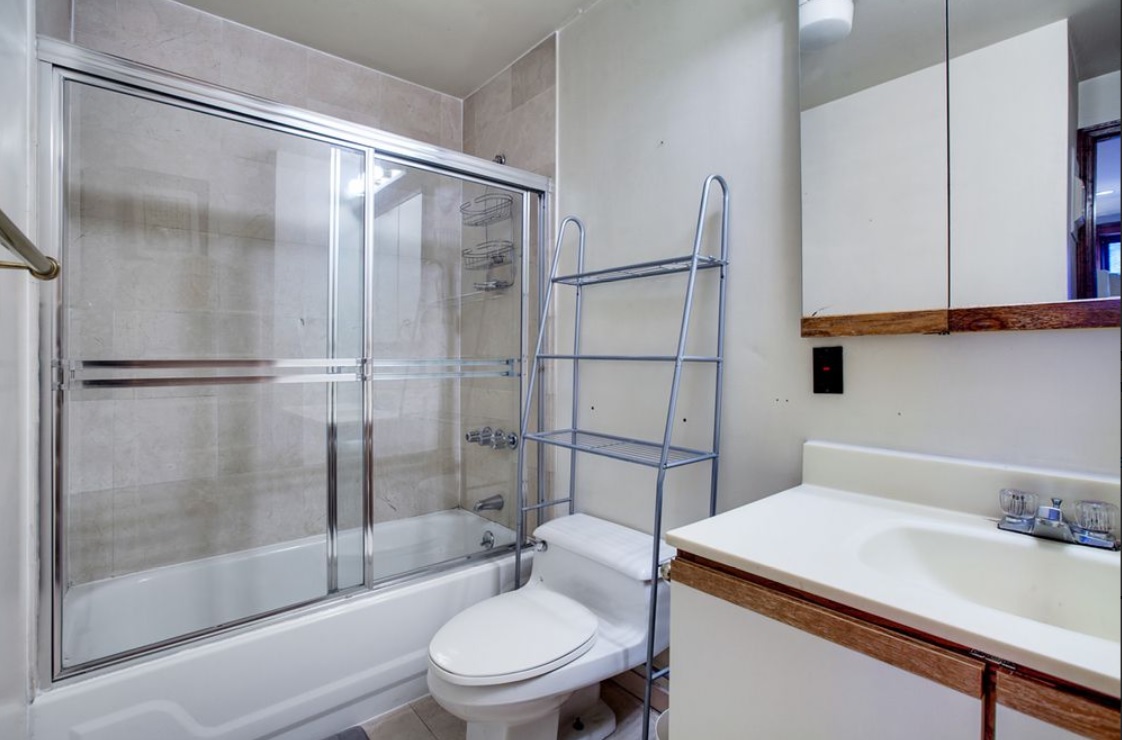 Bathroom
Replace everything except the bathtub, Shenton says. 
Toilet: "This looks like a Kohler from the '80s," Shenton says. "A more modern one will work better. This Duravit is $640 on YLiving.
Shower doors: He'd keep the classic cast-iron tub, but he's not a fan of the sliding glass doors, which he says make the room look smaller than it actually is.
"You can use a simple curtain rod with a shower curtain," he says. "It'll add a softness to the space." This tension rod is $23 at Bed Bath & Beyond. This striped shower curtain is $40, also at Bed Bath & Beyond.
Vanity: Shenton would recommend a floating vanity that'll make the floor look bigger. This IKEA Godmorgon vanity with two drawers is $479, and Shenton says "it has a nice finish."
Faucet/shower head: You could save money by purchasing an IKEA vanity and sink, but Shenton would splurge on a name-brand faucet and shower head.
"People don't really focus on who made the cabinets, but they do focus on the faucets," he says, so if you're looking to sell again in a few years, showier fixtures are the way to go. This single-handle faucet is $228 at efaucets.com. This Grohe rainshower shower head is $482.30, also at efaucets.com.
Medicine cabinet: Shenton would replace the ancient-looking medicine cabinet with a newer, more contemporary piece. This Robern M-series medicine cabinet is $1,949. It can be customized to include a light.
Tiles: Shenton says stone tiles for the floor in a grayish color would be ideal, as they'd be in keeping with the rest of the unit's color scheme. He believes that such tiles should cost around $15 per square foot. He'd then use white ceramic tiles to cover all walls in the bathroom.
"It means you don't need to worry about the backsplash behind the sink, and it also unifies the whole bathroom space," he says. "Plus, it's more functional around the toilet and vanity," since it'll be easier to clean. He thinks that prices for the ceramic tiles should start at $5 per square foot.
Lighting: There might be some light coming from the new Robern medicine cabinet, but Shenton would also add three recessed down-lights, including one over the bath/shower area. He'd also add some sconces on either side of the medicine cabinet. He thinks that the recessed lights should cost $50 a piece. These linear white sconces are $133 each on houzz.com. If you have a little more money in your budget, prices for these thin surface-mounted lights start at $500 at juniper-design.com.