Transitions
From Williamsburg to Greenpoint: We outgrew our place and got a deal on a duplex in a historic district
The couple's 1,100-square-foot two bedroom sold almost immediately for $1.75 million in cash
The three-bedroom duplex they bought was listed for $2.8 million and they got it for $2.25 million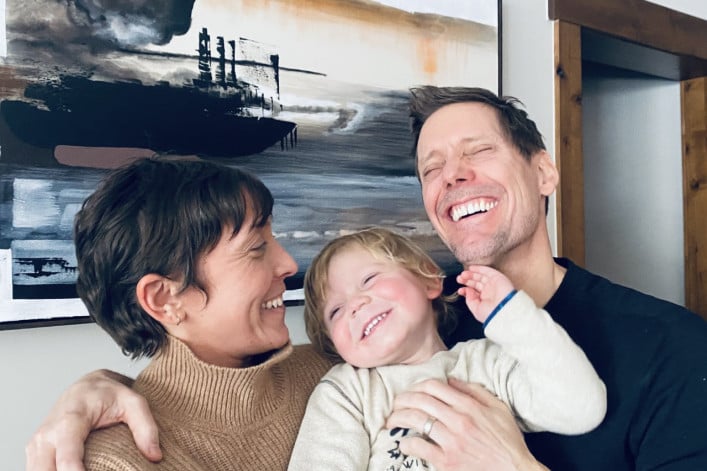 Having met and married in California, Kristin and Mark moved into her Williamsburg apartment, started a family, and began craving more space and a different neighborhood vibe. They landed a dream duplex in Greenpoint, near friends and good schools. Here's their story. 
I was born and raised in Western Colorado and moved to San Francisco in 1999 to work for two dance companies—BANDALOOP and Joe Goode Performance Group—before landing in Los Angeles in 2007, where I continued touring as a dancer but also became a professional puppeteer and aspiring screenwriter.
Kristin was born and raised on Long Island and has lived in New York City since college. In 2012, she bought her first apartment on McCarren Park at the nexus of neighborhoods she loves most: Greenpoint and Williamsburg. Coincidentally, in 1998, just out of college, I did a small show at Cunningham Studios with a forgotten dance company and stayed several weeks in a building on Wythe that was likely condemned before the turn of the millennium—Williamsburg was a different neighborhood then, as was Greenpoint, where I lived from September 2001 through the summer of 2002 to work with NYC-based dancers and choreographers before resuming my BANDALOOP tours. 
From LA to NYC and back again
We met in 2015 when Kristin, an interior designer, moved in across the street from me in Santa Monica—she had followed the urge to pack up and go west for a different pace of life, renting out her NYC apartment and embarking on a career in interior design in LA. We married in 2018 (having moved to Venice Beach proper), then decided to try life as a committed couple in NYC. She told me early on she would always be a New Yorker, and I have since come to understand what that meant.
---
[Editor's Note: Brick Underground's series "Transitions" features first-person accounts of what it's like to move from one New York City neighborhood to another. Have a story to share? Drop us an email. We respect all requests for anonymity.]
---
We officially moved into Kristin's North Williamsburg two-bedroom, two-bath place, which was 1,100 square feet in the spring of 2019 after Kristin completed renovations. We added built-ins and a window seat overlooking the park with a view of the Empire State Building; gave the kitchen and bathroom some Scandinavian-inspired upgrades; and added special accommodations for our dog—who sadly died on the trip from California. 
The apartment was in a 17-story building with a decent gym and an amazing observation deck that was great for July 4th! It had amazing green-space views from the front living space and the back bedrooms. 
However, apartment life was a little tough for me because I felt confined by not having direct access to the street—especially as the pandemic loomed. What's more, the elevator would occasionally break down (it has since been corrected), and that only upped my lifelong aversion to elevators
Still, we loved the area. The farmers' market and our favorite restaurants were right outside our door: Lilia, Reunion, Casa Publica, Name Nori, and, with a little walk, Birds of a Feather. It was also easy to hop on the L train; we also parked our car at a valet lot next door.
While living here, Kristin worked freelance with design clients, and I got a job as a marketing/community manager at the yet-to-open VITAL climbing gym, right before the pandemic struck. 
When Kristen got pregnant in 2020, one of her clients reached out with a big project in LA, so we jumped back to Venice Beach. Kristin oversaw a gut reno of a home there, as well as a few other projects in the region, and our son, Elio, was born at Cedars-Sinai in March of 2021.  At first, the idea was to be bi-coastal, but being bi-coastal with a toddler quickly lost its charm.
Why they sold their Williamsburg apartment
We realized we all needed stability and decided to move permanently to NYC, only we wanted to find a larger home for our family. Plus, the Williamsburg vibe began to feel a little younger than we felt. 
Working with Sean Brewer, a broker at Compass (he is now at The Agency), we put our Bayard Street apartment on the market in early September with the stipulation that we would have until the beginning of 2023 to move out. It sold almost immediately for $1.75 million in cash. With less than three months to find a new place, we went on the hunt for a three-bedroom/two-bath home where Elio could easily spend the next 10 years.
We wanted room for him to play and for grandma to visit, preferably with private outdoor space. We also wanted good schools and parks nearby. Our budget was $2.4 million.
Sean was amazing—we knew he was the broker for us. By some crazy coincidence, we found out (on the very first apartment visit together) that he and I were born at the same hospital in small-town Colorado! 
We saw about 10 homes in Park Slope, South Slope, and Windsor Terrace, along with several condos in Greenpoint. We put offers on two properties in Windsor Terrace, one of which was accepted, but we backed out after the inspection. Then we made an offer on a South Slope property (it seemed there was a buyer in place before the home was listed) and were outbid on a beautiful home in Park Slope.  
How they landed their dream duplex
By December, we had lowered our expectations and considered moving to Long Island. Meanwhile, our NYC-based insurance approved plans for Elio—who was born with a genetic condition that increases his risk for pediatric cancers and requires careful monitoring—to be seen at Children's Hospital of Philadelphia, a lucky and not forgone conclusion. If we left the city, we would have to get a different insurance plan and roll the dice on whether his screenings at CHOP would be approved again.  
 
We decided to punt for a lateral move and try for a two-bedroom, two-bath home with some kind of bonus room and hopefully outdoor space in the same neighborhoods, adding Williamsburg to the mix. 
Kristin rightly rejected every unit we saw due to layout and light. The last apartment we looked at was in the historic rehabilitation of the Greenpoint Savings Bank on Lorimer Street, though that, too, was not right. While there, the property's broker asked if we had seen the duplex units, which were 2,300 square feet and had three bedrooms and three baths with bonus rooms—just what we had been looking for! At $2.8 million, it was out of our price range, but we decided to look anyway. 
I loved one of them in particular, even though it had no outdoor space. That strange thing that people say happens, happened to me—it just felt like home. Sean made a low offer at $2.1 million, the seller's broker eventually said a deal could be made, and after brief negotiations, we landed at $2.25 million with all transfer, mansion, and four years of property taxes covered by the sponsor. The offer was accepted by Christmas Eve and we moved in by the end of January. 
Factors that made this magical find happen: Because the building had started construction before the pandemic, budgets were stretched due to delays and supply-chain-induced price increases. Then the building finally went to market the week of the first inflation-warding interest-rate hikes in September.
Additionally, the building was originally zoned as new construction with high property taxes—all difficult headwinds for the broker trying to sell units, and it had gone slowly all fall. So when we arrived, they were desperate to have a sale on the books. Amazingly, the developer switched brokerage firms right after our sale, and the building was rezoned as a historic rehabilitation, nearly halving our property taxes after our purchase was finalized. For us, it was a happy end to the building's challenging run.
The four-story building has just 29 units, something we are very happy about. We and our neighbors are the first people ever to occupy our units. The duplex has direct street access, which is helpful with the stroller.
Of course, Kristen made a few changes, with more on the way. So far, we have knocked out the walls on the bonus room that was too big to be a closet but did not have windows. Now it is an open play space for Elio and makes the already spacious apartment feel airier. 
What they like about their new nabe
We live in the Greenpoint Historic District amongst rows of brownstones. We're on the same block as PS 31, the Greenpoint YMCA (where Elio takes swimming lessons), and the 94th police precinct. We are  one block from Manhattan Avenue and every kind of shopping you can think of, and a quick walk to WNYC Transmitter Park, Skyline Drive-In, Greendesk shared office space (where I rent space for my work as a screenwriter, and the G and L trains.
There's such amazing food in the neighborhood: Paulie G's, Taqueria Ramirez, 21Greenpoint, Sereneco…the list goes on. We have an easy walk to VITA, but also have a great in-house gym at the building when we need a quick workout. We have five different parks to choose from, none of them as grand as Prospect Park but offering great variety. We were familiar with the neighborhood, but living here now, it feels like there are more families and is a little lower key than North Williamsburg. 
We had to give up the idea of having private outdoor space, but a shared community space is under construction, so it will be good to have that soon. We also had to give up the valet lot and parking here is scarce. Luckily, my office has 24-hour-access parking.
Most importantly, our insurance for our son stayed the same. We're applying to a few preschools—Elio just turned 2 and is doing excellently—and really like the focus on bilingual education. 
Our first guest, a vegan chef and an old friend who had seen our previous homes in NYC and LA, called our new home a big upgrade. 
We're meeting neighbors and becoming friendly with George, the owner of the Boss Hardware store on the corner as we tackle home projects. Luckily, we are close enough to where we were to still be close to our friends in the neighborhood and Elio's playgroup. 
We see ourselves growing here and enjoying it for the foreseeable future—and look forward to Elio's first movie being at the drive-in this summer! 
Brick Underground articles occasionally include the expertise of, or information about, advertising partners when relevant to the story. We will never promote an advertiser's product without making the relationship clear to our readers.