Transitions
From Murray Hill to Long Island: Tired of renting, we bought a waterfront condo with a resort vibe
Their new development overlooks a marina with beaches and a nature preserve nearby
They paid $999,000 for a 1,500-square-foot, two-bedroom, two-and-a-half bath condo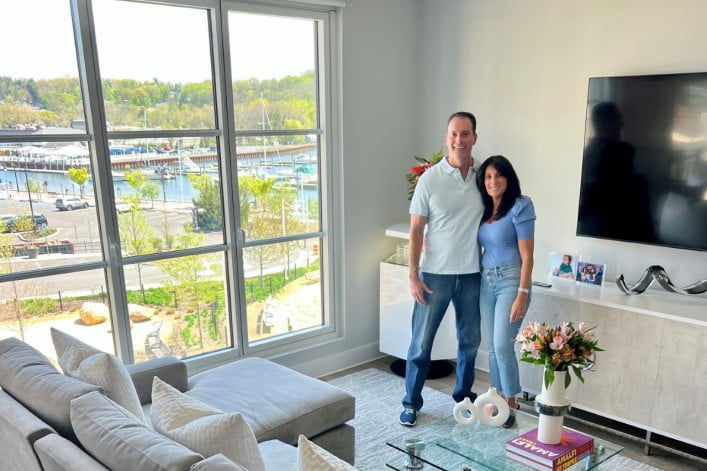 Looking to transition from renting to buying, Darin and Mindy set their sights on a quieter existence with water views near where they grew up. They landed in picturesque Garvies Point in Glen Cove, where their condo feels like a five-star hotel. Here is their story. 
Both Mindy and I were born and raised on Long Island—she in Dix Hills and me in Roslyn. We met in 2012 when I was living in White Plains, and Mindy was in Great Neck.
In 2017 we moved into a rental together in Murray Hill and two years later we got married. We lived in a 1,500-square-foot apartment with two bedrooms, two and a half baths, and Juliet balconies in all rooms. We had an in-unit washer and dryer. It was a full-service building with a big gym and several lounges, including an outdoor patio. Our rent was $8,000 a month.  
We loved the space and the 10-foot ceilings. Plus, the windows were actually big doors that opened up inward; they were awesome. The primary bathroom was very spacious, and the main living room was large enough for big parties. The only thing we really disliked was the outside noise. We were right on 37th and Park Avenue and the tunnel traffic was very loud, as was the constant ambulance noise. 
---
[Editor's Note: Brick Underground's series "Transitions" features first-person accounts of what it's like to move from one New York City neighborhood to another. Have a story to share? Drop us an email. We respect all requests for anonymity.]
---
Our favorite thing to do was take long walks around the city. We would usually start by walking east towards the East River and Downtown. The views were always incredible on the river. In our neighborhood, we would go to Rossini's on 38th Street, between Park and Lex. Benjamin's Steakhouse was also great. The Morgan Library & Museum was a great place to enjoy some peace, quiet, and culture. 
For food shopping, we usually ordered from Fresh Direct but sometimes went to the Whole Foods in Bryant Park or a nearby D'Agostino's. We used to order in from Coppola's (our favorite) once a week and Sugarfish frequently. 
At that time, I was a financial advisor for Stifel. (I have since moved over to Wells Fargo Advisors.) My office was in Bryant Park, so I walked to work. Otherwise, because we lived just a few blocks from Grand Central Station, we would use the subway or our car, which we parked in a lot that cost $600 per month. 
After living in Murray Hill for three years, right before the pandemic hit in early 2020, we decided to look for a home to buy. Once the chaos of the shutdown started, we decided to move out of the city. Long Island was the only consideration.
Wanted: An apartment at The Beacon for $1 million max
I told Mindy that if I were to leave the city, I wanted to be near a body of water—specifically Garvies Point in Glen Cove, NY, an incredibly picturesque peninsula on Hempstead Harbor, which leads into the Long Island Sound. The vibrant development is a 56-acre, resort-like planned community on the North Shore, with 28 acres of green space, marinas, a pier, and a mile-long waterfront esplanade. It was the only neighborhood we considered. And The Beacon was the only building we viewed, although we saw several different units there.
We already knew about the area from having dinner a few times at The Cove Restaurant & Oyster Bar, which is across the canal from The Beacon. We also have friends who took us out on their sailboat, and when you sail past The Beacon and see it from the water, you just wish you could live there. It's so relaxing and a total escape. That was exactly what I was looking for.
Garvies Point is like an oasis on Long Island. We call it the Long Island Riviera. It's close enough to the areas that we grew up in and are used to like Roslyn and Manhasset, but it's also remote and very different and you feel like you're on vacation and away from all the hustle and bustle of the busy towns. 
We were willing to spend up to $1 million and wanted something similar in size to the apartment we were renting. We worked with Mindy's close friend Helene Korman, an agent at Douglas Elliman, who helped us negotiate with RXR, the real estate developer responsible for building Garvies Point.
The buying process was super seamless. There were several people interested in our apartment and even an accepted bid, but the buyer never followed through. So we acted quickly. We signed the contract in July and closed at the end of October. 
We paid $999,000 for a two-bedroom, two-and-a-half-bath condo with just under 1,500 square feet of indoor living space, along with a 75-square-foot terrace that overlooks a big marina. 
The Beacon is very much like living in a five-star hotel. It is brand new, with high-end fixtures and reclaimed, antique wood flooring. The building has 167 units, with access to a ton of amenities—there's a big gym with a yoga/training room, screening room with a reclining leather couch, pool table, and flat-screen TVs all over the place. The main lounge area has a fireplace and piano. The service and maintenance are excellent. 
Oudoor amenities include a huge pool area with four grills and plenty of tables. The pool is just off the canal and has an infinity-like feel, with views of the harbor. There's even a Tiki bar for drinks and snacks. The building is also located right on the waterfront with direct access to the esplanade, which has outdoor seating, miles of trails and bike paths, a dog park, retail space, and more.
Water, water, everywhere—loving life on the Sound
In the summer, Garvies Point becomes a big destination for a day-cation for people from all over—especially NYC—with boats and jet skis coming and going. You can even pull up and dock at two restaurants on the water, then walk right in. One is a Greek/Mediterranean restaurant and the other is Garvies Point Brewery, where they make their own beer and serve a full menu. We love to go for long walks around the neighborhood and then end up at the brewery for a beer, or we'll stroll to at a small beach near the building that's right on the harbor. The sunsets are spectacular from the beach. 
Another area we love to walk to is Morgan Memorial Park—one of the most beautiful parks we've ever seen. It's on the Sound and has a nice beach with a lifeguard and small snack bar. It's also attached to a beautiful waterfront nature preserve that you can walk through for miles. In addition, there are at least five or six beaches nearby where you can bring a beach chair and relax. 
School Street is the town's "main street" with lots of restaurants we like to walk to such as Downtown Cafe, La Bussola, Meritage Wine Bar, and Sweet Mandarin. Our favorite restaurant in the area is La Ginestra. Glen Cove has a big Italian population, so the Italian food is especially good in our area.
Food shopping is very easy. There are several supermarkets within two miles of us. North Shore Farms is our favorite along with Holiday Farms. 
The only current downside is that it takes 20 minutes to drive to the major parkways and the Long Island Expressway, but it's something we've learned to navigate and manage. 
It can also be a bit time consuming when I need to go to the office, though I mostly work remotely. It takes 45 minutes by Long Island Rail Road to Penn Station and then another 40 minutes on the subway.  
Feels like the Hamptons
We also have an apartment in Miami, so if we want a change of scenery we can always hop on a plane. But for now we are content to stay in Garvies Point. We love that it is off the beaten path and away from the hustle and bustle of NYC. And we also love how different it is from the Long Island towns we grew up in. 
Our friends and family love it. They can't believe they're on Long Island when they come here. The most common comment is that people feel like they're in the Hamptons. 
We have made a lot of new friends here. Everyone seems happy and we all look out for each other. We plan on staying for a long time. 
Brick Underground articles occasionally include the expertise of, or information about, advertising partners when relevant to the story. We will never promote an advertiser's product without making the relationship clear to our readers.