Sell
'Sellers just as uncertain as buyers' as the Manhattan sales market pivots to a slower pace
The median price for an apartment is up 3.6 percent to $1,154,625
Sales activity is down 18.4 percent compared to the same quarter last year
Bidding wars are disappearing as a result of higher mortgage rates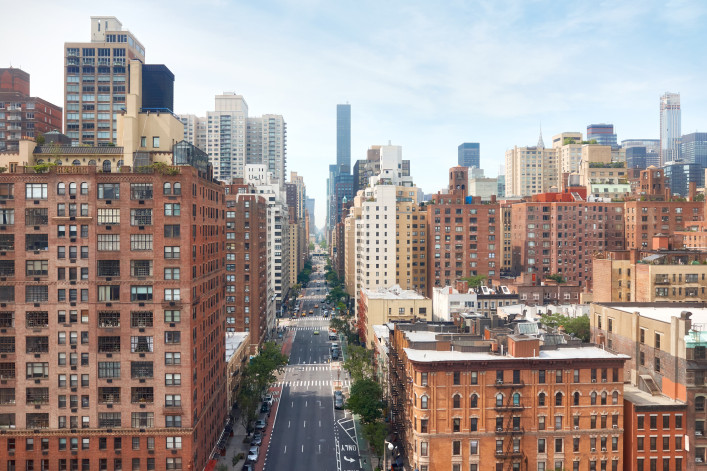 The Federal Reserve's policy to increase the cost of borrowing has effectively cooled the Manhattan sales market. The pace of co-op and condo sales slowed considerably compared to the same period last year but is still above long-term norms and prices continue to rise, according to third quarter data from the latest edition of the Elliman Report. 
When making year-over-year comparisons, it's worth remembering the supercharged market this time last year adds a level of distortion. For example, sales activity is down 18.4 percent compared to the same quarter last year, but sales are still 14.3 percent higher than the long-term average over the past decade.
"Sales are still elevated," says Jonathan Miller, president and CEO of appraisal firm Miller Samuel and the author of the report. As a result of higher mortgage rates, what we are seeing is a "pivot in slow motion" in the Manhattan sales market, he says. 
Are Manhattan apartment prices dropping?
Co-op and condo prices in Manhattan continued to rise over the past quarter but more modestly than in previous quarters. The median price for co-ops and condos is up 3.6 percent year over year to $1,154,625, whereas for the previous three quarters price increases have been about 11 percent year over year, Miller says. 
Sales and average price per square foot were the second highest on record for a third quarter. The median sales price for a condo was $1,627,100, up 1.1 percent compared to a year ago. For co-ops, the median price was $851,375, up 3.8 percent compared to the same period last year. 
The latest report from Corcoran notes that the third quarter ranked as the fourth-best quarter since 2008 with signs the market is returning to pre-pandemic levels after a number of record-breaking quarters. 
As always, there are variations within the market. For example, Douglas Elliman's report for new signed contracts for September shows sales activity at the high end—for apartments priced over $4 million—is slower than the lower end of the market. Across all property types, the number of signed contracts last month was down 31.6 percent year over year but at the high end, signed contracts fell 49.5 percent. "It's not that there isn't activity, but we are seeing a slowdown," Miller says. 
Is it a buyer's or a seller's market? 
In the third quarter, there were 2,110 closed co-op sales compared to 2,432 during the same period last year. It was the first time in six quarters that the number of co-op sales declined when compared to year-over-year numbers. Likewise, there were 1,582 condo sales closed in the third quarter, compared to 2,091 in the same period last year—the first year-over-year decline in condo sales in seven quarters.
Rising rates and financial uncertainty mean sellers are showing some reluctance to list their apartments for sale. The number of apartments available in the last quarter increased nominally by 0.6 percent to 7,741 compared to the same period last year. "Sellers are just as uncertain as buyers," Miller says. 
When looking more broadly at all residential property types entering the market, listings fell 6.2 percent last month. "That's the third, straight month where new inventory has declined," Miller says. So just as buyers are pausing their search because of rising rates, sellers are pulling back from entering the market. The reluctance from sellers may be compounded if they took advantage of low mortgage rates over the previous years or refinanced while rates were low. 
Miller says the third quarter is a transitional period. "We are still seeing rising prices but not as fast as they have been recently, sales activity is down from record levels and expected to weaken, and inventory is flat," he says. 
The third quarter market report from Coldwell Banker Warburg suggests it may be some time before the market settles. There's a "quality of randomness to what sells and what doesn't," says president Frederick Warburg Peters. The report notes however, that smaller and mid-sized apartments sold more briskly throughout the third quarter than larger units.
The third quarter report from BOND, suggests if supply continues to increase and sales decrease—a likely trend heading into winter—it will be good news for buyers. The report notes: "Sellers will want to price their homes well, recognizing the effect of ongoing increases in interest rates."
Similarly, in the third quarter report from real estate analytics firm UrbanDigs, John Walkup, the firm's co-founder says, we can "expect activity to continue at lower levels this fall. This will likely lead to cascading, moderate price declines."
Are bidding wars still happening in Manhattan?
The average listing discount in the third quarter was 7.3 percent, slightly higher than the 5.6 percent listing discount in the same period of 2021, according to the Elliman Report. These are numbers you would expect to see in a slower market. Miller says rising prices and bidding wars are being dissipated due to rising mortgage rates.
The median sales price for an apartment in a brand new development in the third quarter was $2,315,428, a 2.9 percent increase over the same period last year. However, the number of sales fell by 18.1 percent to 3,169 compared to the third quarter of 2021. 
Garrett Derderian, SERHANT's director of market intelligence, attributes slowing sales in new developments to rising interest rates, volatile financial markets, and the action of the Fed. He says, "pricing is stable and less competition in the market is good news for buyers." Derderian adds that bidding wars have all but evaporated and the market is largely returning to a normal level of activity.
The company's third quarter report for Manhattan sales noted another sign the market may be returning to normal in the number of one-bedroom condo contracts signed. It was the first quarter since the beginning of the pandemic where the number of one-bedroom sales exceeded two-bedroom deals.
Brick Underground articles occasionally include the expertise of, or information about, advertising partners when relevant to the story. We will never promote an advertiser's product without making the relationship clear to our readers.