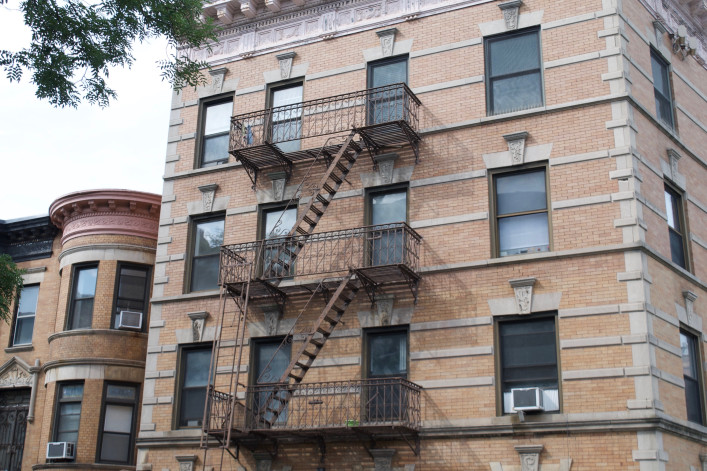 Emily Myers for Brick Underground 
Record prices and rising mortgage rates are forcing first-time buyers into smaller apartments, according to a new report from StreetEasy, which found that a typical starter apartment in New York City is now 9 percent smaller than it was in the summer of 2019.
The trend is consistent with NYC's increasing lack of affordability, especially for young adults, whose median income is $83,313. According to the data, by the summer of 2022, first-time buyers across the city were getting 90 square feet fewer than they were three years ago—down from 990 to 900 square feet. That's the loss of the equivalent of at least two king-sized beds.
What's striking is that the areas long considered more affordable—Queens and the Bronx—lead when it comes to shrinking apartment size. The change is sharpest in the Bronx, where first-time buyers are getting 208 square feet fewer than three years ago.
Is the Bronx the cheapest place for first-time buyers?
Although the Bronx is still attractive to first-time buyers because of its relative affordability, there's been an increase in the number of apartments with asking prices above $800,000, which has led to a 23 percent decrease in what's available within a typical first-time buyers' budget, usually from $400,000 to $800,000.
While your first apartment in the Bronx may be 208 square feet smaller than it was three years ago, most one bedrooms in the first-time buyer price range are around 1,477 square feet, still larger than similarly priced apartments in Manhattan, Brooklyn, and Queens. 
Can first-time buyers get more space in Queens?
In Queens, apartments for first-time buyers are 150 square feet smaller than they were three years ago—down to 966 square feet. The price per square foot is $608, 17 percent higher than pre-pandemic levels. It's the same old story, buyers with smaller budgets must compromise on space and buy smaller apartments to stay within their budget. 
Queens has also seen major development in the past decade with lots of new condo buildings. Another factor for the shrinking apartment size in the borough is that most of the apartment complexes built after 2010 tend to have smaller apartments in the first place.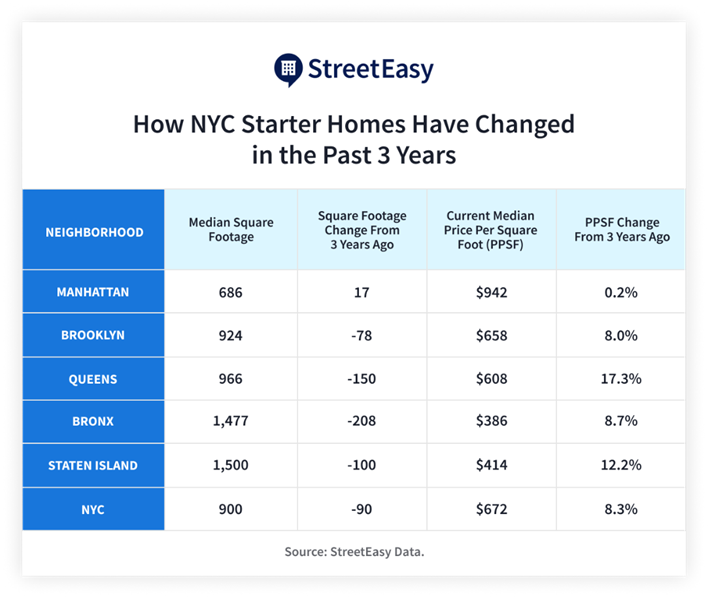 Is it hard to find your first apartment in Brooklyn?
Not only are budgets being stretched for smaller apartments, it's also more difficult to find an apartment to buy because there are fewer listings. Prior to the pandemic there were 5,300 listings in the $400,000 to $800,000 price range, according to the data. By August of 2022 there were 4,500 listings, a drop of 15 percent. 
This is most evident in Brooklyn, which has seen huge popularity over the past three years. This has affected inventory, which is 26 percent below its pre-pandemic levels. This makes it more difficult to find what you're looking for at the price you want. Your first apartment in Brooklyn will also be 78 square feet smaller than it was three years ago—at 924 square feet with the price per square footage at $658. 
Should first-time buyers search for apartments in Manhattan?
The Manhattan real estate market has seen some abrupt shifts recently. For example, smaller apartments in Manhattan lost their appeal during the pandemic and apartments in the $400,000 to $800,000 price range are larger now by 17 square feet. To put that in perspective, a twin bed is about 21 square feet.
Manhattan still gives you the smallest square footage in the first-time buyer price range—686 square feet. That's the equivalent of the parking space for four and a half cars. That said, the cost per square foot is still high at $942.
Brick Underground articles occasionally include the expertise of, or information about, advertising partners when relevant to the story. We will never promote an advertiser's product without making the relationship clear to our readers.