Brick Underground supports our readers with product recommendations specifically curated for New Yorkers. If you buy something through our links, we may earn an affiliate commission.
This top-floor Washington Heights three bedroom in is in sad shape, but architect Kim Doggett sees lots of promise in it.
First, a look at the numbers: It's a three bedroom condo in Manhattan—albeit upper Manhattan—priced at a relatively low $575,000. Second, Doggett points out that it has lots of windows, so it gets lots of light.
Still, since it seems like practically everything in the apartment needs work, things could get a little costly. For this week's Reno Ready, Doggett outlines exactly what he'd do to update the space, and how much would need to be budgeted for it.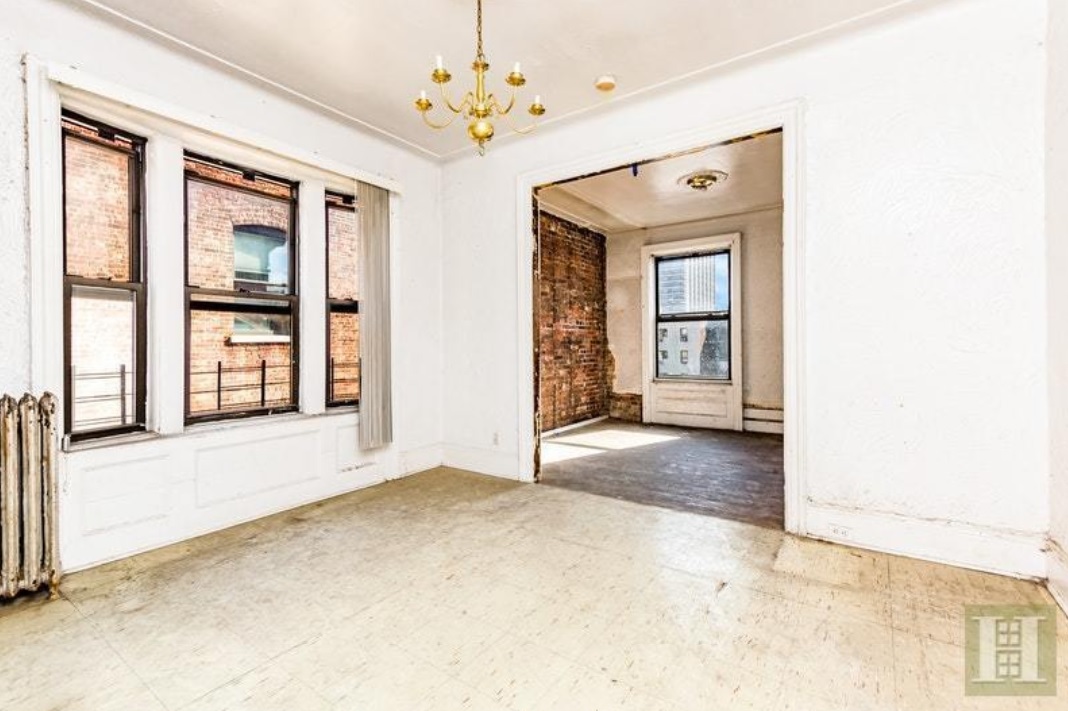 The living room needs the works
Trim: Doggett would add wood base moldings, casings around the windows and doors, and cornices (or crown moldings) to the walls just below the ceiling. This trim, Doggett says "will make the room feel more finished." He thinks it should cost around $2,000 to add trim throughout the apartment.
Paint: Since the apartment is still on the market, Doggett says he'd choose a subtle color, like a light yellow, for the living room walls, to avoid overwhelming potential buyers. For the new wood trim, the doors, and the radiator, he'd go with a soft off-white. For the ceiling, he'd opt for a matte white because "it will spread the light," he says. A gallon of Benjamin Moore's Dove Wing for the doors, trim, and heater is $75. Decorator's White for the ceiling and Light Yellow for the walls are priced similarly.
Floors: "This place absolutely needs hardwood floors," says Doggett. He'd go with light-hued plank flooring. 
"The light color will keep the whole apartment lighter," he says. He thinks that wood floors for the entire apartment should cost in the $4,000 range.
Lighting: Doggett recommend replacing the chandelier. 
"It centers the room," he says. Overhead lighting is especially helpful when cleaning. He'd also recommend table lamps and/or floor lamps for better illumination. Prices for this Vornado LED chandelier start at $379 at YLighting.com. This Arc floor lamp is $527 at YLighting.com and the Cigar Lotus table lamp is $475, also at YLighting.com.
Windows: Doggett would prefer that the windows be white-framed instead of black, so that they don't stand out as much and match up better with the new trim. He thinks it should cost around $10,000 to replace all the windows in the apartment.
Keep the kitchen separate
"Everybody seems to want to open everything up lately," Doggett says. "It's part of our age of no privacy." But he'd leave the kitchen separate here.
"You don't need to see everything," he says.
He would, however, knock out the wall towards the back of the kitchen where the fridge was probably meant to go (instead it's positioned across from the sink). He'd extend the cabinets into that space.
Window: First, he'd get rid of the grate on top of the window, "so you don't feel like you're in a cage." Next, he would swap in a white frame, as he recommended for the living room. He thinks new windows for the entire apartment should cost around $10,000.
Cabinets: Doggett would junk the worn-looking cupboards in favor of new custom cabinets that would extend all the way to the ceiling to get as much storage space possible. In addition to adding cabinets to the empty area near that window, he  suggests building a pantry-type cabinet for dry goods across from where the refrigerator is at the moment.
"I'd hire a woodworker to make everything from scratch," he says, noting that he'd have the woodworker add decorative cornices near the ceiling so that the cabinets "don't look like they were hung off the wall, but look like they're part of the apartment's architecture." He'd paint them the same color as the wooden trim in the living room to keep some continuity throughout the apartment. He thinks that they should cost in the $5,000-$10,000 range.
Appliances: Doggett would replace the ancient-looking ones. He'd recommend covering the new fridge with a panel so that matches the rest of the cabinets, and getting a modern-looking stainless steel stove. This Liebherr 30-inch counter-depth fridge is $2,139 at AJMadison.com and this 30-inch Frigidaire free-standing gas range is $509, also at AJMadison.com.
Countertops: "I'd go with Caesarstone because it's a nice solid material that's as functional as stone, but cheaper," says Doggett. He would probably select a gray shade because "it does seem to be a most popular color," he says. He thinks the countertops should cost around $3,000 for this kitchen.
Floors: "I'd go gray here, too," Doggett says, explaining that he'd prefer large-scale porcelain tiles that look like stone so that they'll match up nicely with the countertops. He estimates that the tiled floors will cost approximately $2,000.
Backsplash: He'd go with colorful tile for the backsplash.
"This is a place where you can get a little wild and people will accept it," he says. He estimates a new tiled backsplash should cost around $1,000 or so.
Paint: Since he'd go gray with the floors and countertops in here, Doggett would choose another shade of gray for the walls, using the same shade on the heat pole in the corner to make it less noticeable. A gallon of Benjamin Moore's Gray Owl is $75.
Lighting: Under-cabinet lighting is a must for cooking, especially food prep. But he'd also add a single centered ceiling fixture to really light the space up. These under-cabinet lights are $60 each at The Home Depot. Prices for this Cirque ceiling light from TECH Lighting start at $95 at YLighting.com.
Sink: Because this sink and faucet are probably as old as everything else in the apartment, Doggett recommends getting new ones. This Blanco stainless steel under-mount sink is $558 at faucetdirect.com and this Delta pull-down faucet is $340, also at faucetdirect.com.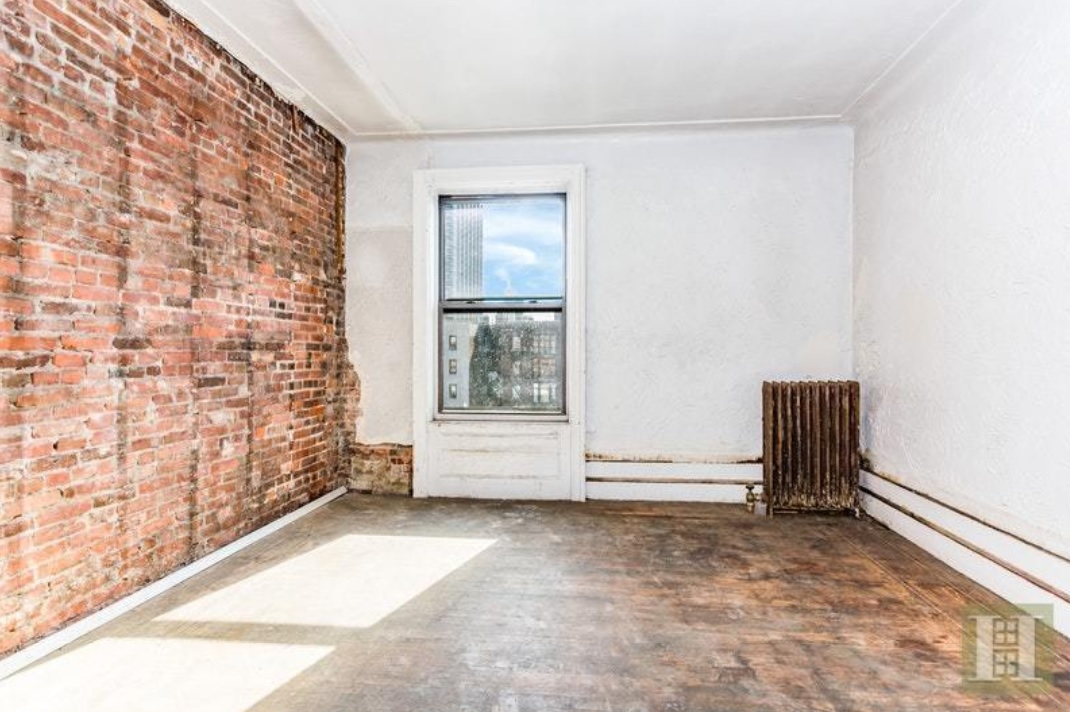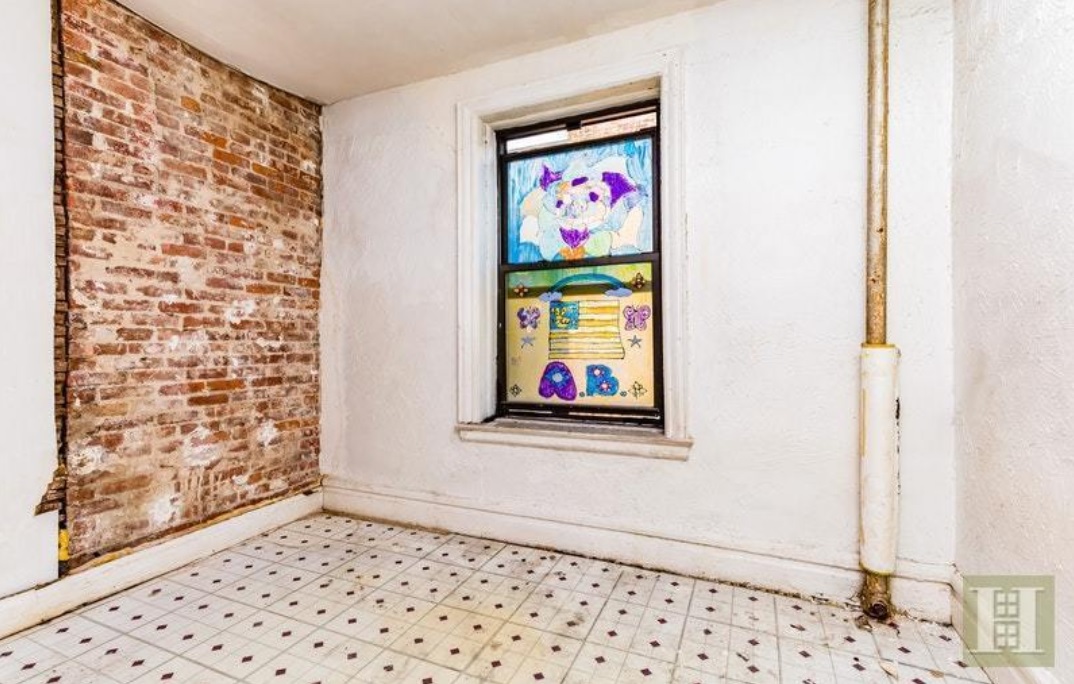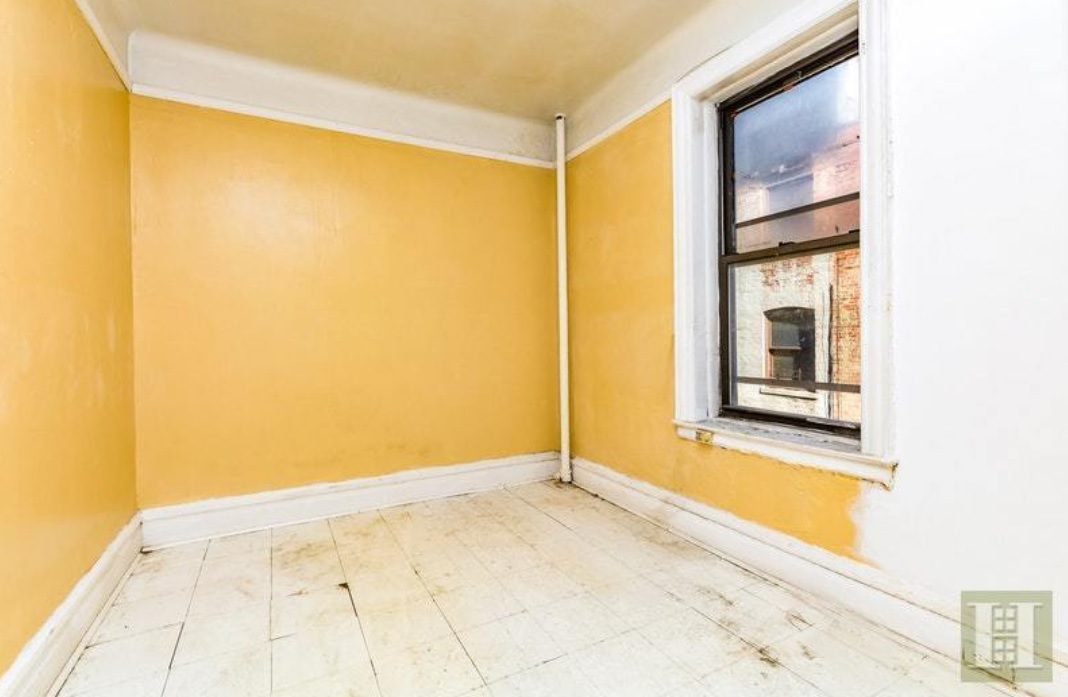 No brick in the bedrooms
Doggett says that since the bedrooms are all fairly similar, "it's the same prescription" for each of them.
Brick walls: "I'm probably in the minority, but I would cover all the brick walls," Doggett says, explaining that "brick is an outdoor material—much too rough to be in a bedroom." He would have the contractor conceal them with drywall. He thinks this should only cost about $300 or so.
Trim: Just like in the living room, Doggett would add base moldings, casings around the windows and doors, and cornices (or crown moldings) just under the ceiling. 
Paint: Doggett says that he'd choose a different color for each bedroom—calm shades of gray, blue, and green—to help the occupants fall asleep at night. He'd also paint the radiators and heat poles to match the walls to make them less noticable. A gallon of each of these paint colors from Benjamin Moore is $75. A gallon of Decorator's White for the ceilings costs the same.
Lighting: "The only place I really like lighting in a bedroom is on either side of the bed," Doggett says, so he'd add sconces in each of the bedrooms for reading lights. Nevertheless, he'd add an overhead light, as well.
"It's useful when cleaning the room or getting dressed," he says. He'd also drop the ceiling in each bedroom, to be flush with the top of the closet, in order to install a single recessed light in each room.
"This should be on a dimmer so it can double as a nightlight," he says. These Brio wall sconces are $38 each at houzz.com and this Clack flush-mount is $159 at AllModern.com. He thinks that the cost for dropping the ceiling and adding the recessed lights should be about $1,000.
Windows: Doggett would put in new windows in each of the bedrooms, as well.
Floors: He'd extend the new light-colored wood plank floors from the living room into each of the bedrooms.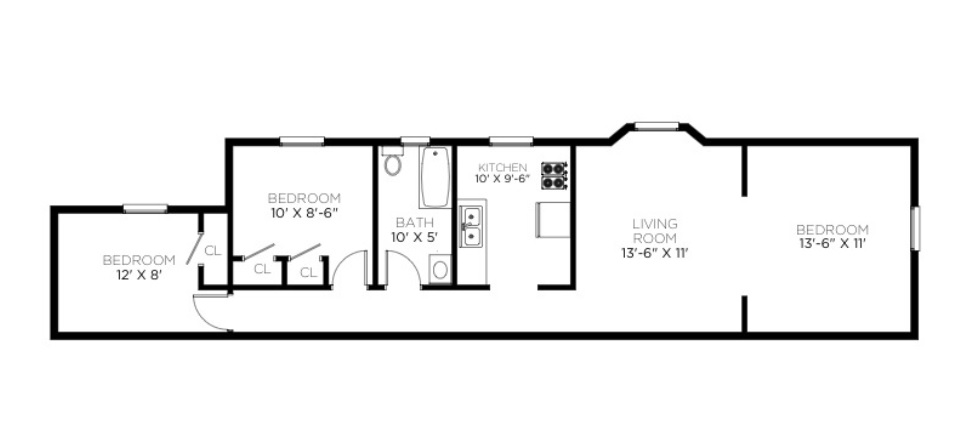 Best guesstimate for the bathroom
There aren't any photos of the bathroom, but Doggett says that he assumes it's in the same poor shape as the rest of the unit, which means it probably needs to be gutted. It's hard to give a real estimate without seeing it, but he says he thinks that it should cost $10,000 or more to renovate it.