Reno Ready
This $700,000 Murray Hill apartment is in rough shape. Here are some ideas for fixing it up
This prewar one bedroom at 10 Park Ave. in Murray Hill, a co-op listed for $700,000, needs a lot of work. But architect Adam Zimmerman of Zimmerman Workshop in Brooklyn says it has some positive attributes, too.
"The address is fantastic," he says. He also likes the fact that the windows in the bedroom are big, that it looks like the kitchen can easily be opened up to the living room, and that there's a raised entryway.
"There's just something so special about it," he says of the entry.
That said, Zimmerman would especially like to revamp the kitchen and bathroom, since they look particularly beat-up. For this week's Reno Ready, Zimmerman explains what else he'd do to bring every room in this run-down apartment up to snuff.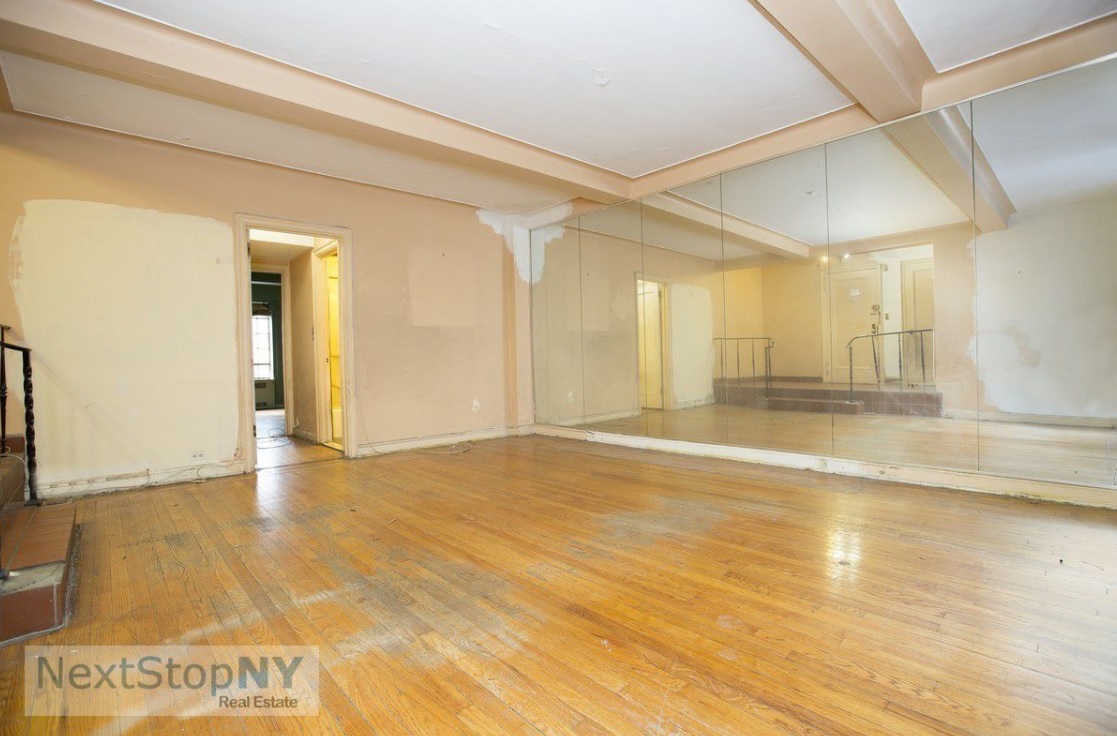 Living room (also pictured at top)
Front door: If the co-op board allows it, Zimmerman would move the entry door further to the right.
"There's so much wasted space in this area, and it'd make that whole entry space much more usable," he says, noting that there would then be room to put an entry table here. Plus, it would make it easier to expand the kitchen into this space. He believes that this should cost several thousand dollars.
Stairs: Zimmerman would make the stairs near the front entrance wider, extending them all the way across the room to make more of a statement when you first walk into the apartment. He'd also get rid of the railing because he doesn't feel that it's necessary. He thinks this should cost about $2,000.
Floors: He'd replace the current flooring throughout the unit with wide plank oak boards in a dark chocolate shade.
"It's just a nice classic color," he says. He thinks this should cost $10-$12 per square foot.
Baseboards: "I'd rip them all out and start over because there are layers and layers of paint on them," he says. He thinks it should cost a couple thousand dollars to replace the baseboards throughout the unit.
Paint: Zimmerman would go with white on the walls and ceiling since "it goes with everything." He'd choose an eggshell finish for the walls because it'll be easier to clean, and a flat white for the ceiling to make it look taller. He'd recommend painting the beams the same color so they don't stand out too much. As for the baseboards, casings, and doors, he'd go with white, too. In addition, he'd take down all the mirrors on the wall opposite the entryway, skim-coat it to get rid of any imperfections, then paint it white as well. A gallon of Benjamin Moore's Decorator's White is $75. He thinks that skim-coating the mirrored wall should cost at least $10,000.
Window treatments: "Shutters like these cost money, so if they're in operable condition, I'd definitely keep them," Zimmerman says. He'd just paint them to freshen them up a bit. Possibly white, or at least a lighter tone.
Radiator: He'd suggest a wooden enclosure to hide the unattractive heater. What color he'd paint it depends on the rest of the furnishings that'll go into the room. He believes that this new piece of millwork should cost around $400 to $500 per linear foot.
Lighting: "I don't see any lights in the ceiling, so it's probably made of concrete," Zimmerman says, adding that that is often the case with prewar construction. So since he won't be able to install anything overhead, he'd advise going with either wall sconces or cove lighting (a technique that involves hiding lights in crown moldings, valences, or ledges). He'd add some area lighting, as well, such as a table lamp.
This LED wall sconce is $148 at Shades of Light. Zimmerman thinks the cove lighting should cost about $10 to $20 per linear foot. This floor lamp is $160 on houzz.com.
Wiring: If there's any extra money in the budget, Zimmerman suggests rewiring the entire apartment since it's bound to be old, and also treating it as an opportunity to hide all the wires in the walls. 
"It's expensive, but you won't be worried about fire risks," he says. He thinks that this should cost $15,000-$20,000.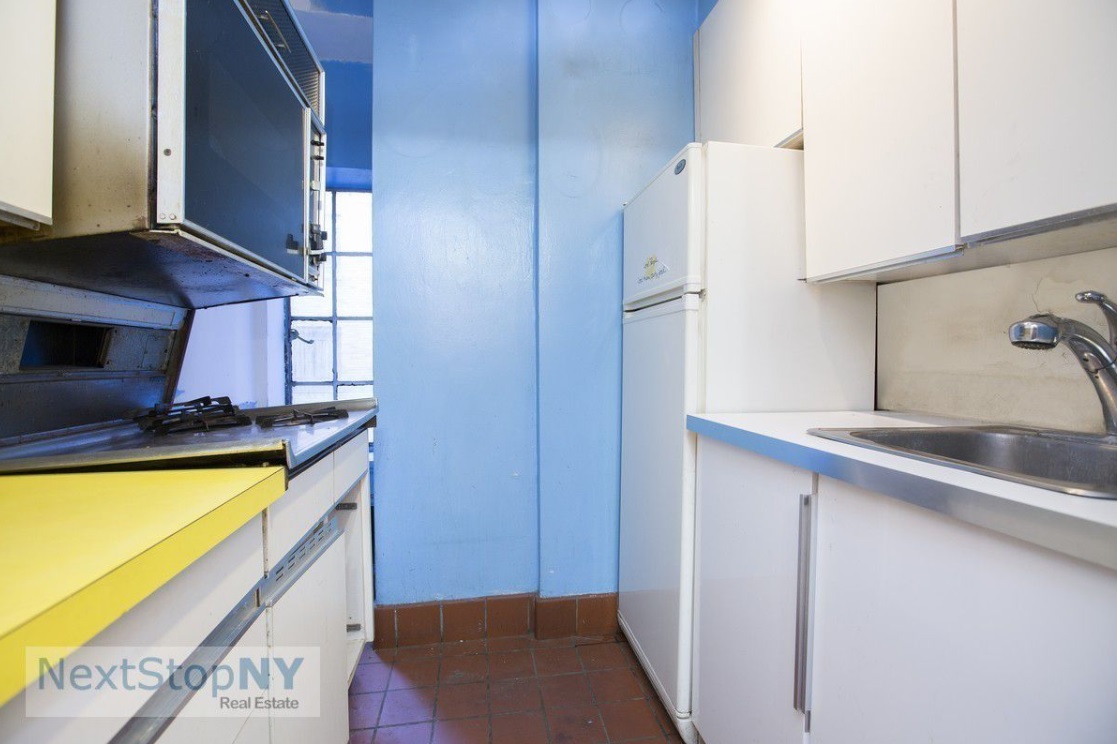 Kitchen
"I'd get rid of everything in here and start over," Zimmerman says.
Floors: "I'd take the wood into the kitchen, as well. It's a more comfortable solution and it wears well," he says. 
Appliances: Zimmerman would get all new appliances, including a refrigerator, a dishwasher, a stove, and a microwave with a hood. He advises spending a little extra to get name brand appliances that will be good for resale.
"Countertops and backsplashes don't have labels," he notes, so you can save money there. This 36-inch Sub-Zero fridge is $8,320. This 24-inch Bosch dishwasher is $540 at PC Richard & Son. This 30-inch LG slide-in gas range is $1,300, also at PC Richard & Son. This LG over-the-range microwave is $270 at Best Buy.
Demolition: He'd suggest swapping the dishwasher and sink with the oven and microwave so you have all your heavy equipment on one side. Then you could knock down the wall separating the living room and the kitchen—including the upper cabinets—as well as the skinny wall next to the stairs, and put in a pass-through window. It would allow whoever's cooking to interact more easily with people in the living room.
Plus, losing the wall on the end would make it easier to extend the kitchen into the entryway.
"The kitchen can bleed out into there so you can recapture that space," Zimmerman says. "Kitchens and bathrooms are what sell apartments, so you should make it feel grander if you can."
Pricing for the demo work and extending the kitchen will vary based upon your contractor.
Cabinets: Zimmerman would opt for cupboards that are "simple and pretty" with a plain flush face. If money's an issue, he'd recommend going the IKEA route.
"But if someone's spending $700,000 on an apartment, they tend to snub their nose at IKEA cabinets," he says. In that case, he'd go with custom items. He thinks that IKEA cabinets should cost $3,000 or so to purchase and install. Custom cabinets will be in the $10,000-$15,000 range.
Countertops: "I default with Caesarstone," says Zimmerman. "Once you install it, you never have to think about it." He says it should cost about $100 per square foot.
Backsplash: He'd go with a tiled backsplash in whatever color the client likes.
"It's an opportunity to add a little more texture to the space," he says. 
He'd also tile the wall at the back of the kitchen rather than paint it. He believes the tiles should cost $25 per square foot.
Sink/Faucet: A new under-mount sink is in order here, as is a new faucet. This under-mount sink is $120 on houzz.com. This Hansgrohe pull-down kitchen faucet is $346 at efaucets.com.
Lighting: Zimmerman advises getting under-cabinet lights to help lessen shadows in this space. Also, since the cabinets don't go all the way to the ceiling, he'd lay a row of fixtures on top of them. These under-cabinet lights are $60 each at The Home Depot. He thinks the lights atop the cabinets should cost a few hundred dollars.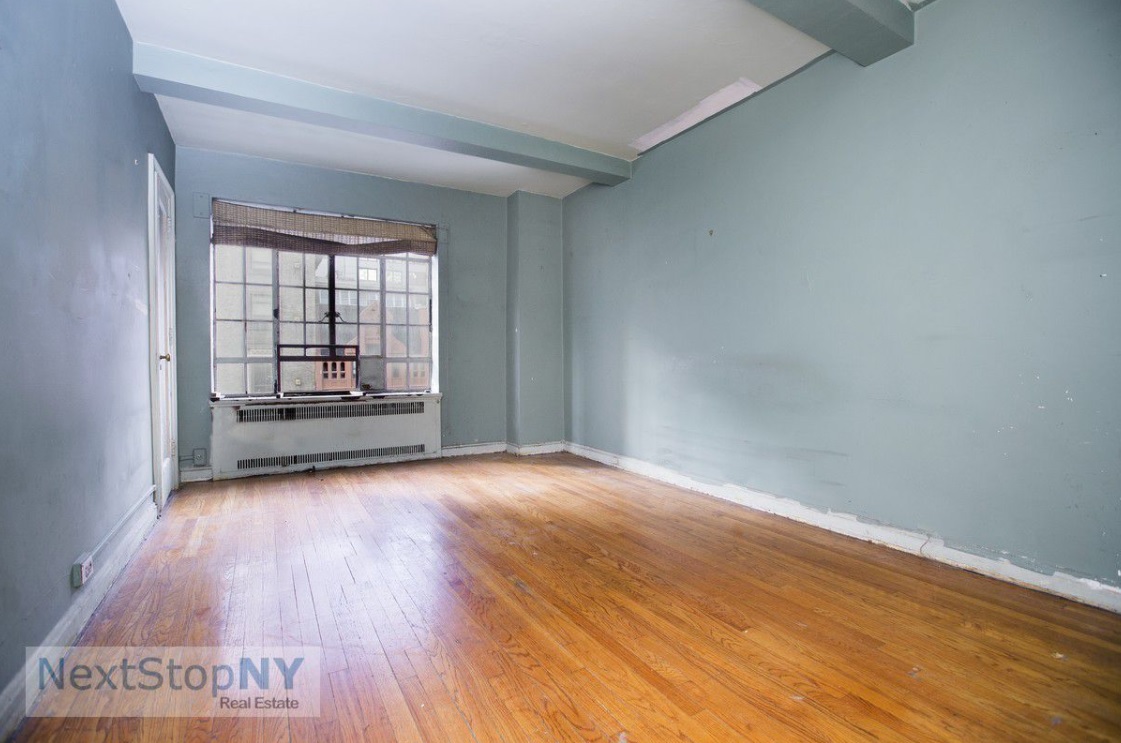 Bedroom
Floors: He'd extend the new wood flooring into the bedroom, too.
Paint: He'd stick with white for the ceiling (including the beams), "but I might introduce a color for the walls," he says, noting that light gray is a popular choice for bedrooms since it's supposed to be conducive to sleep. He'd paint the baseboards, casings, and doors white, too. A gallon of Benjamin Moore's Perspective, a shade of gray, $75.
Radiator: He'd build a wooden cabinet atop the heater here too that goes all the way across the room and can double as a window seat. He thinks this enclosure should cost $400-$500 per linear foot.
Baseboards: Here too, he'd rip out the baseboards and replace them.
Window treatments: Zimmerman would opt for a wall-to-wall curtain in front of the window.
"It'll bring a little bit of softness to the space," he says. Prices for these blackout curtains start at $33 at Bed Bath & Beyond.  
Lighting: Since you can't drill into the concrete ceiling in this room, either, Zimmerman would buy a floor lamp or two, as well as a table lamp that can sit on the new radiator cover. That should be enough to illuminate a space of this size. This Tribeca floor lamp is $199 at Crate & Barrel. This Glow table lamp is $80, also at Crate & Barrel.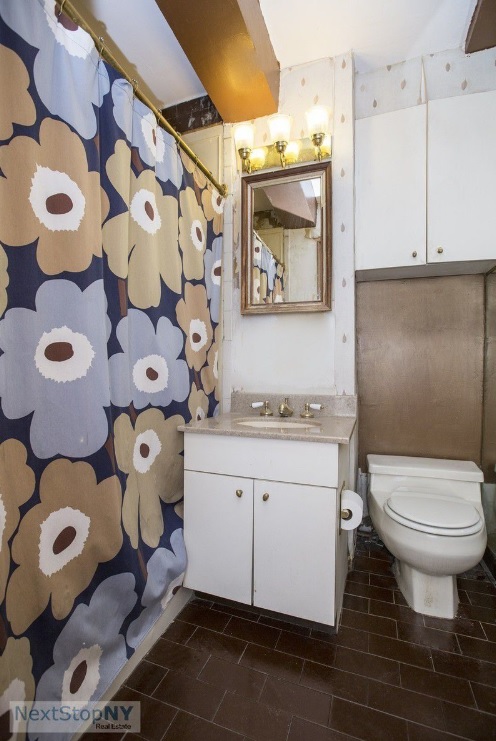 Bathroom
"This would be a start-over," Zimmerman says. "But there's not a lot you can do to move things around," since the space is so small.
Shower: Zimmerman would remove the bathtub and replace it with a walk-in shower. And he'd go with glass doors instead of a curtain because "it's just nicer." This frameless shower enclosure and base is $1,080 on houzz.com.
Sink: He'd lose the rather unwieldy vanity in favor of a pedestal sink.
"It'll make the space feel bigger," he says. Also, there's storage over the toilet already, so he doesn't think that the vanity is essential. This Kohler sink is $260 on Wayfair.com.
Storage: He likes that there's storage above the toilet, but he doesn't like the current cabinet. He'd replace it with something more modern like this Wyndham Deborah bathroom cabinet, $299 on bathvanityexperts.com.
Medicine cabinet: Zimmerman says that it's hard to tell if that's a medicine cabinet in the bathroom at the moment or if that's just a mirror on the wall. But if you can recess a medicine cabinet, he'd prefer one. This Robern flat-top medicine cabinet is $411.
Toilet: Many people prefer to get a new toilet when they move into a new home. This one-piece Toto toilet is $549 at The Home Depot.
Walls: "I'd go with a floor-to-ceiling tile," Zimmerman says. "I'd go big so there'll be fewer grout lines," and less to clean. He thinks that porcelain tiles should be about $10-$20 per square foot.
Floor: He'd also go with porcelain tiles for the floor, something complementary to the tiles on the walls. These should also cost $10-$20 per square foot.
Ceiling: He'd stick with white for the ceiling, including the beams. 
Lighting: Zimmerman recommends something simple in here, like this Lithonia Lighting LED vanity bar, $82 at The Home Depot.
"It won't draw a lot of attention, but you'll get light where you need it," he says.  
Brick Underground articles occasionally include the expertise of, or information about, advertising partners when relevant to the story. We will never promote an advertiser's product without making the relationship clear to our readers.