Everything about this apartment "just looks so sad," says Anjie Cho, an architect and feng  shui expert. 
The fixer-upper unit is a co-op in Hell's Kitchen at 354 West 48th St.
Cho sums the place up thusly: "The flooring is sad. The paint colors are sad. The kitchen needs a complete makeover. The lighting is really bad."   
Listed for just $350,000, apartment #2FE, a second-floor one bedroom, is eminently affordable. (Then again, it's a Housing Development Fund Corporation co-op, so there are income restrictions to keep in mind: $36,288 a year for one or two people and $42,336 for three people.) Another bonus for whoever does end up buying the place: the kitchen is big and has an eat-in area.
"It definitely has potential," Cho says.
For this week's Reno Ready, Cho tells us what she would do to transform this sad space into a happy apartment. And yes, this is all assuming the buyer can come up with a down payment and still have enough to renovate without running afoul of the building's financial requirements.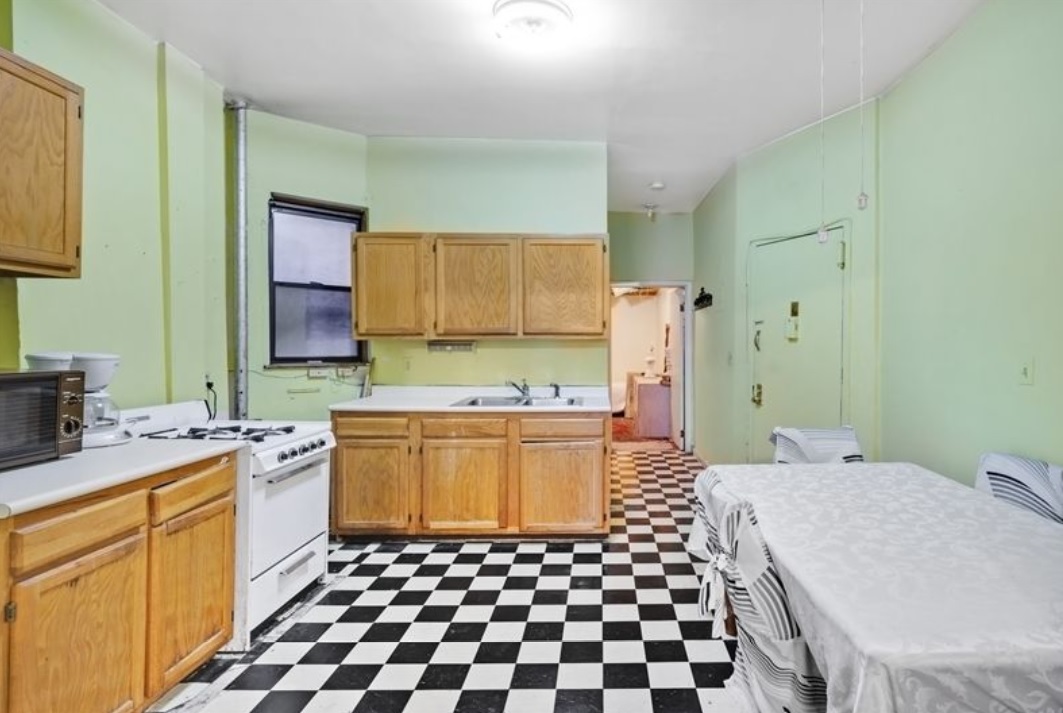 Swapping out the kitchen (also shown at top)
Wall: Cho can't tell from the photos if the wall between the kitchen and living room is structural, but if it isn't, she'd knock it down to open the space up a little. If it can be done, Cho thinks the demo work should cost around $10,000.
Floors: She would lose the kitschy black-and-white checkerboard flooring and replace it with simple porcelain tiles that are inexpensive and easy to mop. Because the room doesn't get a lot of light, Cho would opt for off-white or light gray tiles. She believes that these should cost $5 per square foot.
Paint: She'd go light with the paint here, too, in order to brighten up the space.
"My go-to is Simply White from Benjamin Moore," she says. "It's not too warm, not too yellowy, and not too cold." A gallon is $75.
Cabinets: Cho isn't a fan of the current cabinets, so she'd swap them out for custom-made wooden cupboards that are painted white.
"I'd utilize the height in this room and go all the way up to the ceiling," she says. She'd also go all the way around the wall with them, including above the range. She believes that these new cabinets should cost about $10,000.
Countertops/backsplash: "I'd go with Calacatta Nuvo by Caesarstone," Cho says, noting that the white quartz "looks marble-y," and has a white veining that looks natural. "It will really brighten up the space," she says.
She would extend it up the wall to serve as a backsplash, too. Fewer grout lines to clean. She thinks the quartz should cost about $2,000-$3,000.
Appliances: Cho would replace the archaic refrigerator and range with new stainless steel appliances. This 36-inch Bosch counter-depth French door refrigerator is $2,604 on AJMadison.com.  This 24-inch free-standing gas range from Blomberg is $899, also on AJMadison.com.
Lighting: "I'd get rid of that fan," says Cho. "It looks scary."
Instead, she'd install nine recessed lights in the ceiling, as well as a single pendant light over the dining area, which she'd move to the middle of the room. She thinks the recessed lights should be about $500 each. Prices for this Logico single-suspension light start at $472 at YLighting.com.
Sink/Faucet: She'd change out the old-school over-mount sink for a new stainless steel under-mount sink, which will be easier to clean since there's no lip to catch dirt. She'd also get a new faucet. This Elkay single-bowl under-mount sink is $585. This Kohler single-handle faucet with pull-down spray is $205 on eFaucets.com.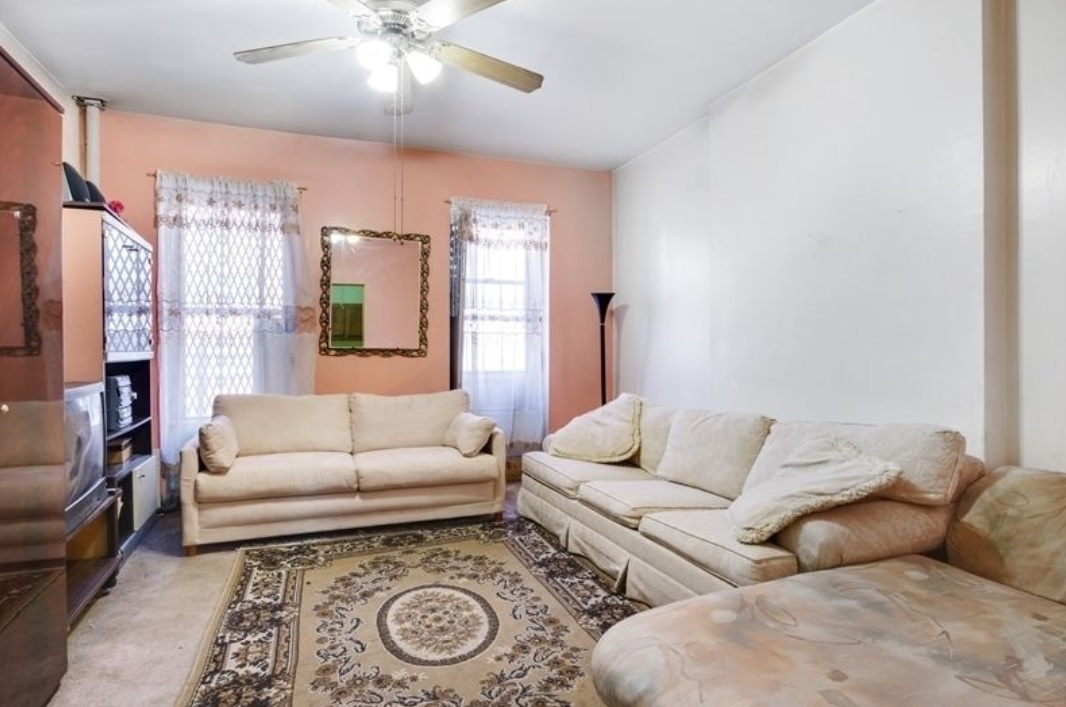 Brighten up the living room
Paint: Since this room is also on the dark side—the only light coming in is from two narrow windows—she'd go with Simply White here, too.
Windows: There are bars on the windows at the moment, and while it'd be great to get rid of them, Cho thinks that the building might not allow it. If so, the best thing to do is to simply hide them. She would put up simple roller solar shades that will let the light shine in, and top them with pretty drapes to add a little more privacy. She'd mount those drapes off to the side to make the windows look larger. Prices for these basic solar shades from The Shade Store start at $219. These drapes start at $30 at Bed Bath & Beyond.
Flooring: "That carpet's got to go," says Cho. In its place, she'd install a white oak floor to brighten up the room. She believes wood planks should cost $20 per square foot installed.
Lighting: She'd get rid of the fan in here, too, and replace it with a more contemporary-looking chandelier, as we all as five recessed lights. Prices for this Vornado linear LED chandelier start at $399 on YLighting.com.
Heat riser: The heat pole in the corner "looks dirty" and "is quite the eyesore," Cho says. She'd strip it down to the metal and apply a coat of clear heat-resistant paint to give it a cool industrial look. She believes that this should cost about $500.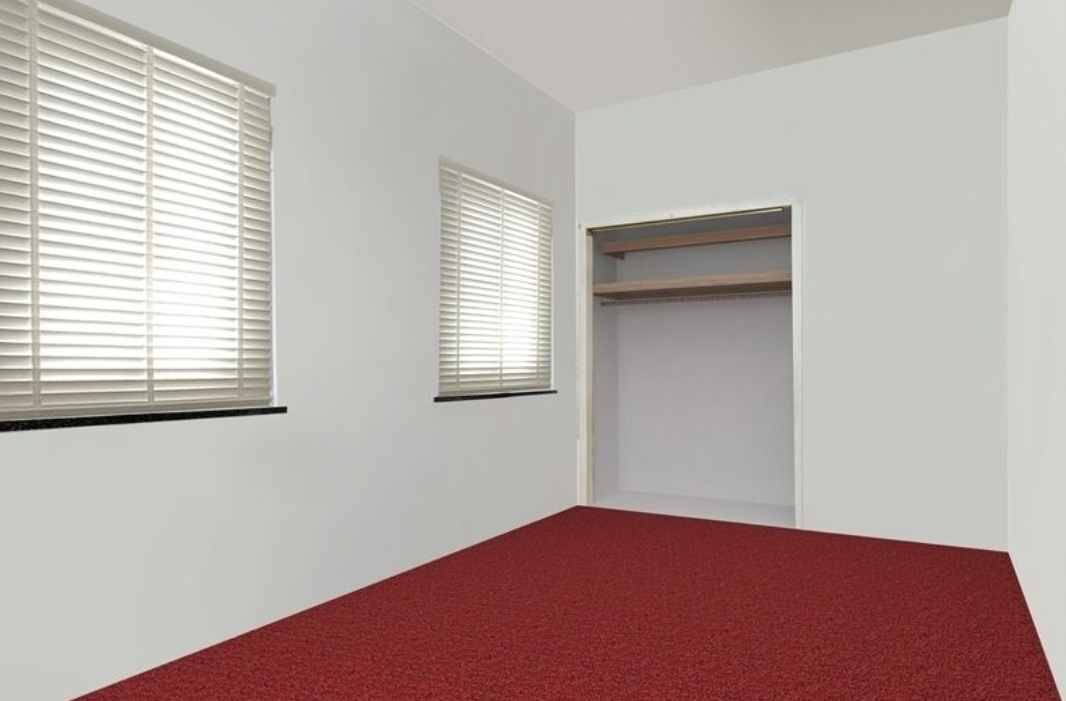 Make the bedroom sunnier
Paint: This room is also pretty dim, so Cho would opt for Simply White again in order to make things a little sunnier in here.
Floor: She would replace the carpet with wooden flooring made from white oak.
Closet: First, she'd open up the top of the closet so that that part of it will be more easily accessible. Then she'd customize the interior by adding shelves from California Closets. And finally, she'd add doors since it's a bit odd that there aren't any at the moment. She thinks those improvements would cost $3,500-$4,000.  
Windows: "I'd take out these mini-blinds and put in blackout roller shades," Cho says. These blackout shades from The Shade Store start at $219.
Lighting: Here, too, she'd add a few recessed lights—about four to six of them—as well as a new flush-mount in the center of the ceiling. Prices for this Manhattan LED convertible semi-flush-mount start at $199.


The bathroom probably needs gutting
"When they don't show any photos of a room, it usually means it's really bad," Cho says. She assumes that everything will need to be replaced, from the tile to the lighting to the toilet and would probably cost around $20,000.
Brick Underground articles occasionally include the expertise of, or information about, advertising partners when relevant to the story. We will never promote an advertiser's product without making the relationship clear to our readers.