Brick Underground supports our readers with product recommendations specifically curated for New Yorkers. If you buy something through our links, we may earn an affiliate commission.
Listen up, first-time buyers! This $499,000 alcove studio at 100 Beekman St. in the Financial District is the perfect way to break into the New York City real estate market.
The apartment is a good investment, according to architect Alan Berman of Archetype Design Studio, an architecture and design firm based on the Upper West Side. The relatively affordable price tag, open floor plan, abundance of closets, and outdoor space render this very white space ripe for the picking. Berman also loves that it can easily be converted to a one-bedroom by adding a door to the dining area.
"If you fix it up, you'll make a lot more money than with the stock market," he says.
That said, there are some downsides. 
"The ceilings are low and it has no character," Berman says.
But with challenge comes inspiration.
"You can put your own stamp on it," Berman says. Here are his recommendations on how to renovate this apartment:
Living room
The first thing Berman would do is jettison those tiled floors in favor of wide-plank boards in a light-colored wood, which he guesstimates should cost $10 to $15 per square foot.
"It's very sleek, very modern, very fashionable," he says.
Next, he'd turn his attention to the walls.
"If you're an avid art collector, I'd keep the walls white," he says. If not, he'd go for a light gray, which he says will add a lot of character. Metropolitan, a light shade of gray from Benjamin Moore is $69.99 a gallon. Either way, he'd keep the ceiling white because it makes the room seem larger.
He isn't a fan of the exposed radiator, but thinks it's a waste of money to build a custom cover for it.
"You can spend like $4,000 on something like that," he says. Instead, he'd recommend stripping it down to the metal and simply shining it up. He believes that should only cost around $700 to $800.
He'd do the same thing to the front door, stripping it down until you see the steel underneath the paint.
"You want the finishes to match on anything metal," he says. He thinks this should cost around $1,000.
Berman says a new owner should also install new baseboards since the current ones look "junky." More contemporary five-to-six-inch-tall models will look best in this room, and should cost around $1,500 for the whole unit, he says.
After that, he'd focus on the closets. While he loves that there are so many of them—and that they extend from the floor to the ceiling, maximizing the storage space available—he doesn't love everything about them.
"These look like cheap, hollow-core doors," he says.
Berman said he'd replace them with sturdier solid-core doors, which he believes should cost around $500 to $700 each. He'd also get new "fun" knobs for them, like these Plymouth hall and closet knobs, which are $67.92 for a four-pack at The Home Depot.
"It's a nice little detail for not a lot of money," he says, noting that brass and chrome are both in style right now.
Moving on to the lighting, Berman explains that the ceiling is probably made of concrete, which is why there aren't any lights there at the moment. He'd propose either wall sconces (like this Metro wall sconce, $93.60 to $270 at Lumens Light & Living) or floor lamps (like this Lotus Bubble floor lamp, $475 to $564, also at Lumens). Or, if you really prefer overhead lighting, you can have a fake beam built across the center of the ceiling and recess a light into it. He believes that this beam should cost around $1,200.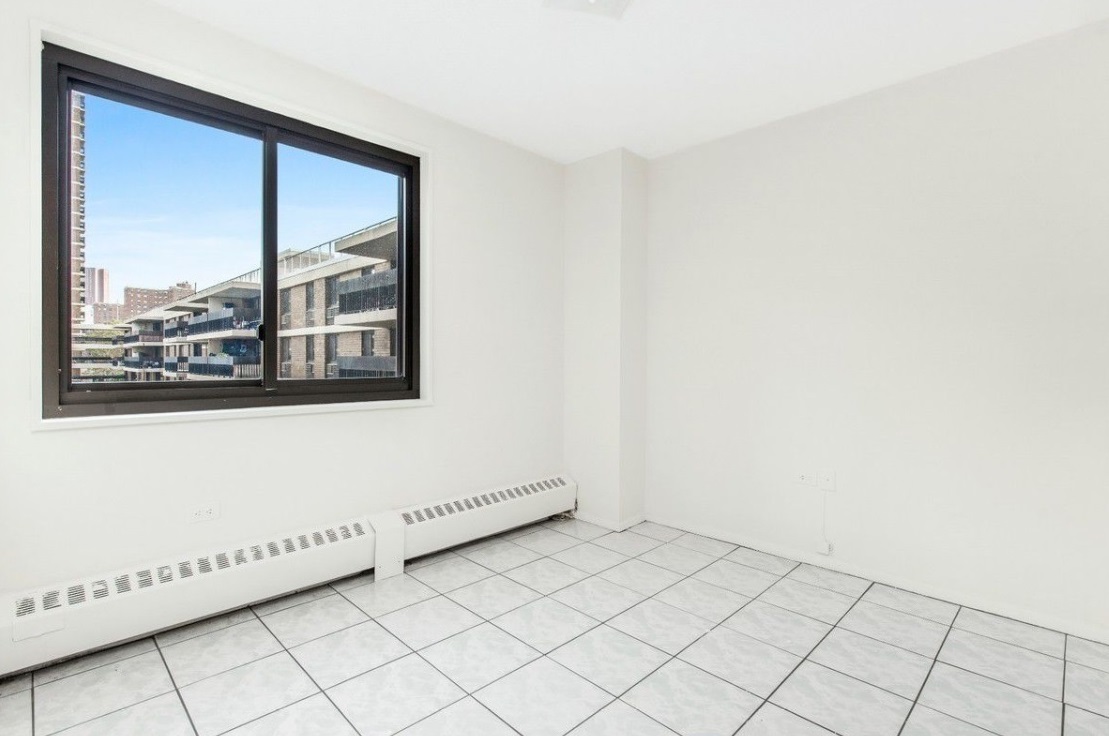 Dining room
Berman says the apartment will be worth more to future buyers with a bedroom rather than a dining room. He'd add French doors with glass panels ($700 to $800 a piece) to the doorway in order to separate it from the living area.
And while they'll technically be distinct spaces, he'd extend the new wood floors from the living room into the new room in order to keep the continuity going throughout the unit. He'd paint the walls the same color as the living room as well.
He'd also swap out the heater for a lower-profile, flat-plate radiator that'll hug the wall better (like this one, $360 at RiverbendHome.com). He'd get a heat-resistant paint in a stainless steel color ($145.50 a gallon at Grainger.com) so that it'll match the radiator and front door in the living room.
Finally, Berman would simply replace the ceiling light with a new flush-mount "with lots of character," like this frosted glass Tundra light, $106.25 at houzz.com.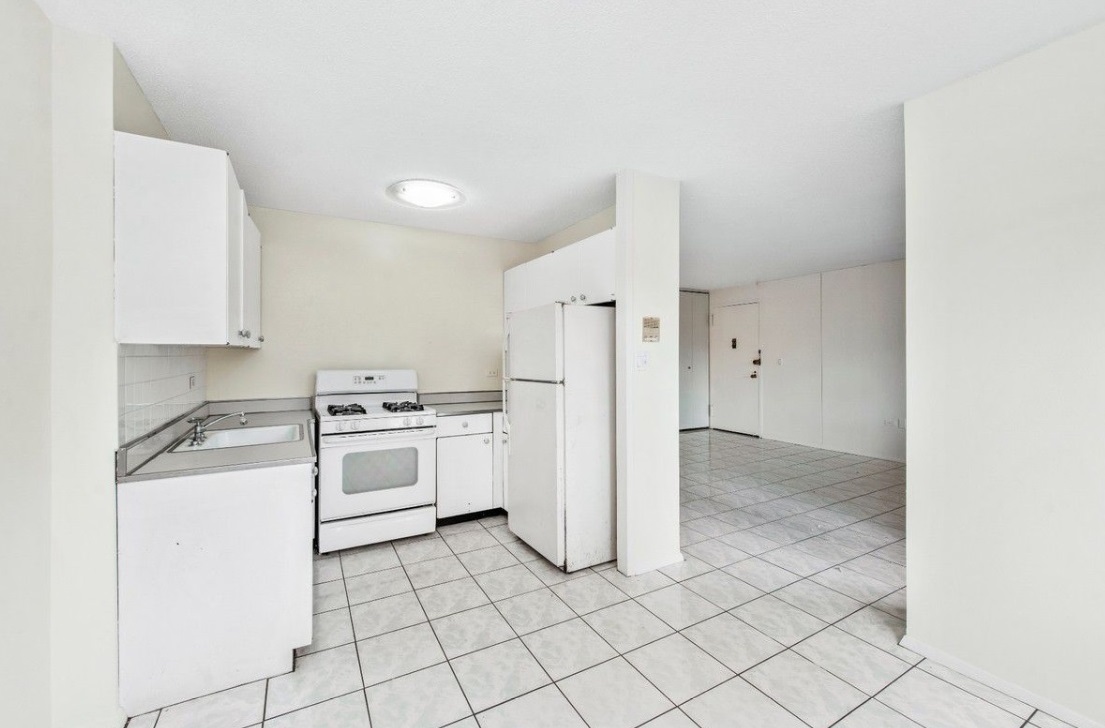 Kitchen
Berman finds the room's current configuration odd, so he'd knock down the wall behind the fridge—which isn't load-bearing and doesn't seem to have any plumbing in it—and make this into a galley kitchen by building a new wall between the dining room and the kitchen. He thinks this should cost around $3,000 to $4,000. He'd move the refrigerator to a corner along the new wall.
He'd tear down the current cabinets, which look old and worn, and replace them with a new set of cupboards that extend all the way up to the ceiling to maximize storage space. He likes pre-painted wood in an eye-grabbing color like aqua or dark gray. If you go the budget-friendly IKEA route, Berman thinks you can get them for $4,000 to $5,000.  
He'd change out all the appliances, which look ancient. He recommends a counter-depth fridge (like this 24-inch Frigidaire, $509 at AJ Madison), which won't stick out as much into the room. He'd also get a built-in oven, like this stainless steel Kenmore gas one, $1,200 at Sears with a separate cooktop above, such as this 24-inch Fisher & Paykel induction cooktop, $1,399 at AJ Madison.
Next, Berman would turn his focus to the countertops. He'd opt for Quartz, a durable material that he calls "kid- and human-resistant," and which he believes should cost around $2,500 to $3,000 for the entire space. He'd extend it up the walls for a backsplash, as well.
He'd also get a new stainless steel under-mount sink, like this one, $140 at Mr. Direct, and a new faucet, like this pull-out spray faucet, $94, also at Mr. Direct.
As for lighting, he'd go with a flush-mount, like this Vance LED light, $295 to $625 at YLighting, which doesn't drop too low.
And for the floors, he'd once again extend the new wide-plank wood flooring into this room. He believes that having the same flooring throughout the apartment will make the space look bigger.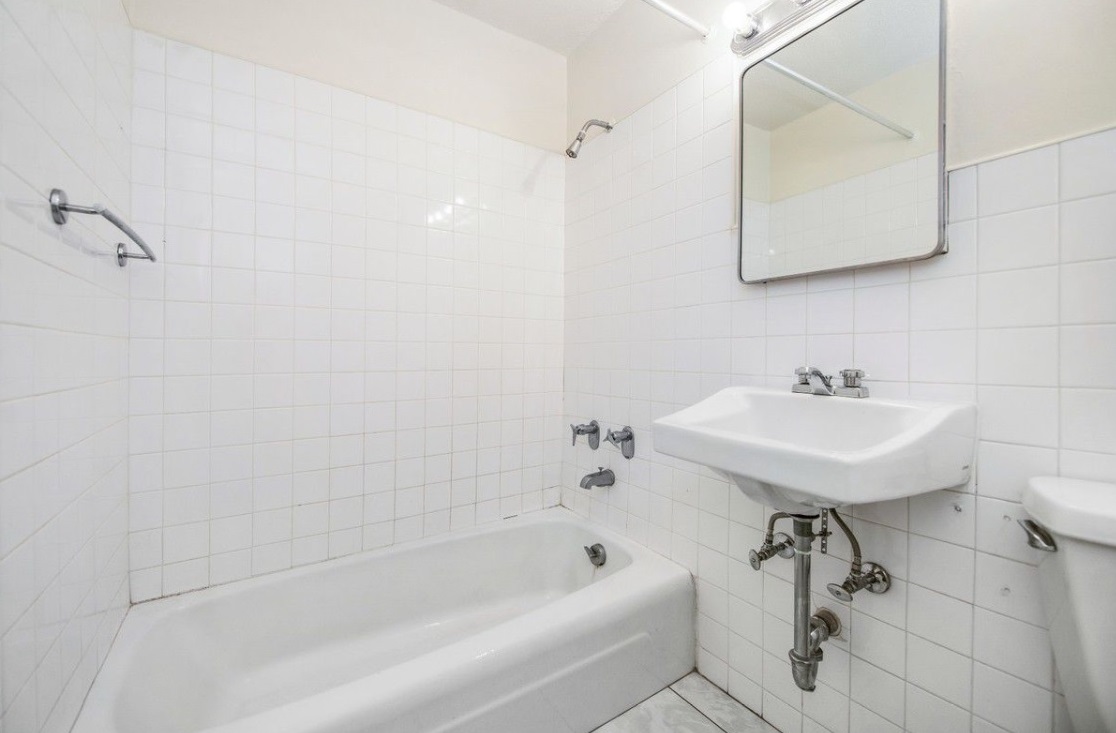 Bathroom
First, Berman would get a full-height, solid-core door for the bathroom so that it matches the closet doors. He believes it should cost $500 to $700 or so.

Next, he'd get a new tub, like this Archer tub, $684.34 at Wayfair.com because he thinks the room could benefit from a deeper soaking tub. He'd then get rid of the curtain rod and replace it with a single glass panel door (like this one, $430.96 at houzz.com). "It's a sleeker look," he says. He'd also get a new shower head and fixtures, like these, $495.95 at signaturehardware.com.
The medicine cabinet is too high up he says, which is especially annoying for shorter folks, so he'd exchange it for a "longer, taller rectangle," like this one, $261.75 at Wayfair.com.
Next, he'd swap out the pedestal sink for a wall-hung vanity, like this one, $449.99 at Wayfair.com.
"You could use the extra storage space in here," he says, noting that there doesn't seem to be anywhere to stash extra toilet paper.
He'd get porcelain tiles—either blue, gray, or beige—for both the floor and walls, which he believes should run in the $2,000 to $3,000 range for the entire room, and he'd also get a new toilet, like this one-piece from Toto, $438.16 at The Home Depot.
As for lighting, he'd prefer "something linear, sleek and modern," like this LED light, $265 to $355 at YLighting.com.