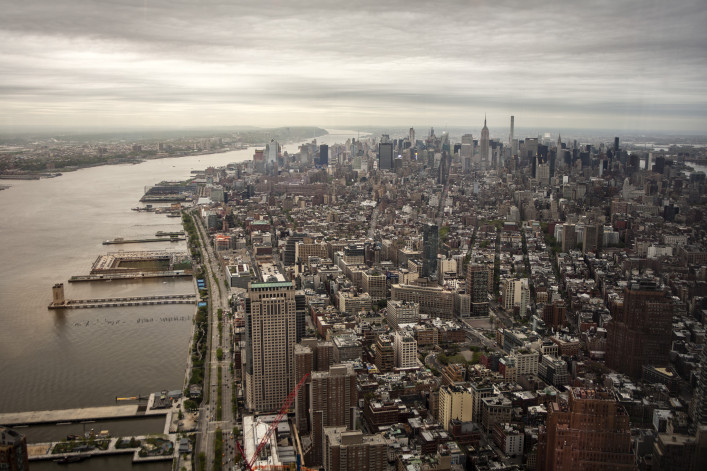 To buy a typical house or apartment in the New York metro area, you have to make at least $99,151 a year. That's according to numbers crunched by the mortgage and loan information publisher HSH.com, which ranks the New York area as the fifth most expensive in the country after San Jose, San Francisco, San Diego, and Los Angeles.
The low ranking, and the listed median New York area home price of $419,000, may owe in part to the authors' expansive definition of what constitutes the New York metro area, which includes outlying Suffolk County on Long Island, Dutchess and Orange counties upstate, Hunterdon, Somerset, Sussex, and other counties in New Jersey, and even Pike County, Pennsylvania, in the Poconos.
The median sales price for New York City alone is $680,000, according to a recent Douglas Elliman/Miller Samuel report, whereas Long Island's is $404,000 and Westchester County's is $500,000. This means that, to afford payments on a typical 30-year mortgage in the city itself, plus taxes and insurance, one would have to make well over $100,000 annually. This is also assuming a 20 percent down payment, and a 28 percent front-end debt-to-income ratio, a figure calculating how much of a person's gross income goes towards housing costs, which lenders use as a metric in deciding whether to approve mortgages.
If these salary figures are dismaying to you, you're not alone. After all, about 70 percent of the city's residents are renters, and the city's median household income is $53,373, less than half of what's needed to buy in the five boroughs.
At moments like these, the country's post-industrial cities take on a new appeal. Pittsburgh, for example, leads the country's major metropolitan areas in affordability, according to HSH, with a median home price of $146,000, requiring just $35,205 in annual income to pay off. Cleveland, Indianapolis, Oklahoma City, and Memphis round out the list.
The one silver lining I can think of—I'm not counting the relative affordability of the Poconos—is the money saved on transportation by the more than half of New Yorkers who don't own a car. The other, car-owning near-half are out of luck, though: the site ValuePenguin recently found that the average New York City car owner pays $2,973 a year in car insurance, which is twice the average for the state as a whole, and which doesn't even begin to address the cost of parking, car payments, gas, and parking tickets.
Hold on to this "happy" thought for the next time you're stuck on the train and late for work: that $121 monthly unlimited MetroCard is only half of what you could be spending on insurance alone.
Then again, if you already drive, ever considered a change of scenery? I hear Pittsburgh is... nice this time of year?
Brick Underground articles occasionally include the expertise of, or information about, advertising partners when relevant to the story. We will never promote an advertiser's product without making the relationship clear to our readers.