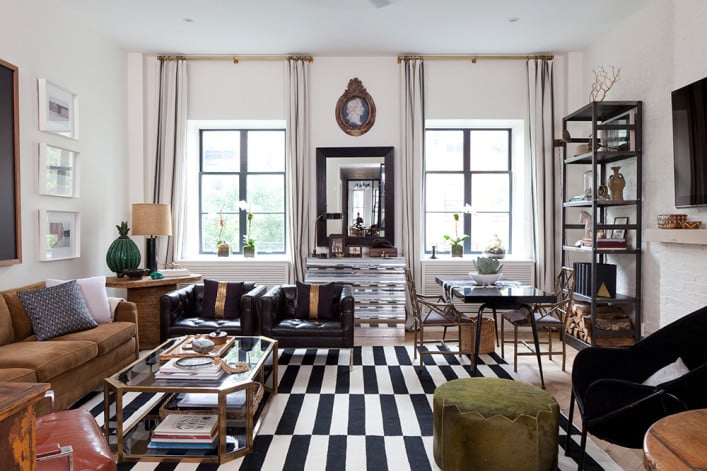 Generally speaking, when you buy an apartment, the seller moves their stuff out, and the buyers move their stuff in. 
Most times, the definition of most "stuff" is obvious—including furniture, clothes, books, etc. But not always.
Is the window a/c included in the deal? Or the flatscreen television that's mounted to the walls?  Or the $3,000 chandelier in the foyer? 
The answer is...maybe.  Everything is negotiable.  You just need to remember to negotiate it—and put it in the contract.
Standard inclusions--and exclusions
The standard real estate contract that most New York buyers, sellers and their attorneys begin with—and then adapt to the needs of their specific deal--provides that unless otherwise agreed, certain items are presumed to transfer to the buyer along with the apartment.
Most large appliances stay, such as refrigerators, freezers, ranges, ovens, built-in microwaves, dishwashers, washer-dryers and air conditioning equipment. 
Smaller appliances remain if they are built in, such as a built-in microwave or espresso machine.
Other items that are presumed to transfer with the apartment include Venetian blinds, curtains, window shades, window screens, storm windows, built-in bookshelves, wall-to-wall carpeting, switch plates, door hardware, mirrors (the built-in bathroom kind) lighting fixtures, plumbing fixtures, and any other articles of property attached to the unit unless excluded in the contract.
The 6 most frequently negotiated exclusions
The standard terms listed above leave room for some gray areas producing reasonable disagreement—and confusion--among buyers and sellers.
Here are a few of the most common negotiated exclusions and clarifications:
1.  Chandeliers and lighting fixtures such as sconces.  
The standard contract provides that these items transfer with the apartment, but sellers frequently negotiate exceptions. 
If you as a buyer agree to let the seller take these, make sure you specify the seller will replace such items with "building standard" ones—basic Home-Depot-quality fixtures that  you can live with for awhile. Otherwise you may find yourself living with a bare hanging bulb for weeks or months until you install a replacement.
2. Window treatments
Like light fixtures, these are presumed to transfer with the apartment, but sellers often negotiate exclusions for high end drapes, family heirlooms or just ones that a seller particularly likes or paid a lot for.
If windows are odd sizes, they may have been custom made and it wouldn't make sense for a seller to remove them. But some sellers  want to remove everything just because they paid for it. They think that the buyer should make a cash offer for any personal property.
3.  Window unit air conditioners
Removable window air conditioning units arguably fall under "air conditioning equipment" enumerated in the standard form, but sellers sometimes specify that they will be taking these units with them. If it's not currently installed, see if you can test it to see if it works. Often the a/c window units are offered as is.
4.  Wall-mounted flat-screen televisions and audio-visual equipment 
The standard contract doesn't directly address wall-mounted equipment but it arguably falls into the general provision regarding "attached" property.  It's smart to spell it out in the contract to avoid misunderstandings and surprises. 
If a seller is going to remove wall-mounted equipment, you should specify in the contract that any mounting hardware must be removed too, and the walls repaired and patched. It's usually up to the buyer to repaint, however.
5.  Closet-organizing systems 
Sellers sometimes argue that California-Closet-type closet organizing system qualifies more as 'removable shelving' than something truly built-in to the apartment. Typically, it winds up remaining in the apartment, but it's smart to clarify that in the contract—along with anything else that's built in.
6.  Outdoor space plants and furnishings 
Planters, outdoor furniture, and even outdoor plants are not mentioned in the standard contract form, and whether they're staying or going needs to be addressed contractually, as this is a frequent area of confusion when an apartment has outdoor space.
---
Real estate attorney Adam H. Stone, Esq., has been representing buyers and sellers of NYC property for over 15 years.  He is a partner in the law firm Regosin, Edwards, Stone & Feder.
 Also by Adam Stone:
3 questions you (and your lawyer) should ask before buying a NYC apartment in a post-Sandy world
Brick Underground articles occasionally include the expertise of, or information about, advertising partners when relevant to the story. We will never promote an advertiser's product without making the relationship clear to our readers.