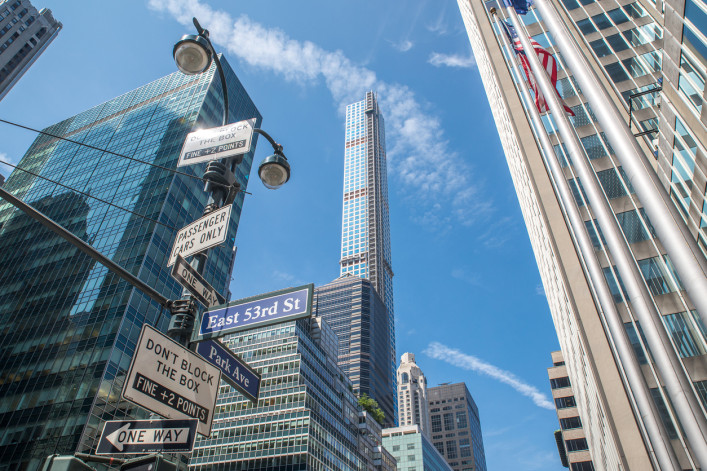 It's no secret that the city's high-end condo marketing is "softening"—real estate-speak for "getting cheaper"—and as with the rental market before it, developers have started to offer up serious concessions to lure in buyers. 
For example, CNBC reported earlier this week that Toll Brothers is offering to pay transfer taxes and the mansion tax in two of their new Manhattan developments. (As we've written before, that can add up to a very significant chunk of change.) And even in buildings where it isn't advertised, this kind of deal-making is happening in new development condos across the city.
In most cases, says Christopher Daish of Triplemint (a Brick partner), "developers are holding on for dear life to retain schedule A [in other words, the anticipated pricing outlined in the offering plan]—in most cases. The last thing they want is actual price adjustments." After all, if they keep their recorded sale prices high, they can potentially sell other units at comparable high prices, even if they're shelling out for incentives behind the scenes. Depending on the building's financing, they may also get in trouble with their lender if they sell below a certain price point. So, rather than selling at lower prices (and having those lower prices as a matter of public record), new construction condos are piling on the incentives, including the offer of the mansion tax. But to find these deals, you might have to do a little digging.
"Toll Brothers are making their concessions known, for example, but with a lot of these new developments it's all about image, and they don't want to offer too much publicly," Daish explains. "You want to have a good broker working on your behalf [to seek out these deals]."
But what to ask for? The transfer taxes are a big one, but don't necessarily stop there. As we've previously pointed out, in this kind of slow market, you may be able to get the sponsor to cover your attorney's fees as well as their own. (Usually in new developments the situation is reversed, and the buyer has to pay everyone's attorney fees.)
It's also possible to get some of your common charges covered, or pile on extras such as free storage space or access to other amenities—for instance, Daish cites a new development in Hell's Kitchen that's offering buyers a free storage unit to sweeten the deal.
And in some cases, you may even be able to get some custom renovations thrown into the mix. "There was one case we had in Boerum Hill where the developer was willing to make modifications to the apartment to satisfy the purchaser," adds TripleMint's Devin Kogel. "They moved a wall, and used different materials to add some soundproofing. They were willing to work with the purchasers in a way that I've never seen before to make them comfortable enough to sign the contract."
Bottom line: If you're thinking of buying new development, now's the time to be the squeaky wheel, and be strategic about your ask. "Developers are basically doing everything they can to protect the inItial asking price," says Kogel. "It can't hurt making an offer with these contingencies."
Brick Underground articles occasionally include the expertise of, or information about, advertising partners when relevant to the story. We will never promote an advertiser's product without making the relationship clear to our readers.