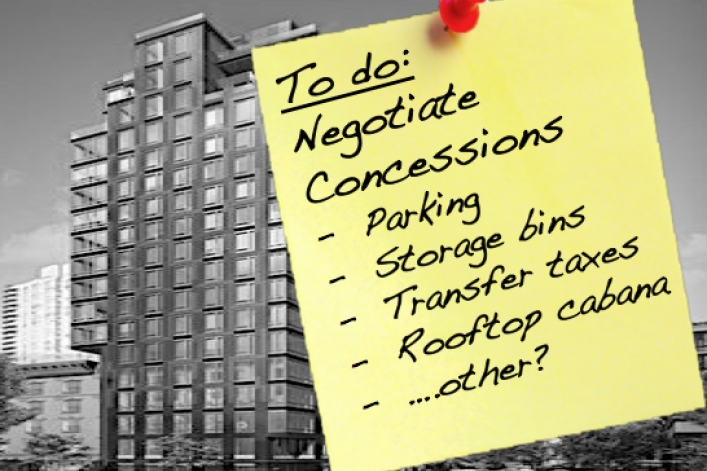 Getting a good deal on a new condo in NYC almost always means negotiating for concessions rather than haggling over the price.
That's because developers would rather give buyers 'off-deed' concessions* which won't affect the publicly-recorded price-per-square-foot of the apartment or how much future buyers are willing to pay for apartments in the building.
Often, the developer will set a pre-determined limit (specifying, for example, that concessions and price changes if any may add up to no more than a 7.5% discount off list price) on what they are willing to concede on, says Ana Maria Sencovici, a real estate agent at Prudential Douglas Elliman's Margolis Group and the co-founder of The Apple, Peeled real estate blog.
That bottom line (which is yours to guess at) is imposed either by the developer or by the bank.
"Whatever that number is, they usually can't go past it," says Sencovici.
Timing also plays a role.
You may have more leverage in the preconstruction phase, for instance, as this is when the developer is focused on getting 15% of the units under contract so that the offering plan can be declared effective by the attorney general and closings can legally begin. Fifteen percent is also the minimum threshold at which most lenders will even consider financing sales in the building.
Conversely, "If a place has been on the market for a long time or is the last or second-to-last unit, there may be a deal to be had," notes Paul Zweben of Prudential Douglas Elliman.
How to negotiate
Negotiations over concessions are all about "finding the structure that will speak to the developer's unique situation," says Sencovici.
Do your best beforehand to find out what concessions have been offered to other buyers. Ask your broker if you're working with one. Google around and search sites like StreetEasy's talk forums (or post your own question there). 
"Make a list of what you ideally want and then prioritize it in terms of what's most critical to you," says Sencovici.  "Put 99% of what you want in the first offer and be ready to give up a lot of those in multiple rounds of back and forths. Save that 1%, such as taking down your closet bars to make room for your self-installed closet, to seal the deal at the very end."
Be patient, think creatively, and try to remember that getting rebuffed "is not a personal affront," she says. "Try to take the emotion out of it."
Determine your "walking away" point before you enter negotiations so you remain disciplined. But as you're walking out the door, suggests Sencovici, "don't hesitate to say something like "it's a shame that X was the deal-breaker ... do let me know if the developer changes his/her mind."  If the developer sees it's just a question of getting this or that done, you might get it.
What to ask for
Transfer taxes: "Buyers should definitely not be picking up transfer taxes," says real estate lawyer Rachel Mulcahy. These taxes are due when the title of the property is passed on to a new owner, and they can be very expensive. In New York, they've traditionally been paid by the buyer, but in recent years, they've been transferred back to the developers. On a $1m apartment, that could save you $14,250 in NYC transfer taxes plus $4,000 in NY State transfer taxes.
Attorneys fees:  In the heat of the real estate boom, attorneys fees of the buyer (around $2,000-$2,500) as well as the developer were often part of the buyer's final costs. No more. "In the current market, sponsors often give buyers closing cost credits," says real estate lawyer Jerry Feeney.
Common charges: Developers will often pick up a year of the buyer's common charges as part of the deal, Feeney says. That could add up to a savings of $12,000 or more per year. Contributions to the building's reserve fund – another few thousand – have also been offered to sweeten the deal.
Storage: Storage is a common add-on, since many buildings have large areas devoted to units. "Often these can be included for 'free,' although this could change if storage is scarce in the building or in high demand," says Sencovici.
Parking spaces: Developers may be more attached to parking spaces, Sencovici says. They have a retail value on their own, so the developer may offer only a small discount on spaces, unless you're looking at the trophy penthouse. "Sellers often want save those concessions for larger priced units with less liquidity," she says.  Licenses to parking spaces may be easier to come by than an actual deed to one, as the deed would be publicly recorded and could impact the developer's negotiations with a future buyer.
Interest rate buy-downs: Some developers will offer an interest rate 'buy-down.'  "Say the developer pays 1 point as a buy-down on a $500,000 mortgage," explains Stephen G. Kliegerman, president of Terra Development Marketing.  "The cost to the developer is $5,000 and the buyer gets a ¼ percent buy-down in their rate for the term of the loan.  The developer may spend a few dollars buying down the rate but the buyer in the long run gets a much larger savings than the original $5,000 paid and it may mean the difference between the buyer being able to afford the monthly cost versus not." 
Renovations: Renovations to the apartment can sometimes be included in the deal, especially if the building is still under construction. Whether you want a three bedroom converted to a two bedroom or you're not crazy about the countertops, it doesn't hurt to ask for the changes to be made – and paid for – by the developer. "These renovations can be done at a much cheaper rate to the developer than any individual could get," says Sencovici says. "It's often a win-win."
Mortgage splitters: For those taking out mortgages, a

splitter

might be worth looking into, where the seller assigns all or some of the mortgage recording tax which has already been paid to the buyer. This can save thousands, depending on the size of your mortgage.
Furnishings:  "I have also seen sponsors throw in model furniture to seal a deal or offer a 'decorator's credit' to allow the buyer some extra cash to buy furniture for their new home," says Kliegerman. "If you are looking at the model unit, ask for the furniture or negotiate a good price for it.  If you're asking for a decorator's credit, ask for $5,000 as part of your offer."
---
*A note about the gray area of 'off-deed' concessions: By law, all sellers, including developers, are supposed to deduct from the recorded sales price everything of value that is part of the transaction.  That information is supposed to be disclosed by the seller's attorney on a Real Property Transfer Report.  But when there is no easily traceable record of the transaction or concession, many attorneys routinely leave it off the form.  That includes licenses for parking spots (i.e. spots that are not deeded), furnishings, etc.
Related posts:
Prewar vs new: Which is better?
'Splitters' can save you thousands on a new condo
The top 7 construction defects
Ask an Expert: How do I check on a developer's track record?
The real (scary) numbers behind those tax abatements
BrickUnderground's New Construction Survival Kit
Brick Underground articles occasionally include the expertise of, or information about, advertising partners when relevant to the story. We will never promote an advertiser's product without making the relationship clear to our readers.