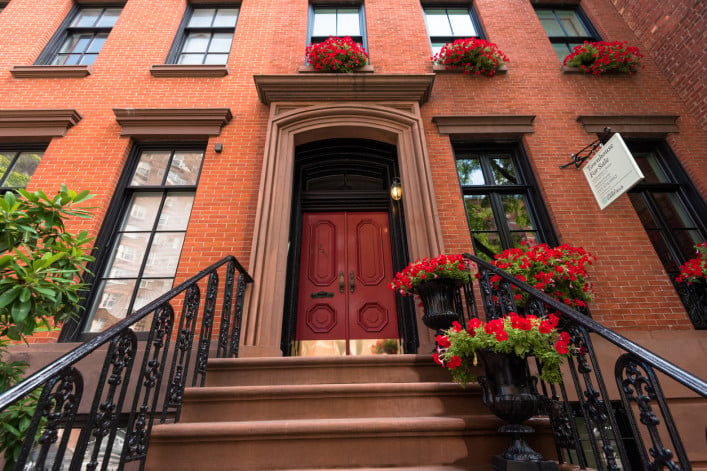 It doesn't happen very often, but one of the scariest, gut-punch moments when you're buying is when a mortgage appraisal comes back too low.
Although rare, it can happen in a couple of different scenarios: Buyers who have lost out on several apartments may bid more to make the next deal happen and find the appraisal doesn't support the high price that they're willing to pay.
Or it could occur when buying in an area where there's been significant discounts during the pandemic and those are the most recent sales on records, says Garrett Derderian, director of market intelligence for Serhant. "With that said, we still look to 2018-2019 pricing when evaluating the market today," he says.
Cue the antacid commercial. As bidding wars make up an increasing share of New York City deals, some brokers and mortgage brokers say they are seeing more low appraisals. Brick Underground talked to them about ways buyers and sellers can protect themselves to keep a low appraisal from jettisoning a deal.
Scott Harris, a broker at Brown Harris Stevens, says three recent deals that he was involved with had low appraisals. Two were resolved, while the third "exploded pretty fabulously."
"It's almost never an issue, and hasn't been an issue in years," he says. Until now, that is. But why? Real estate professionals Brick spoke to say it is something that can occur in when markets go from cold to hot very quickly—NYC's current saga. In the second quarter of 2021, the number of Manhattan sales surged to its highest quarterly total in six years, driven by the return of all-cash buyers.
And it can happen when an appraiser gets pulled in from another area to work in NYC and isn't familiar with the details that makes one apartment more valuable than another. 
Harris points out if you are getting a loan from a national company, your appraisal could be done by someone who is not well versed in the intricacies of the New York City market. He suggests asking the mortgage broker if they are having any issues with low appraisals and how they are dealing with them. You may want to go with someone who has the hometown advantage. (For more advice on picking a mortgage broker, read "Does it really matter who your mortgage broker is?")
Appraisals have been coming in at ask most recently for clients of Christopher Kromer, another broker at Brown Harris Stevens. But several months ago, an appraisal came in at 22 percent below the contract price. Kromer represented the seller.
"I couldn't believe it. I've never ever seen one come in that low. But the appraisal was so egregiously poor that we tried to fight it. I mean, this was for a one-bedroom loft in Hudson Yards, and the appraiser included as one of his comparables a Gramercy Park studio. It was bizarre—clearly he didn't find the data points he wanted and stretched it," Kromer says.
"The buyer remained interested, and their broker and I tried to appeal the appraisal...we had to come back with six comparables that supported our price, while also specifying any inaccuracies in the report. Well, we did this—and made a clear case—but it still didn't work. The buyer ended up finding a different bank who then ordered a new appraisal, and that came in to support our ask," he says.
Here are some other tactics you can try when faced with a low appraisal. 
You may need a bigger down payment
It might be hard to wrap your brain around—but one way to circumvent a low appraisal is to put more money down to make up the shortfall from the bank. 
Here's how it works: Let's say you have an apartment for which you're willing to pay $500,000 and the terms of your loan require you to put 20 percent, or $100,000 down. Then comes the big shock: The appraisal comes back and says the apartment is valued at $450,000.
You're financing 80 percent, but now instead of $400,000, you're getting $360,000. To make up the difference, you would need to put down an extra $40,000, for a total down payment of $140,000.
Of course if you have a mortgage contingency, a low appraisal means you could walk away and keep your deposit. Also known as a finance contingency, they're something that buyers were increasingly able to insist on when the market softened.
How sellers protect themselves
Now you may find some sellers pushing back and one way they are doing this is to include a clause in the contract that prevents the contingency from being triggered. Mark D. Friedman, an agent at Brown Harris Stevens, says low appraisals haven't been an issue for the deals he's seeing. Still, he's not taking chances.
"I have been putting into our contracts that if there is a mortgage contingency, it is at 95 percent, so if the appraisal comes in low, we have some protection," he says. That means if an appraisal comes in just under the agreed-upon price, the buyer has to remain engaged.
It's a tactic he uses when markets are moving fast "and it works," he says.
Melissa Cohn, executive mortgage banker at William Raveis Mortgage, calls low appraisals an "erratic trend" and she has seen a few in New York City. It was a significant issue on the East End during the pandemic when buyers were grabbing houses, she notes. At that time municipal offices were closed, and towns and counties were behind in recording deals.
Banks require recorded sales, she says, so "it was a big deal in the Hamptons when the market moved really fast," she says.
Shift to 10 percent down
Kevin Leibowitz, president and owner of Grayton Mortgage, hasn't seen many low appraisals but says they are an indicator of a hot market. Still, "as long as it's not crazy off the market, generally appraisers can support the price," he says.
He has some solutions to offer a buyer who receives a lower appraisal: To maintain the amount you would receive, see if you can shift to 90 percent financing and 10 percent down. This would likely not work if you are buying in a co-op, which can want 20 to 30 percent down (or more) but could be a fit if you're buying in a condo.
"Now the borrower is on the hook for mortgage insurance, which is not optimal but sometimes not that expensive. It could be under $100 month," he says.
Both the buyer and seller split the difference
And then there's the King Solomon approach.
"When a seller doesn't want to budge and the buyer doesn't want to come up with more cash, sometimes you split the difference," he says. This can be tricky to negotiate but Leibowitz likes this solution because "it cuts both ways" and makes both the seller and the buyer meet in the middle.
Ask the appraiser to reconsider
A buyer can request what's called a reconsideration of value—which means you are asking the appraiser to reconsider their professional opinion—a tall order. 
"From an appraiser's perspective, they are held by professional and ethical standards and [now] someone says, 'I don't like the number you gave me.'" Leibowitz explains it is historically difficult to get an appraiser to respond. However, he has had some successes.
Rocket Mortgage says "the reasons for a dispute can't be emotional in nature." Instead, bring evidence that there are home improvements the appraiser missed, errors in the report, or that it relied on bad comps.
Why low appraisals are happening
It can be a shock to get a low appraisal, but just because it is low "doesn't mean it is wrong," says Jonathan Miller, president and CEO of real estate appraisal firm Miller Samuel. 
Today's "lenders are more conservative than the historical norm," a legacy of the 2008 crisis. While some may be aggressive, "the last thing they want is some borrower or mortgage broker steering an appraiser toward a more favorable number," he says.
He points out appraisers are an impartial party and that mortgage brokers and real estate brokers are paid a commission if it goes through. An appraiser gets a fee either way.
But in real estate, as in life, most people think they are the expert.
"Everyone knows the number except the appraiser," Miller says. "We can be labeled the bad guy when that's not necessarily true."
When bidding wars breed more bidding wars
Another contributing factor: Bidding wars and the frenzy for houses and apartments in parts of the city and the suburbs. During the height of the pandemic, prices rose rapidly in the suburbs, thanks to a chronic shortage of supply and the exodus from city. Now it's NYC's turn: With prices in the city still below pre-pandemic levels, sales here are booming.
There's a major emotional component to bidding wars—and they can become a pattern: Buyers who have seen listings go to a higher bidder come to the next one determined to win.
In the suburbs 40 to 50 percent of transactions are above the last asking price, according to Miller, who is also the author of the Elliman Report. In Manhattan, only 6.8 percent of deals in the second quarter were above the last asking price—which is still above normal. In a flat market, bidding wars make up 5 to 7 percent of deals, and in the first quarter of 2021, bidding wars were 3 percent of total deals
"Manhattan is later in the cycle," Miller says. "We expect to see an increase in bidding wars in the next quarter."
Buyers and sellers can look at asking prices or deals in contract when agreeing on a price, while an appraiser has more limited data available to them—they must use closed sales when doing an appraisal because, as Miller explains, "We have to support it to a third party—the bank."
A big burst of deals, plus a swift change in pricing—can introduce the potential for appraisals that are off, especially if the bank is working with an appraiser with limited local knowledge.
"Nuances or sudden changes in conditions can mean lower probability of accuracy. That's the situation we're in now," Miller says.
Brick Underground articles occasionally include the expertise of, or information about, advertising partners when relevant to the story. We will never promote an advertiser's product without making the relationship clear to our readers.