Have $500,000 to purchase your very first apartment, but aren't sure what kind of unit would give you the best bang for your buck? Kobi Lahav of Mdrn. Residential, Morgan Turkewitz of Compass, and Helen Scott Ching of Douglas Elliman give you some guidance in this week's Buy Curious.
The proposition:
I have a $500,000 budget for my first apartment. Should I get a studio? A one-bedroom? What/where are the best investments?
The reality:
"What an individual buyer can or should get depends on a variety of factors specific to the individual," says Turkewitz of Compass. "What do they qualify for? Are they solely looking to live in the apartment or are they looking for a building with liberal sublet policies so that they can one day rent it out?"
She adds that "it also comes down to what that specific buyer prioritizes—type of ownership, location, space, natural light, walk-up vs. elevator, doorman, pets, level of renovation, etcetera."
So what would be best for you? Read on to find out: 
What can you get with $500,000?
"For $500,000 I recommend getting a one-bedroom or a studio," says Douglas Elliman's Ching. "In New York and other big cities, studios and one-bedrooms are more desirable because they are easier to sell and sublet if you choose to do so" later on. 
Mdrn. Residential's Lahav agrees, but adds that a buyer with such a budget should be sure to look into both one-bedrooms and "alcove studios that can be converted to one-bedrooms." You can live in a one-bedroom (or an alcove studio that's been converted to a one-bedroom) for a longer time than you could a straight studio, he notes. "For example, if you move into a one-bedroom when you are single, you can live in it later with a significant other and you can even live in it for the first year or two with a baby." 
If you need a larger space, but won't (or can't) go over your proposed budget of $500,000, Lahav says you still have a few options. First, you should "consider looking at HDFCs, which are co-ops with income restrictions. These can be found all over the city and are priced under-market, so a two-bedroom could be around $500,000." The buyer needs to make sure his or her income is under the maximum allowed, however.
Next, he suggests checking "areas where there are early signs of development activity." Is new construction imminent in the neighborhood? Are there upscale grocery stores or coffee shops popping up? You might be able to get in early and buy a bigger place at a fraction of the price of what it would be in more well-established locales.
And if all else fails, "try looking into New Jersey," he says. "Don't limit yourself to neighborhoods in New York. New Jersey real estate is booming and it can be easier for you to get to [certain areas in] Manhattan from Jersey City than Queens, depending on where you work."
Which is the better long-term investment—a studio or a one-bedroom?
"One-bedrooms have a higher resale value compared to studios and thus hold higher long-term value than studios," says Lahav. "Studios represent a limited growth potential as first-time buyers understand that they will quickly grow out of it," he says.
Lahav says that a studio "can be a great long-term investment especially if it has the potential to be made into a one-bedroom. The long-term value lies in the ability to separate the sleeping area from the living room later on. It can increase the value of the unit." He explains that if you create a legal bedroom, it will "change the comps for your unit from studio comps to one-bedroom comps… Potential buyers will assess the value of your unit based on the comparable one-bedrooms on the market, and not the studios."
He adds that "the ability to have a door between your living room and your bedroom is in some cases more important to potential buyers than other considerations. [This] obviously changes for each buyer, but I've seen buyers who would rather have a separate bedroom than light or even a renovated apartment."
For Turkewitz, the issue isn't as clear-cut. "The answer isn't black and white," she says. "A one-bedroom is typically a better long-term investment. I find that people often like the separation and being able to shut the door—especially if they are living with someone or have guests staying over. That said, if you are able to purchase a smaller apartment in a building with more liberal sublet policies, that may be the way to go if you are looking to hold on to the property and rent it out," she says.
Condo or co-op?
Our experts differ here: Lahav believes that a buyer in this situation should be looking into co-ops. "Co-ops are, on average, 25 percent cheaper than condos, which will allow [a buyer] to get a bigger, nicer space." Also, "co-ops retain value better than condos," he adds.
However, Turkewitz urges co-op caution. "If you go the route of co-ops, there are many policies that you may or may not know about that can disqualify you from purchasing," she says, noting that there can be rules disallowing co-purchasing, gifting, and pieds-a-terre, which may definitely affect a first-time buyer with generous parents who are trying to help them out.
Ching agrees, saying that she'd "recommend a condo rather than a co-op for a few reasons." She notes that "condo board approval is very simple. You are able to purchase [the unit] with an LLC or corporation (so this is great for foreign buyers and investors). The monthly common charges are typically less expensive than a co-op's monthly maintenance. Co-ops sometimes don't allow parents to purchase [for their child]. And [a condo can be] easier to sublet," since co-ops sometimes forbid that outright or place major restrictions on it.
What condition should the apartment be in?
"At this price point, it's better to buy a move-in ready apartment," counsels Lahav. "It doesn't really matter if it's gut-renovated or just in decent condition. Fixer-uppers are priced lower, but when you are a first-time buyer, you might not be aware of how much work is required and [the fact that] there are almost always surprises when you start a renovation. It's almost always better to take whatever money you want to put aside for the renovation and just buy something more expensive that's in better condition."
He notes that an exception to this is buying an alcove studio and making it into a one-bedroom. "These renovations usually prove themselves and add a lot of value to a unit. It's worth the hassle of going through a board for approval [of renovation plans]."
Ching mostly agrees, and recommends finding "something in the middle of turnkey status and fixer-upper [status]." She suggests looking for a livable place that could use (but doesn't absolutely need) an update and making "small changes like new appliances or kitchen cabinets" as they "can do wonders for a home."
Turkewitz adds that "if you want something move-in ready, in general it will be smaller than a fixer-upper at the same price. If you are willing to do the work, a fixer-upper may be the way to go if you are looking for more space."
Where should you look?
Ching says that "at this price point, I suggest buying in Upper Manhattan—Hamilton Heights, Washington Heights, or Harlem. The train access is great and in most cases you can get to Midtown in less than 20 minutes. These neighborhoods are going through exciting changes, too. More restaurants and celebrities are popping up [there] every day. The value is exceptional. For resale condos, you're looking at under $800 per square foot. New construction is just under $1,000 per square foot."
Lahav likes the Upper East Side and Midtown East. "These areas represent a chance to find decent apartments in [your] price point. In addition, these areas are expected to grow in the next few years as a result of the Second Avenue subway. You can still find some good deals in the 90s east of Second Avenue." He adds that there's lots of construction going on now in Midtown East, with office buildings, condos, and rental buildings popping up all around. Examples include One Vanderbilt, an office building being built next to Grand Central that "will add high-end offices to the area and naturally increase the demand for apartments in the area," and Aalto57, a luxury rental building on the corner of 57th Street and Second Avenue. "All of this construction will translate to additional services opening up in the area and to higher rents and prices per square foot," he says. They "will increase the value of all other types of apartments."
Turkewitz adds that "if space is most important, some neighborhoods that you may be able to capitalize on include the Upper East Side, Murray Hill, and the Lower East Side." She also notes that the L train shutdown may offer an opportunity for folks to purchase at cheaper rates in a variety Brooklyn neighborhoods along the line, such as Williamsburg or Greenpoint.
Check out these listings that can be yours for under $500,000: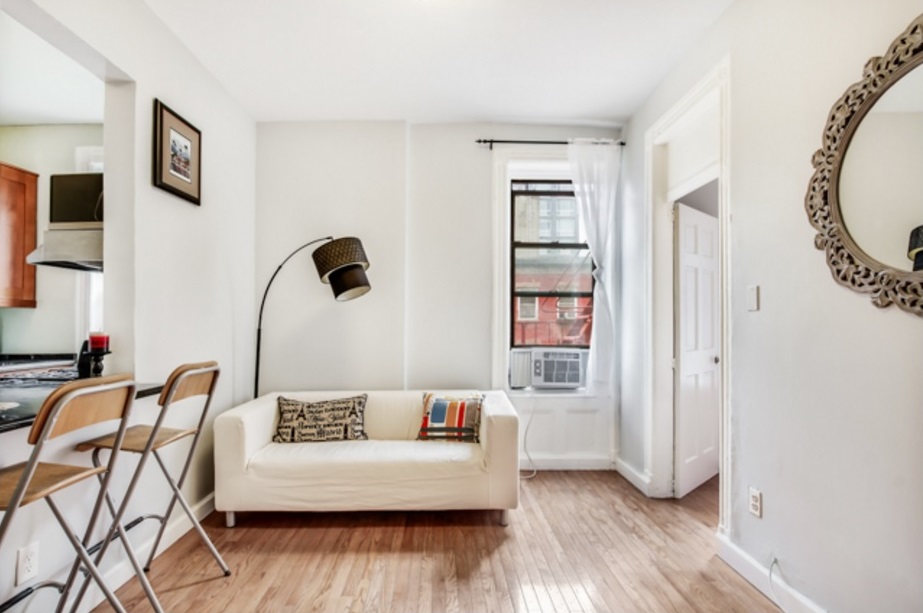 East Village one-bedroom, one-bath co-op, $425,000
: This sunny unit at 327 East 3rd Street (between Avenue C and Avenue D) has high ceilings, hardwood floors, oversized windows and a stainless steel kitchen with granite countertops, and is located in a prewar walk-up building.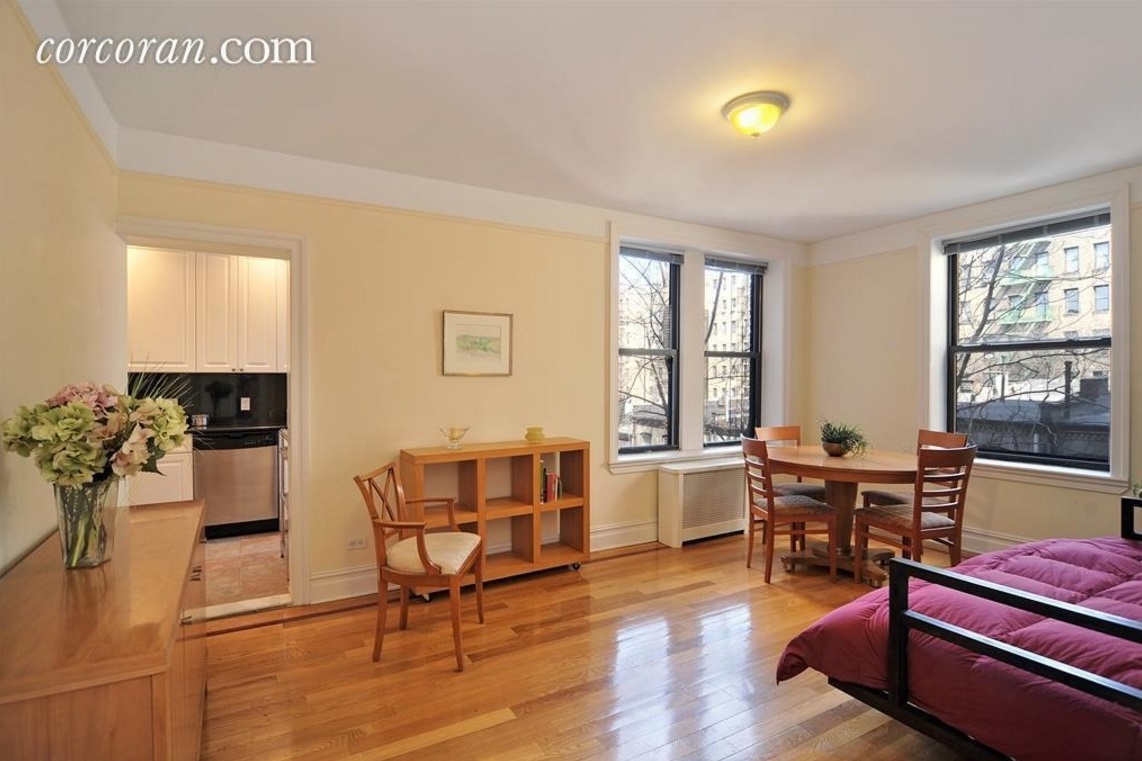 Washington Heights one-bedroom, one-bath condo, $462,000
: This recently renovated one-bedroom at 801 Riverside Drive (between West 157th Street and Edward M. Morgan Place) has new windows, a windowed kitchen with stainless steel appliances and good storage. The prewar condo building has an elevator, a live-in super, and on-site laundry.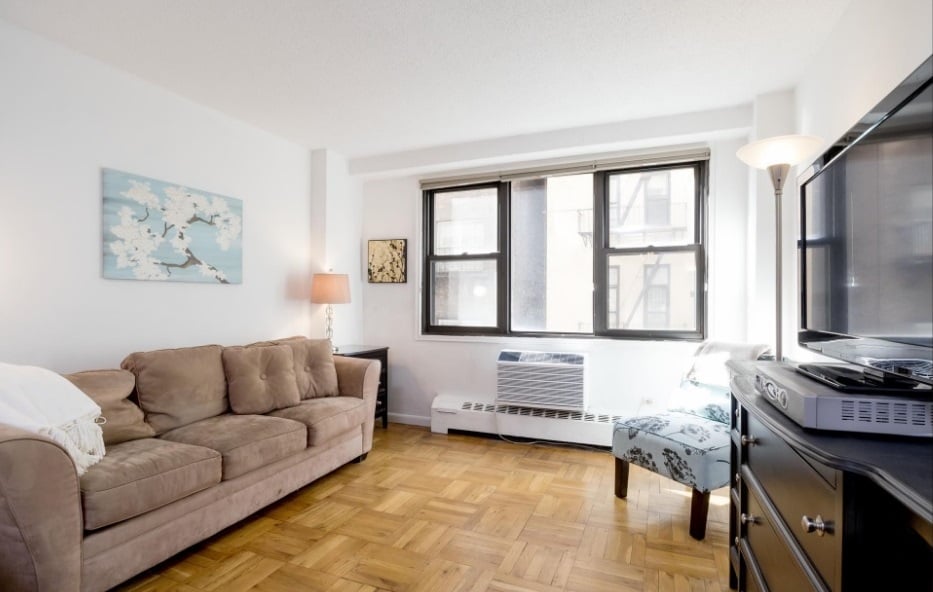 Gramercy co-op studio, $500,000
: This 400-square-foot apartment at 230 East 15th Street (between Second and Third Avenues) has stainless steel appliances, through-wall air-conditioning and lots of storage. The pet-friendly co-op building offers a full-time doorman, a live-in super, on-site parking, a roof deck, bike storage, private storage, and updated laundry facilities.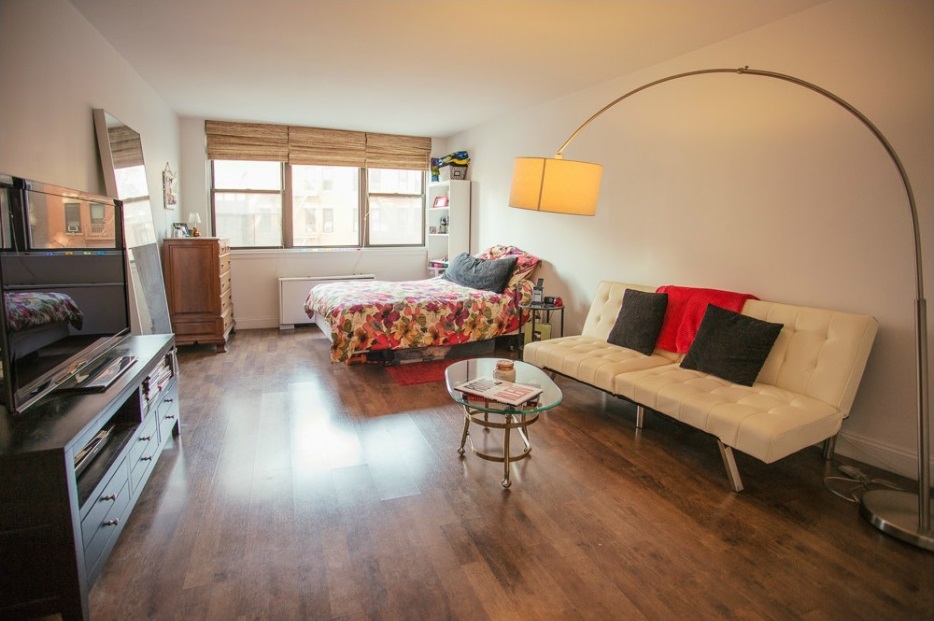 Murray Hill co-op studio, $399,000
: Located at 225 East 36th Street (between Second and Third avenues), this south-facing studio has oak floors, stainless steel kitchen appliances and three large closets. Building amenities include a 24-hour doorman, a live-in super, a garage, storage, a bike room and a roof deck. 
Brick Underground articles occasionally include the expertise of, or information about, advertising partners when relevant to the story. We will never promote an advertiser's product without making the relationship clear to our readers.