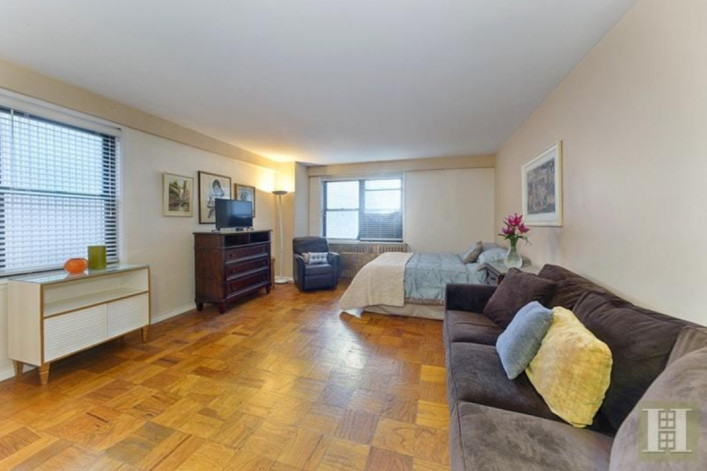 At first glance this $499,000 Gramercy Park studio at 330 Third Ave. looks dated, but architect Lisa Mann of TOLA Architecture, a firm with offices in Brooklyn and the Catskills, says that it shows a lot of promise.
"It's spacious, has big windows in the living space that get great north light and a bit of west light, too, and the closets have great potential," Mann says. "I also like that the kitchen is tucked away from the living space."
There's also a separate dressing area, which is a rare find in a studio.
For this week's Reno Ready, we asked Mann to tell us what she'd do to bring the apartment up to date. Here are her recommendations: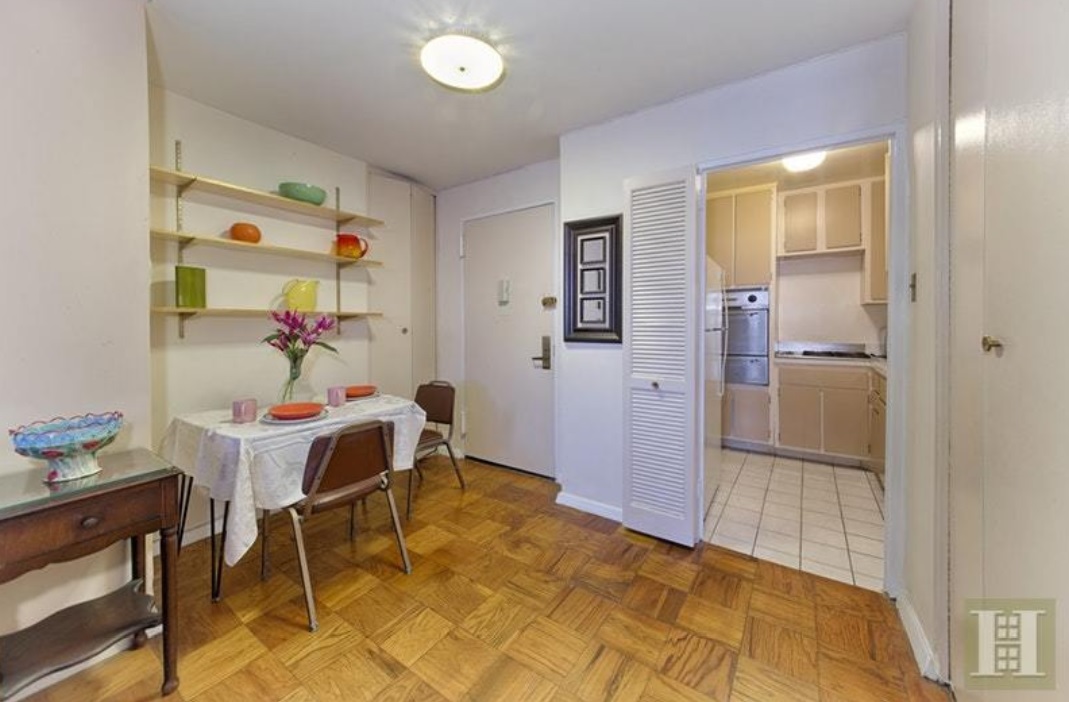 Entryway
Mann loves that the apartment has an entryway, but thinks it could use an assist. 
"It's not very clearly defined, and it isn't being used optimally," she says. "Plus, the kitchen and bathroom could definitely use facelifts."
The first small area in an apartment is more important than most people think.
"It's what you experience the moment you enter the apartment," Mann says. As such, she'd lose the dining table and shelving so you aren't crashing into them the second you walk in, which will open up the space a bit.
Closet: Mann would make the closet about a foot deeper, so that there's hanging space for coats, as well as a deeper storage area towards the back. She'd also get rid of the bifold doors, which she says don't often work all that well, and replace them with "a solid-core flush door with simple hardware to match the entry door as closely as possible."
She thinks the closet work should cost around $1,000-$1,500. New doors should be $750-$1,000.
Lighting: She says the current light fixture is a tad dated, so she'd swap it out for something more modern. Prices for this Plaff-On ceiling light at YLighting.com start at $320.
Bench: In place of the table and chairs, Mann would add a bench here, with or without storage, depending on what the client wants. It's a place for you to drop your things when you first get home, and doesn't clutter up the space. Mann thinks a simple bench without storage can be found for around $950. A bench with storage will cost more, in the $2,500 range.
Shelving: Mann would do away with the existing shelves, and go with a glass Rakks Shelving System in its place.
"It's a bit more graceful" than standard shelves, she says. She recommends keeping the shelves shallow "and high enough above the bench that you're not worried about headroom." If the client doesn't want shelves, Mann suggests simply "adding some hooks for pictures or objets d'art." She thinks the shelving system should cost approximately $250.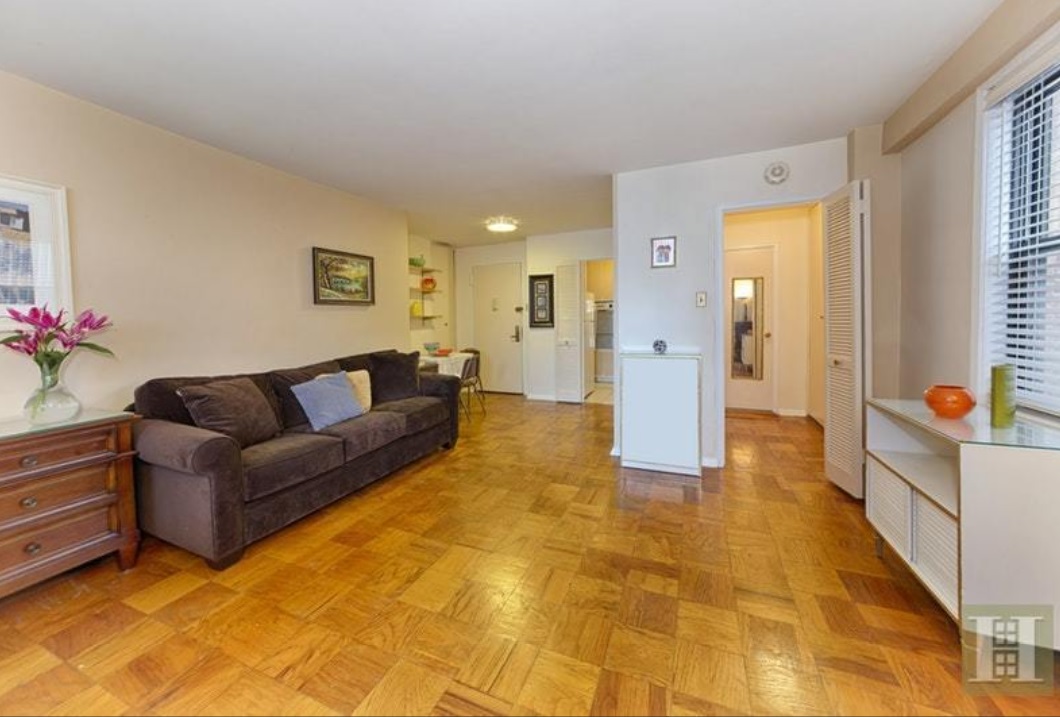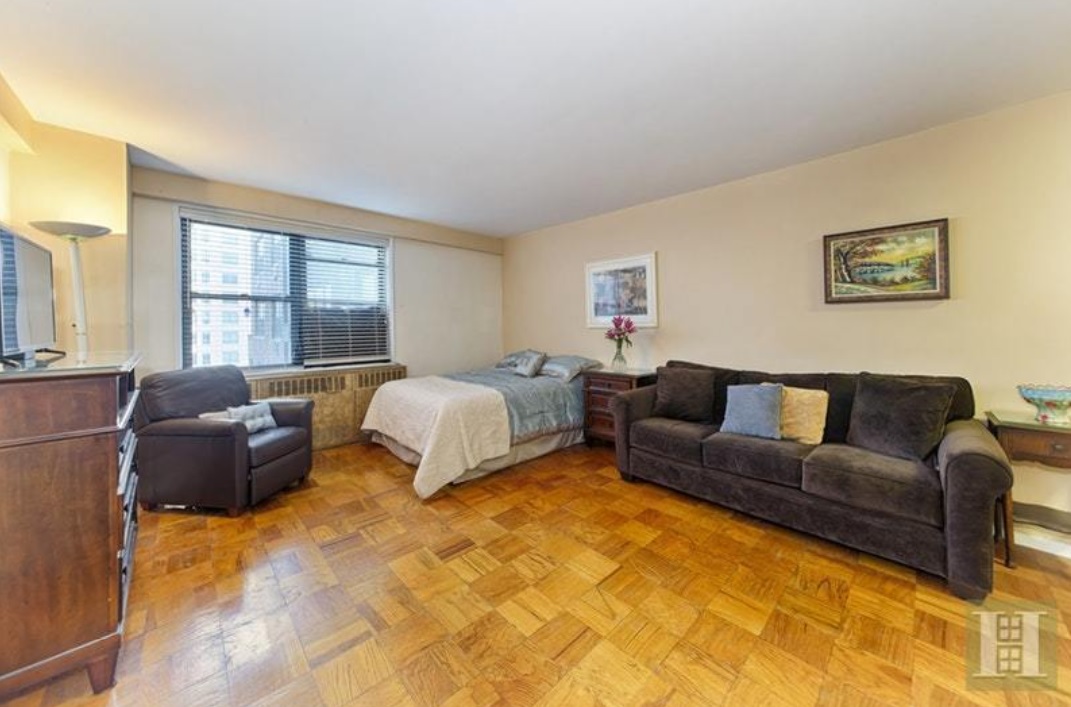 Living room
Closet: There's a large closet just outside the kitchen, and Mann thinks that instead of having the doors open into the living space, which is a bit awkward, she'd close up that side with a real wall, and instead have the closet open onto the other side, in the dressing area.
"It'll be one big walk-in closet area and also clean up your public space," she says. She thinks the wall work should cost around $2,000.
Floors: "I don't love the parquet and it looks quite yellow," Mann says. She'd prefer strip-wood flooring in a white oak "because it takes a stain really easily." She isn't sure what color she'd go with here, but she's vacillating between a rich brown and a slate gray.
"The brown would be a more classic way to go, and the gray would be a little more modern," she says. She'd carry the flooring from the entry space into the living area and dressing area. She believes this flooring should cost between $12 and $15 per square foot.
Baseboards: Since the current ones look pretty old and decrepit, Mann would swap them out for new ones.
"They should be simple," she says. "Flat and white." She thinks they should cost about $1,200 for the entire apartment.
Walls: "I'd like to keep the walls fairly bright in here," says Mann. She likes Benjamin Moore's Horizon, a white with gray undertones. A gallon of paint is $74.99.
Radiator: The heater is rusty and corroded, so Mann would strip it so it'd have a brushed metallic look. She thinks that should cost around $1,500.
Windows: The windows along the north wall (with the radiator) "have boxy proportions," Mann says. She'd try to hide them and bring the room together more by adding what she calls "a unifying window treatment." She'd go with a layered approach, getting simple, functional window treatments (like roller shades or blackout shades) in the windows themselves, then adding a full-width track across the entire wall for sheer drapes that extend from the ceiling all the way down to the top of the radiator.
"The effect would be to unify the overall proportions of the wall and minimize the boxy opening of the window," she says.
And the other window? "[It] doesn't lend itself to quite the same treatment," she says. She'd recommend the same roller shade or blackout shade as the other window. Mann thinks that the shades, curtain, and track should cost around $2,000.
Lighting: It looks like the ceiling is made of concrete, so you won't be able to simply drill into it to add more lights. Therefore, says Mann, there are a number of options available. If the new owner has an eye more towards economy, Mann would suggest two wall-mounted fixtures on the east wall (where the couch is), as well as a floor lamp or two. Prices for these sconces start at $260 at YLighting.com and this goose-necked lamp in brushed nickel is $505 at Lamps Plus.
If there's more wiggle room in the budget, Mann would go with low-profile LED lights. However, since you can't simply drill into the ceiling, you'd have to first drop the ceiling in order to get an electrical box into it. This surface-mounted light fixture is $50.69 on Amazon.com. Mann thinks the ceiling build-out in order to conceal the electrical box should cost around $7,000.
Bed: "For the apartment to really sing, if it was possible to avoid having a permanent bed, that would really be optimal," Mann says. That could be accomplished in a variety of ways. The most economical would be a pull-out couch. But if there's room in the budget, Mann would prefer a Murphy bed, which she'd put along the west wall since "there's a natural niche there because of the column." This queen-sized sleeper sofa is $698 at Ashley Furniture. A custom wall bed from a place like Resource Furniture can cost in the $8,000-$10,000 range.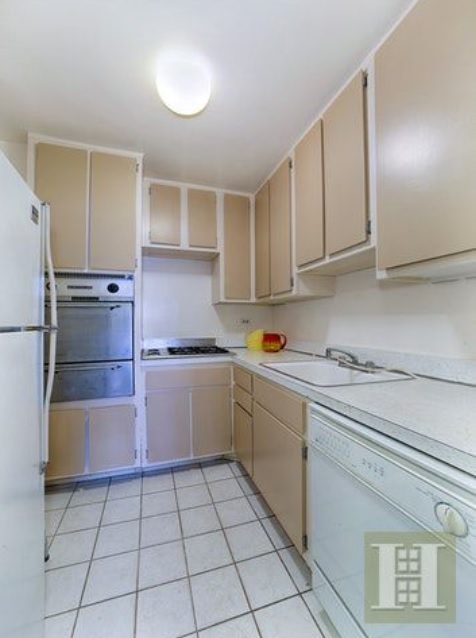 Kitchen
Doors: Mann would do away with them as she thinks they're unnecessary and mess with the room's flow. She says that removing the doors and frame should cost around $2,000.
Appliances: The current ones look rather old, so Mann would replace them all—range, fridge, and dishwasher—with new stainless steel pieces. This 24-inch Samsung dishwasher is $450 at Best Buy.
 "You walk into the fridge right when you enter the kitchen," says Mann. "To improve the flow of space in here and open it up a little more than it currently is, I'd relocate the refrigerator." She'd move it to the back of the kitchen, where the wall oven is right now. This Summit 24-inch counter-depth fridge is $1,309 at AJMadison.com.
She doesn't like that there's a separate wall oven and cooktop as they take up too much of what precious little space there is. She'd replace them with a single slide-in range and place it where the cooktop is at the moment. This LG 30-inch slide-in range is $1,399, also at AJMadison.com.
Floors: She'd replace the ancient-looking flooring "with large square or rectangular porcelain tiles with concrete overtones," like these from Stone Tile. She likes the bigger tiles because "they'll make the space a bit calmer, as well as minimize the number of grout joints," which means they'll be easier to clean. She believes they should cost $7-$9 per square foot.
Cabinets: The current two-tone cupboards have got to go, says Mann. She'd exchange them for new ones in a light color, either white or gray.
"Since it's open to the main living space, I'd like to keep this area visually quiet," says Mann. She'd also add floor-to-ceiling cabinets on the left-hand wall, where the fridge is at the moment. IKEA cabinets should cost in the $2,000-$3,000 range, while prices for custom ones will probably begin at $10,000.
Countertops/Backsplash: Mann likes Caesarstone for its durability and appearance.
"I'd go with something white with a tiny bit of sparkle or veining," she says. She'd either extend it up the wall as a full-height backsplash or go with large white subway tiles in a stacked pattern for the backsplash, "which is a little more modern," she says. She believes that Caesarstone for the countertops and backsplash should cost around $5,000. For just the countertops, the Caesarstone should cost $3,000 or so. The subway tile backsplash should be about $1,500.  
Sink: "I'd get a new under-mount stainless steel sink," says Mann, explaining that such a sink is mounted underneath the countertop, thereby providing more counter space.
"It looks better and there's a practicality to it for clean-up," she says. This Elkay stainless steel under-mount sink is $765 at Elkay.com.
Lighting: She doesn't care for the existing light fixture, so she'd put in a new ceiling-mounted light fixture. She'd also add under-cabinet lights, like these. This semi-flush light is $490 at AllModern.com. Mann thinks the under-cabinet lighting should be $200 or so.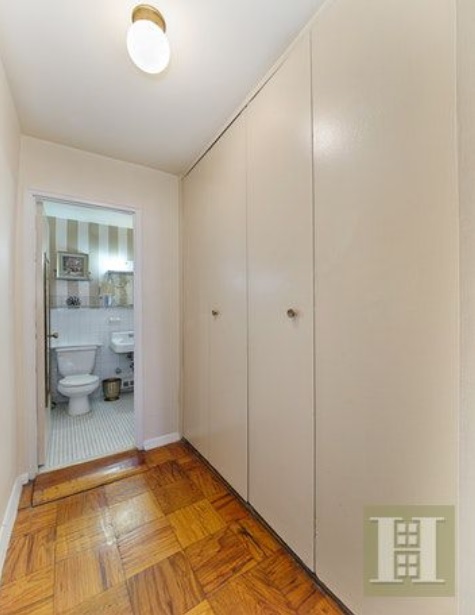 Dressing area
Dressing room door: Mann would lose the louvered bifold door between the living space and the dressing area because she "dislikes the way the door sits when it's open." Instead, she'd opt for a sliding barn door, like these from Rustica Hardware. She'd choose a painted-wood frame with a single translucent panel and clean modern hardware in stainless steel. She thinks the barn door should cost about $2,000.
Interior doors: "I'm not sold on these full-height doors in the dressing area," Mann says. "They don't operate well."
Instead, she'd prefer either opaque curtains on the closets or new sliding doors, like these from The Sliding Door Company. Prices for these panel track blinds start at $374 at The Shade Store. Mann thinks the new sliding doors should cost in the $4,000 range.
Lighting: Mann would replace the current fixture with a new one that's a little more contemporary. She believes that a fixture like this Benner semi-flush-mount ($120 at AllModern.com) would "work well as a transition between the living room and the more private dressing and bathroom areas."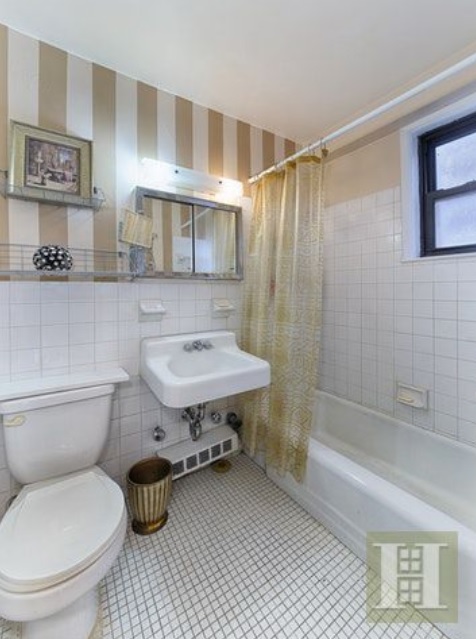 Bathroom
"There are currently a lot of finishes here," Mann says. "We need to work to better unify the space."
Doors: "I'd move the bathroom doors slightly to the west," she says, explaining that she hats that "you can be in the living room and look all the way to the toilet." She thinks it ought to cost around $2,000 to re-frame the new door opening.
Tub: "Given that it's a studio, if kids aren't involved, I'd swap out the tub for a low shower curb with a sliding panel door." This square-shower enclosure is $630 at Wayfair.com.
Toilet: Mann would replace the current toilet with a Toto.
"They work really well," she says. This one-piece Toto toilet is $646 at The Home Depot.
Sink: "There's a missed opportunity here," says Mann, noting that the pedestal sink doesn't give you anything in the way of storage. She'd prefer a vanity like this Porcelanosa Path, a floating vanity that will leave space for the radiator under the sink. She thinks something like this should cost in the $2,000 range.
Floor: She'd like penny round tiles (small circular tiles) here because there'll be a little more grout, which will "lessen concerns of slipping." If the new owner likes color, she'd recommend a deep indigo here. If she'd prefer something more neutral, keep it white. She thinks it should be around $1,000 for the tiles.  
Walls: Mann likes large neutral-colored tiles up to about chair-rail height.
"I want something big that'll contrast with the scale on the floor," she says. She thinks these tiles should cost around $7 per square foot.
Mirror: "It's unclear whether there's an opportunity for a recessed medicine cabinet here," Mann says. If not, she'd use the space above the toilet and sink for a long, wide mirror that'd stop about 8 inches from the ceiling. She thinks this should cost around $800.
Brick Underground articles occasionally include the expertise of, or information about, advertising partners when relevant to the story. We will never promote an advertiser's product without making the relationship clear to our readers.