Are New Yorkers still in love with open floor plans in the pandemic? After all, if you don't have enough separate spaces for working and learning at home, you might need to scurry into the bedroom (or bathroom) every time you need to take a call. In that case, being home in your New York City apartment with family members day in and day out seems like a special kind of hell.
But it is the layout most New Yorkers have aspired to for years and it works well for entertaining—guests can flow from your kitchen to your living and dining areas. And developers like it because they can maximize floor space, plus building code requirements for light and ventilation also favor open concept kitchens—which is why you see them in new and renovated apartments.
If the pendulum was to swing away from open plan, it would be bad news for a lot of NYC sellers, but fortunately, brokers say, most (but not all) buyers are still enamored with open plan—and New Yorkers are finding new reasons to appreciate this design in the pandemic. Read on to find out who still loves open concept apartments.
Still popular, but not for all families
Space and volume are the winning tickets, says Vickey Barron, a broker at Compass. She says open floor plans are still popular with her clients, with the exception of families.
"Most every deal I have done since lockdown has not involved small children. Many of my clients with young children are parked elsewhere for a bit, waiting it out," she says.
For New Yorkers who work at home and are considering an open plan, Barron says, "You can definitely get creative and carve out spaces where needed. I would say how much do you love the apartment? When there's a will, there's a way. You'll make it work."
Another broker says what families want are open plans that are flexible or convertible.
"They don't want to go back to the days where they're closed off in the kitchen and can't keep an eye on the kids or talk to their company," says Sandy Edry, an agent at Keller Williams New York City. "They are looking for innovative ways to carve out spaces that afford some privacy for when they're working from home or the kids are doing online schooling. They now need multiple spaces that can be used this way— especially when both parents are working from home and the kids are in some form of virtual classroom."
Edry says that in addition to carving up open floor plans, buyers are keeping their eyes out for small spaces that once might have been considered dead space, which can now be modified into semi-private useable work spaces, sometimes with multipurpose furniture, such as desks that can fold up when not in use.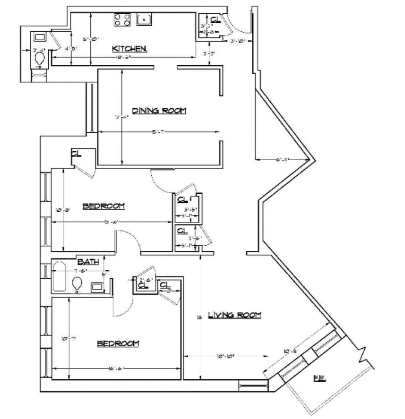 Case in point: He has a seller in contract on an apartment Uptown with a triangular nook (see above) that the buyers want to use an office space.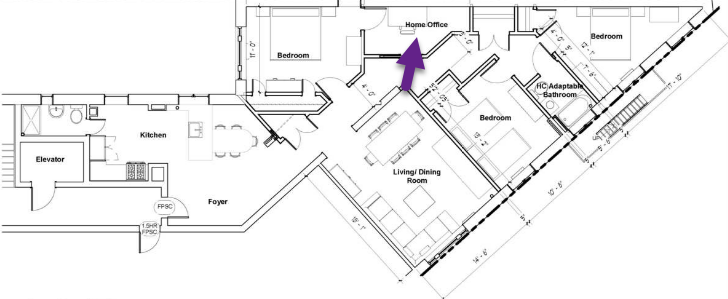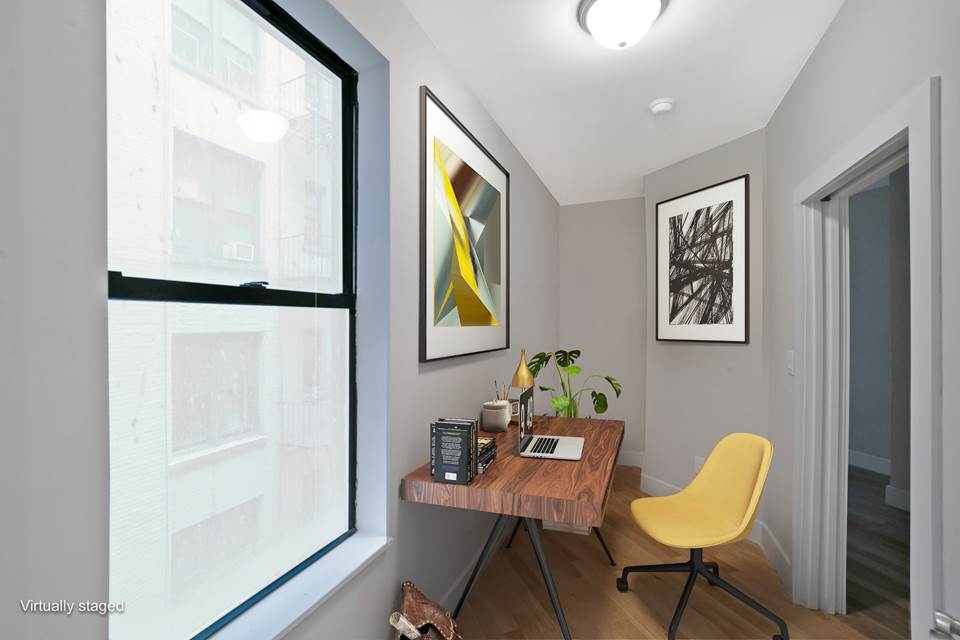 Similarly, in a sponsor sale at 812 Riverside Dr., #31, which he recently listed, a flexible space was created out of areas that might have been otherwise wasted. The photo shows how it was virtually staged. 
Closing off an open layout
Some buyers want open layouts that are flexible and can be adjusted as circumstances change. As Nada Rizk, an agent at Brown Harris Stevens, says, "The ability to close off a room through a hidden pocket door is very appealing now."
Parisa M. Afkhami, an agent at Warburg Realty, was surprised to find clients are still interested in open floor plans. She chalks it up to a general feeling that NYC will bounce back. So in the meantime, clients are adapting their open spaces.
"I know several clients who have also made some creative temporary solutions given current needs, such as temporary walls or nooks to provide workspaces," she says.
For some buyers, an open floor plan must be able to be partitioned, or all bets are off.
Johnathan Agrelius, a broker at Warburg Realty, says, "The buyers I am working with are only interested in an open floor plan that lends itself to being divided and enclosed in an aesthetically pleasing manner without a lot of structural work."
"A few properties fit this bill such as apartments that have a dining area adjacent to the kitchen that could be enclosed to create a home office, allowing one person to work from this space while the other may work from the bedroom," he says.
There are other caveats and deal breakers for his buyers. For example, in apartments that have only one bathroom, it can't be en suite "to avoid disturbing whoever is working from the bedroom especially during zoom calls."
He says another buyer wants a unit that can accommodate two work-from-home areas (bedroom and a second space) plus a third, enclosed area for their small child to play and learn separate from the bedroom. 
"This third space serves as a toy area in an attempt to keep the general living area orderly as much as possible to help reduce levels of stress. So I think the appeal of prewar apartments with section off rooms and hallways remains of interest and greatly appreciated," he says.
New Yorkers will go back to the office someday
Some buyers are taking the long view, with the understanding that pandemic will end and they will be working in an office someday soon, and so they're using this moment as an opportunity to trade up to a larger, open floor plan apartment. (Pfizer's coronavirus vaccine breakthrough certainly buoyed those expectations.)
"I think that buyers understand that long term, the virus will go away and that we will go back for the most part to work in offices," say Kobi Lahav, senior managing director/director of sales at Living New York. "As a result, buyers are actually seeing this an opportunity in certain cases to buy these more expensive open floor plan apartments, with the understanding that if they even need to enclose certain spaces, it's definitely doable."
"For example, I have a loft for sale right now at 14 West 17th St. The loft was made into a three bedroom with a den by the family that lived in it, however potential buyers with no kids or with one child are actually looking to take down some walls and get the open loft feeling back," Lahav says.
Open plan feels bigger
New Yorkers spending time at home appreciate the more expansive feel of an open layout, especially an open kitchen, says Brian Letendre, director of agent Productivity at BOND New York. The majority of his clients who are looking for a NYC apartment want an open or semi-open kitchen.
"I am listing a duplex in the West Village and 90 percent of the buyers I show the property to have asked if they can knock the wall down that closes off the kitchen," he says.
Better for entertaining (but get your guests tested)
New Yorkers prefer open plans for entertaining—even in the pandemic, says Daniel Blatman, a broker at Triplemint.
"One of my clients is buying a pied à terre with an open kitchen because they want to have people over and be much more social. The counter is a great place to get friends together, especially since they don't feel as comfortable going to restaurants right now. They are getting a great deal on the apartment and betting on New York in the long term. With rapid Covid testing, they can have people get checked before a dinner party," Blatman says.
Closed kitchens are a tough sell "now that everyone is spending more time at home," he says. "It just feels closed off and claustrophobic. If the counters are too close together it can be really tough to have two people in the space and even open the dishwasher all the way."
Similarly, Christopher Totaro, an agent at Warburg Realty, says, open layouts remain popular with his buyers. Their attitude is, he says,"We will be back even if normal looks a bit different."
And so open layouts fit the new normal because they match New Yorker's "desire to have a life, which for the foreseeable future means having the ability to distance if you have a guest in your home," he says.
Some buyers don't know what they want
Sometimes reality doesn't match perception, says Scott Harris, a broker at Brown Harris Stevens. He says some buyers aspire to live in an apartment with an open floor plan because that's what they've seen on tv—without thinking about the challenges.
"I think about this all the time. Buyers think they want open plans, then complain about not having the ability to have a quiet phone call anywhere other than their bedrooms. It's certainly a noteworthy dissonance," he says.  
Brick Underground articles occasionally include the expertise of, or information about, advertising partners when relevant to the story. We will never promote an advertiser's product without making the relationship clear to our readers.