Jim Anabwani, an engineer by trade, launched New York-based Chinese-language real estate listings site Samaki.com last year because he had a hunch that prospective Chinese buyers were having trouble investing in New York City properties due to language barriers; he also had a friend whose father's own personal experience confirmed his hunch to be true.
Anabwani founded Samaki, a listing search engine that covers the city and Long Island, with five agents and 20 listings. Now, it has listings from thousands of agents, and a grand total of about 60,000 listings at any given time (representing about $20 billion in real estate). His hunch seems to have paid off; Chinese buyers do account for the largest group of foreign buyers in the city, after all. 
The vast majority of listings are co-brokered, but some are exclusive. 
Samaki trades in rentals (most of which don't have a broker fee), sales, luxury homes (which it defines as over $1 million), and even commercial properties. Anabwani, who learned Chinese as a result of starting the company, says about half of the traffic comes from buyers in the United States, and the other half from China. International buyers are often in the market for properties priced over $1 million, he says.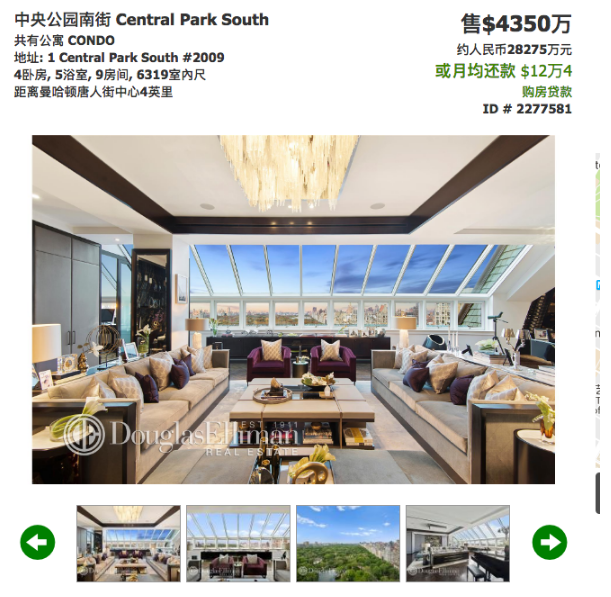 Most of Samaki's listings in Manhattan are in Midtown East and on the Upper East Side. "Any neighborhood with new condo towers has increased Chinese popularity, most notably the area around the Hudson Yards, and the Upper East Side," he explains. "For rentals, any neighborhood surrounding a CUNY/SUNY school will have a huge spike before school starts, for fall, spring, and summer semesters." 
Downtown Brooklyn and Sunset Park (Brooklyn's Chinatown) are also popular, as are Flushing and Bayside in Queens. "Brooklyn's Chinatown is centered on the N train's 8th Avenue subway station (8th Avenue and 60th Street), but as that area became more expensive, people have started branching out to the surrounding neighborhoods, usually following the path of the N train, all the way to the 20th Avenue station," says Anabwani. "For Queens, most working class Chinese are priced out of buying Flushing property, so the nearby areas (Bayside, Fresh Meadows, Corona, Elmhurst) has been extremely popular."
Listings are translated automatically (they have to be submitted by the agents themselves) and prices are listed in both yuan and dollar amounts. Some listings, says Anabwani, include the names of brokers from the same firm who can speak Chinese, and who can help buyers more as they get further in the transaction. 
Earlier this month, Ideal Properties Group, a Brooklyn real estate firm, became the most recent brokerage to partner with Samaki (Douglas Elliman, Century 21, and Charles Rutenberg are others).
"Ever since the boom, there's been a lot of Chinese investment in places like Sunset Park," said Aleksandra Scepanovic, managing director of Ideal. "We're always trying to present our listings as best as possible to the population who speaks primarily Mandarin."
And this segment of the business is growing, she says. "We've always had some Mandarin-speaking brokers, but we're seeing a demand for more."
Since partnering with Samaki three weeks ago, she says they have seen an uptick in interest. "One of the properties that we are listing in Sunset Park is generating a lot of additional interest from the Mandarin-speaking community," says Scepanovic. 
Samaki isn't the only game in town, though. Juwai, a similar site that launched in 2011, is international and based in China. (Unlike Samaki, though, you can't search by specific neighborhood.)
And New York isn't the only U.S. city where Chinese buyers and renters like to park their money, of course. Juwai ranked New York second most popular, after Los Angeles, and just before Seattle, Houston, Las Vegas and San Francisco. Anabwani hopes to expand to west coast cities, too.
Brick Underground articles occasionally include the expertise of, or information about, advertising partners when relevant to the story. We will never promote an advertiser's product without making the relationship clear to our readers.