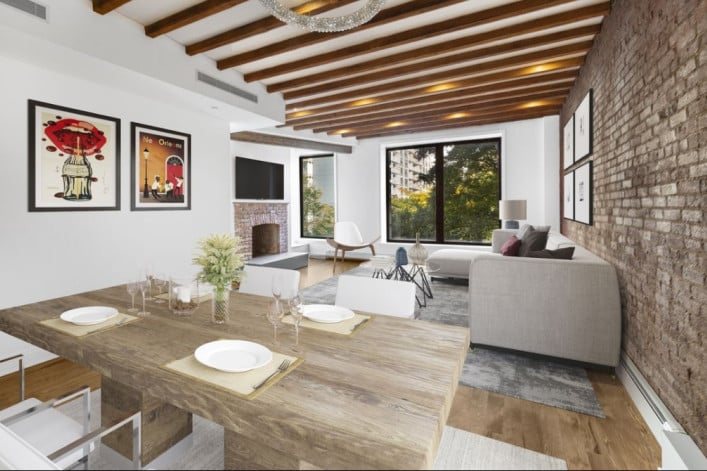 The term "boutique building" sounds swanky, but it's really just a fancy way of referring to a small building with just a few apartments. And while that can be great for some—it may feel more private, you may get more attention from staff, and you can have greater participation in your building—there are plenty of downsides to consider as well.
For instance, there will be fewer staff members, and expenses will likely be higher as there are fewer owners to split costs. And if you happen to dislike any of your neighbors, they can be harder to avoid in a small building, with one elevator, for example.
In this week's Buy Curious, real estate attorneys Michael R. Feldman of Romer Debbas and Jeffrey S. Reich of Schwartz Sladkus Reich Greenberg Atlas, as well as Brian Morgan, a broker at Corcoran and Douglas Wagner, a broker at BOND New York, tell you what other issues you might face when buying in a boutique building, where to find one, and if there's such a thing as a building that's simply too small.
The question:
I've been thinking of buying an apartment in a boutique building, but wanted to learn a little more about them before I sign on the dotted line. What risks will I take on by buying in a smaller building? Should I steer clear?
The reality:
Our experts agree that the phrase "boutique building" refers to a smaller luxury building, but there's no real consensus as to how small a building it should be. According to Feldman, it means a condo or co-op with 10 or fewer apartments. Reich thinks it's slightly larger—a building with 20 apartments or less.
In Wagner's experience, it refers to buildings with "12 to 30 units, although the term is sometimes applied to mid-sized but highly customized buildings of around 50 apartments." And Morgan believes it's a building with fewer than 50 units.
"The name 'boutique' is meant to evoke a certain sense of exclusivity and luxury," Morgan says. "While this isn't always the case, many boutique buildings are built and finished to a higher standard. Because of their small size, they aren't as 'cookie-cutter' as some large towers can be."
Which NYC neighborhoods are most likely to have boutique buildings?
Your best bet is to check out neighborhoods that have zoning restrictions that prevent developers from tearing down older, low-rise buildings and replacing them with modern towers. That means the West Village and Soho in Manhattan and Brooklyn Heights and Cobble Hill in Brooklyn, Morgan says.
Wagner adds that boutique buildings in Soho and Tribeca are more loft-like while boutique buildings in Brownstone Brooklyn will have a townhouse vibe. And boutique buildings on the Upper East Side "often resemble smaller luxury hotels," he says.
Is it more expensive to buy in a boutique building?
The answer depends on several factors, Morgan says. "In a large high-rise, buyers are paying a premium for views and amenities," he says. "However, if a boutique building is located in a prime, historic location—say a quiet, tree-lined block in the West Village—then it may be more expensive, even without all the bells and whistles."
In Wagner's experience, however, units in boutique buildings often command higher prices.
"Boutique buildings offer more privacy due to the smaller populations, and such privacy brings cachet and the perception of value," he says. "Some boutique buildings seek a higher price for the perceived value of living in an intimate, exclusive luxury setting."
What amenities do boutique buildings typically have?
Not many, unfortunately. "With a limited number of residents and a small footprint, there isn't the critical mass or the extra square footage to build the more extravagant amenities like movie screening rooms or indoor pools," Morgan says.
He has, however, seen small basement gyms, common gardens, and on-site parking options at some boutique buildings.
Wagner has also seen doormen, concierges, and on-site laundry rooms at many boutique buildings in NYC.
What risks do buyers take on when they buy in smaller buildings?
A building's capital expenses include boiler replacement, roof repair, and façade work. So a buyer in a small, boutique building is going to take on significant risk related to these expenses, Feldman says.
"In larger buildings, these expenses are split among a larger pool of owners, in turn reducing the cost per unit," he says.
Plus, there's the fact that many of these buildings are self-managed because it may not be cost-effective to have outside management for small buildings. "Issues that might arise are dealt with among the owners themselves without the buffer of a managing agent," he says. "This could create discord in the building."
In addition, owners in boutique buildings need to rely on the board to pay all outstanding invoices in a timely manner. "Board members are generally volunteers and the management of the building is not their primary responsibility, potentially leading to some delinquency on payments and other financial obligations," he says.
Finally, given the dynamics of boutique buildings, which are often self-managed, the board approval process can occasionally be more invasive and difficult.
What happens when an owner doesn't pay common charges in a boutique building?
The short-term burden will be higher on the other unit owners, but the board in a boutique building still has remedies available to it,
Board members can send delinquency notices regarding late payment, or, if "the arrearage becomes egregious, putting a common charge lien on the unit, or in the context of a cooperative, even evicting the delinquent shareholder under the terms of the corporation's proprietary lease," Feldman says.
What other considerations do buyers need to be aware of?
According to Reich, the biggest issue is that boutique buildings have fewer amenities than larger buildings "and this could affect the marketability or resale value of the unit."
For Feldman, "proper due diligence prior to the execution of the contract is even more crucial in the context of a boutique building. A prospective buyer should fully understand, to the extent possible, whether there are any planned capital improvements or other large expenditures, and if so, how the building intends to pay for same."
He adds that understanding whether the building is financially secure is of paramount importance. "To the extent that board minutes are available, they should be reviewed closely by the purchaser's attorney to understand how decisions are made at the board level, and whether there are any issues among owners in the building."
What about with façade maintenance?
Buildings that are six stories or taller must have their façades inspected and repaired every five years as per the Façade Inspection and Safety Program, know as Local Law 11.
But even for boutique buildings that are exempt from FISP rules, façade maintenance in smaller buildings is just as necessary as in larger buildings—there's just less surface area to keep up or repair, Wagner says. "Like in larger co-ops and condos, an assessment to the owners would create the additional revenue to cover such costs not already figured into the annual operating budget," he says.
Do you ever warn buyers away from buying in a smaller building?
Experts interviewed say they don't. Their goal is to make sure that buyers understand what they're getting into.
"When I represent a purchaser I lay out all of the risks associated with a particular purchase," Reich says, "so I would inform them of the issues present by purchasing in a smaller building and let them decide whether they are prepared to live with those risks or not."
Feldman adds that one of his primary duties as a purchaser's attorney is to inform clients of any red flags or real issues uncovered during the course of due diligence. "It's not necessarily our role to 'warn' a client," he says. "We report the facts objectively as we see them and answer questions as we receive them so that our clients can make an informed business decision as to whether buying in a particular building is a prudent investment for them."
Is there such a thing as a building that's simply too small?
Not really, says Reich, noting that he's represented purchasers in three- and four-unit buildings who were very happy with their purchases. "It's a matter of understanding the benefits and risks presented by a purchase and determining what a purchaser is looking for and what risks they are prepared to live with," he says.
That said, he has seen "some nightmare scenarios" wherein a "problematic unit owner in a small, four-unit condominium" has completely overtaken the lives of her neighbors by bringing baseless litigation and upsetting the sale and/or rental of units in the building. 
"It is easier for one bad apple to spoil the whole bunch in a smaller building than in a larger one," he says.
Check out these units in boutique buildings: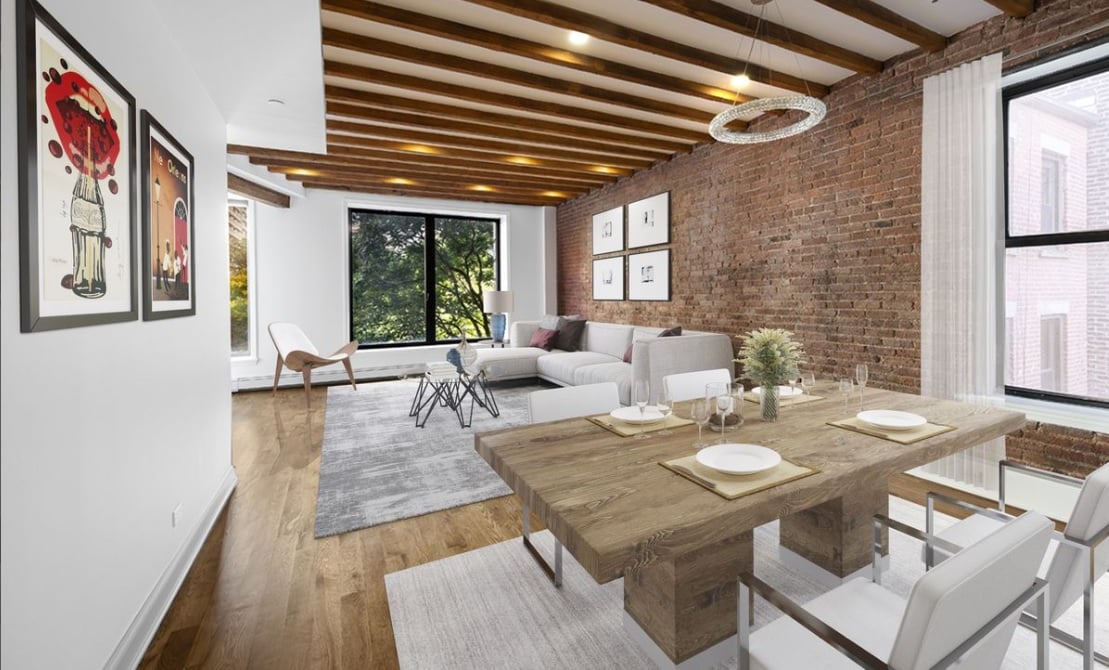 This three-bedroom, two-and-a-half-bath condo loft (also shown at top) is asking $2,750,000. It has a corner living/dining room with 10-foot beamed ceilings, exposed brick walls, working wood-burning fireplace, chef's kitchen with a center island, quartzite countertops, and a temperature-controlled wine fridge, central air, and a vented washer-dryer. It's located in a 10-unit boutique building with a virtual doorman, dedicated package area, key-locked elevator, video intercom security system, visiting superintendent, and separate bike storage. Common charges are $1,126 a month. Taxes are $1,271 a month.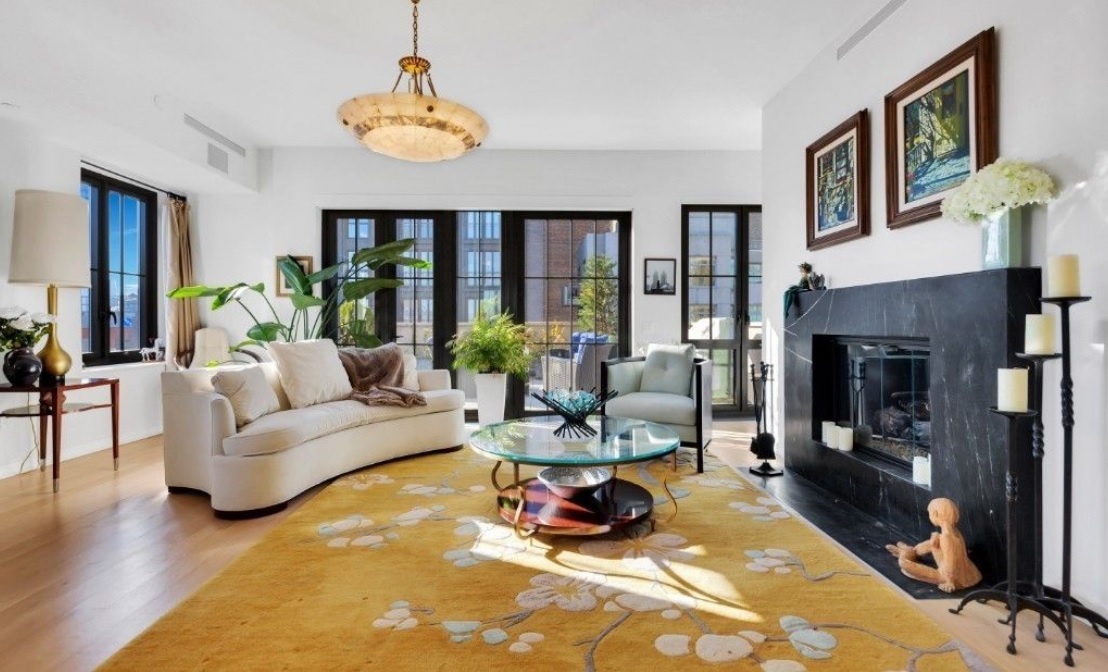 Features of this 2,948-square-foot, four-bedroom, three-and-a-half-bath condo include a 378-square-foot terrace, gas-burning fireplace, outdoor grill, and kitchen with two ovens. The elevator opens directly into the unit. It's located in a boutique building with a gym, basketball court, member lounge, and roof terrace. Parking is available on site, but it's not included. It's listed for $8,995,000. Common charges are $3,335 a month. Taxes are $4,270 a month.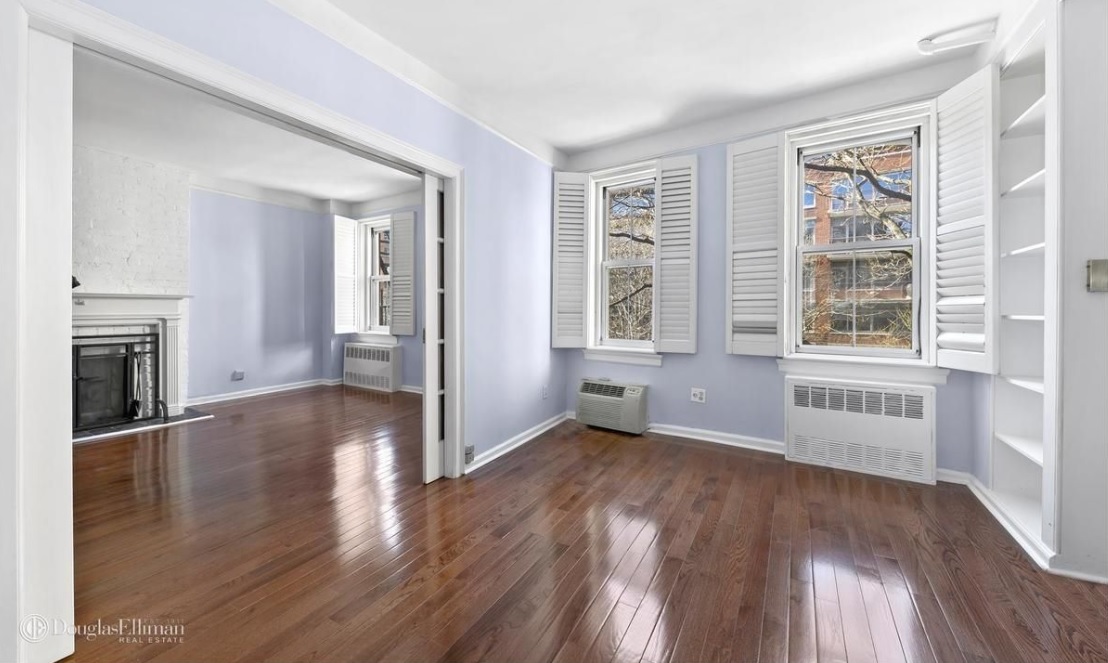 Listed for $775,000, this 600-square-foot, one-bedroom, one-bath apartment has a large living room with a fireplace, open kitchen with lots of storage, pocket French doors that lead to the bedroom, tall display shelves, a walk-in closet, hardwood floors throughout, and an A/C unit in each room. It's located in a pet-friendly boutique prewar co-op building with a live-in super, central laundry, storage, and bike storage. Maintenance is $1,277 a month. The building allows owners to finance up to 80 percent of the purchase price. Pets, pieds-à-terre, and parents buying for their children are approved on a case-by-case basis and subletting is allowed after three years of ownership (with board approval).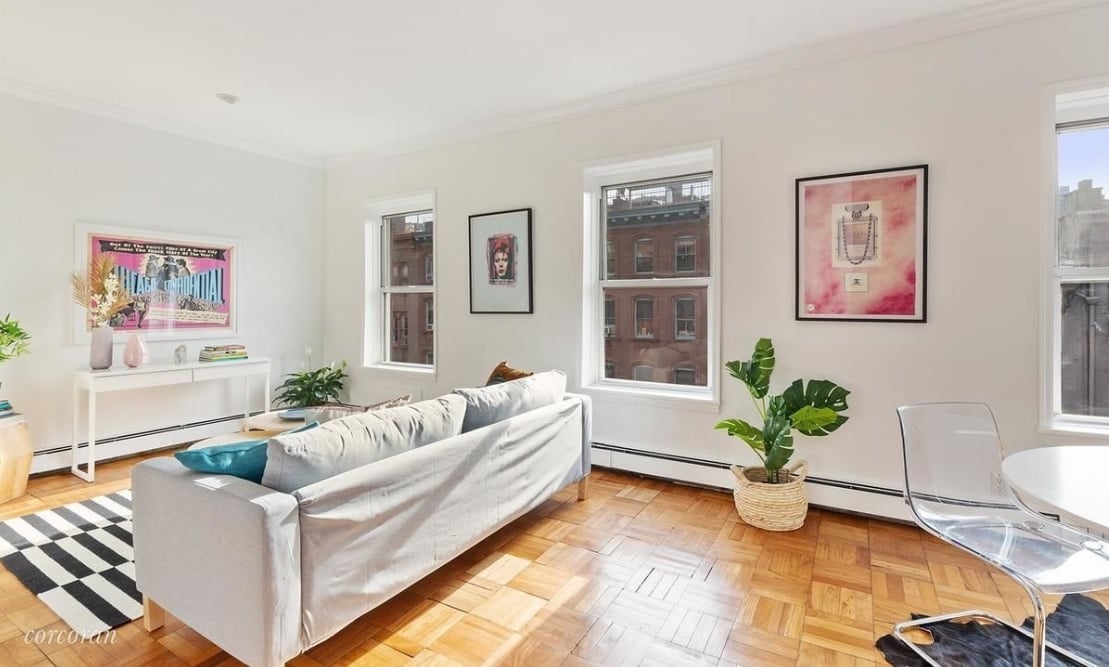 Priced at $1,299,000, this two-bedroom, one-and-half-bath full-floor penthouse apartment has recessed lighting, custom moldings, refinished floors, an open floor plan, updated kitchen, and private roof deck. It's located in a boutique co-op building with a bike room and storage. Maintenance is $1,568 a month.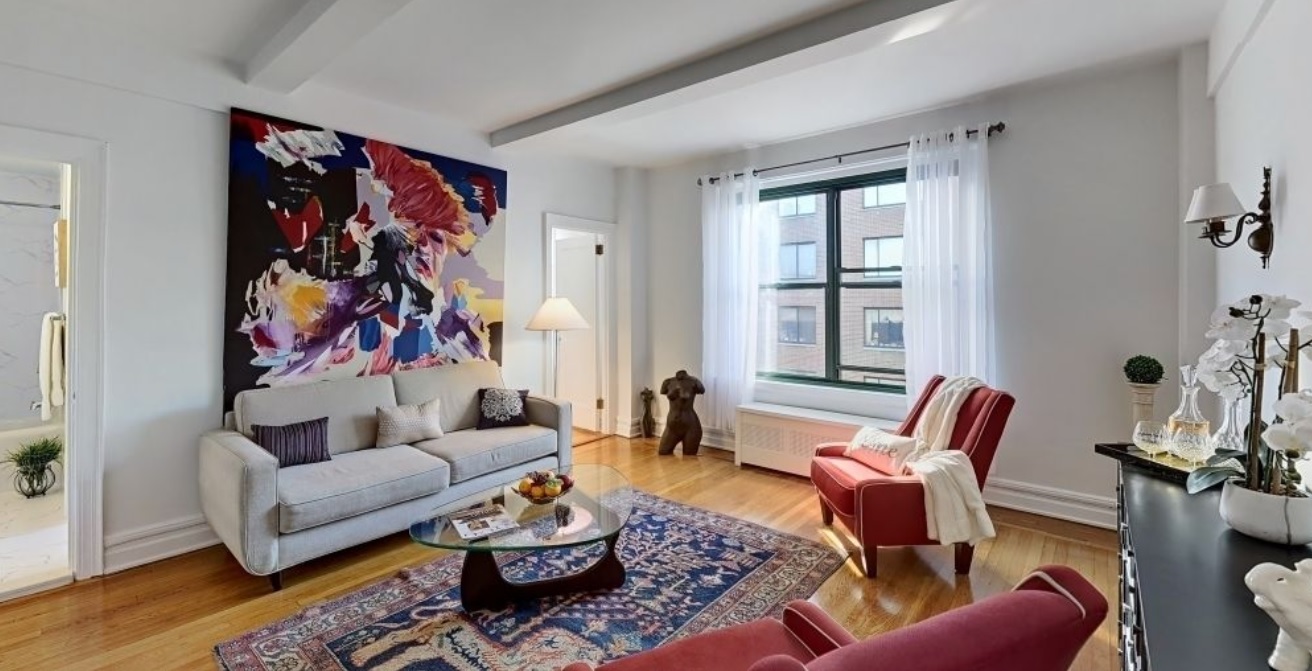 Following a recent $20,000 price drop, this two-bedroom, one-bath unit is now listed for $875,000. The recently renovated apartment has windows in every room, nine-foot beamed ceilings, hardwood floors, a windowed kitchen with granite countertops and stainless steel appliances, and a windowed bathroom with new copper piping. It's housed in a pet-friendly boutique building with a renovated lobby, roof deck, video intercom system, on-site laundry, bike room, storage room, and live-in super. Maintenance is $1,764 a month. 
Brick Underground articles occasionally include the expertise of, or information about, advertising partners when relevant to the story. We will never promote an advertiser's product without making the relationship clear to our readers.