Buy Curious
What to know about buying in Brighton Beach, Brooklyn: A diverse, affordable community where the beach and boardwalk are the main attractions
One bedroom co-ops start at $300,000, two bedrooms at $500,000
Over 70 new condo and co-op developments opened in the last decade
The south Brooklyn beachfront community of Brighton Beach, where the two singing/songwriting Neils (Diamond and Sedaka) grew up, is a family-oriented neighborhood with a cosmopolitan culinary scene.
Nicknamed Little Odessa for the waves of Russian immigrants who settled there in the 1970s as well as the 1990s influx of people from Georgia, Ukraine, and Uzbekistan after the Soviet Union collapsed, Brighton Beach is now home to a more diverse population.
In this week's Buy Curious, Mark Martov, a salesperson with Corcoran Group, and Tina Epstein, an associate broker with Compass, give us the inside story on Brighton Beach.
The question:
People have told me that real estate is a bargain in Brighton Beach. What can you tell me about prices?
The reality:
Whether you're buying or renting, Brighton Beach "is a great deal," Martov says. "The apartment buildings are bigger, and you get much more bang for your buck. The older Art Deco buildings along the beach are rent controlled or rent stabilized. They are bigger than the ones in Coney Island and Manhattan Beach, and there's more selection. I like to say it's one of the last places in Brooklyn where you can still rent a one-bedroom apartment for less than $2,000 a month. It's also less expensive to buy here."
Where is it?
Brighton Beach is bounded by Coney Island on the west, Manhattan Beach on the east, Sheepshead Bay on the north, and the Atlantic Ocean on the south.
Why would NYers want to move to Brighton Beach?
"There are a variety of housing options at a variety of price points," Epstein says, adding that there's a lot to do—"you can get off the train, go to dinner, and then stroll the boardwalk and watch fireworks."
She notes that "when you walk down the street, you hear Russian being spoken. Since the war, there are a lot of Ukrainian flags flying."
According to Martov, the main draws are the real estate prices, beach, boardwalk, restaurants, and family-friendly environment. The neighborhood, he adds, has a variety of amenities that cater to families, including playgrounds, day-care centers, and private schools.
Where in Brighton Beach should you live?
The community includes three named housing developments that serve as subsections.
Built in the 1960s, Amalgamated Warbasse Houses offers affordable co-ops on the border with Coney Island.
Trump Village West, which opened in 1964, is a seven-building co-op complex.
Oceana Condominium & Club is a luxury beachfront condo development with 16 buildings that were built in phases from 2001 to 2014. 
What are housing and pricing like?
Rising mortgage interest rates have made it a buyer's market, with only 88 single-family houses, condos, and co-ops on the market, according to StreetEasy.
Martov says housing options are evenly split between co-ops and condos, with very few single-family houses.
Co-ops generally start at $300,000 for one-bedroom units and $500,000 to $550,000 for two-bedroom units, he says, adding that condos, which are newer, typically sell for $100,000 more.
Rent is usually around $1,800 a month for studios, $2,200 to $2,400 for one bedrooms, $2,700 to $2,800 for two bedrooms, and $3,000 and higher for three bedrooms. In Martov's view, these prices are "amazing."
Units in the luxury complex Oceana Condominium & Club list for $500,000 to over $1 million, according to the development's website.
Is there a lot of new development? 
Brighton Beach, which was one of the areas extensively damaged during Hurricane Sandy in 2012, is experiencing a lot of new development because "areas were rezoned after the storm, and investors are doing assemblage—they are buying up side-by-side properties and are putting together larger plots," Martin says.
The amount of development in the last decade is "crazy," Epstein adds. "There have been 72 new co-op and condo projects. And recently, there have been more built-to-rent developments."
What's the transportation situation?
The B and Q trains run through Brighton Beach as do the B1, B4, B36, B49, and B68 bus lines.
What is there to do?
The beach and boardwalk are, of course, the main attractions.
"Brighton Beach is right smack in the middle between Coney Island and Manhattan Beach, and you can walk to both of those areas," Martov says.
Epstein adds that "Brighton Beach Avenue is the most fascinating place to take a stroll—you can make a day of exploring the restaurants, shops, and food stands from around the world."
Brighton Beach Playground, which also has basketball courts, is a prime attraction.
The handball courts in Coney Island's Asser Levy Park "are legendary," Martov says. "The tournaments attract players and spectators from across the country."
The community takes pride in its athletic/fitness culture. There are several gyms, including the Shorefront YM-YWHA. "It's super cheap and has basketball, gymnastics, and an indoor swimming pool," Martin says.
What's the restaurant/nightlife situation?
Brighton Beach is known for its Russian, Georgian, Uzbekistan, and Ukrainian cuisines.
Russian fare can be found at Tatiana, a restaurant and nightclub; Ocean View Café, featuring homestyle classics (borscht and blintzes); and Volna, an old-school eatery. Toné Café serves Georgian dishes and pastries; 
Other favorites include WISE Bar & Grill, a New American supper club; La Brioche Café, a popular bakery/eatery; Hot Potato House, which offers American dishes; and 718 Bistro, whose menu is "like Grandma's cooking infused with Ukrainian and Middle Eastern," Martov says.
How about grocery stores?
The mainstays are NetCost Market, which specializes in Middle Eastern items, and Tashkent Supermarket Halal Food, a grocery store, restaurant, and café whose hot buffet includes Uzbek favorites.
Martov adds that both NetCost's and Tashkent's "prepared food sections include everything from soups to meat dishes for a fraction of what a restaurant would charge."
There also is a small Key Food in the community.
Check out these listings in Brighton Beach.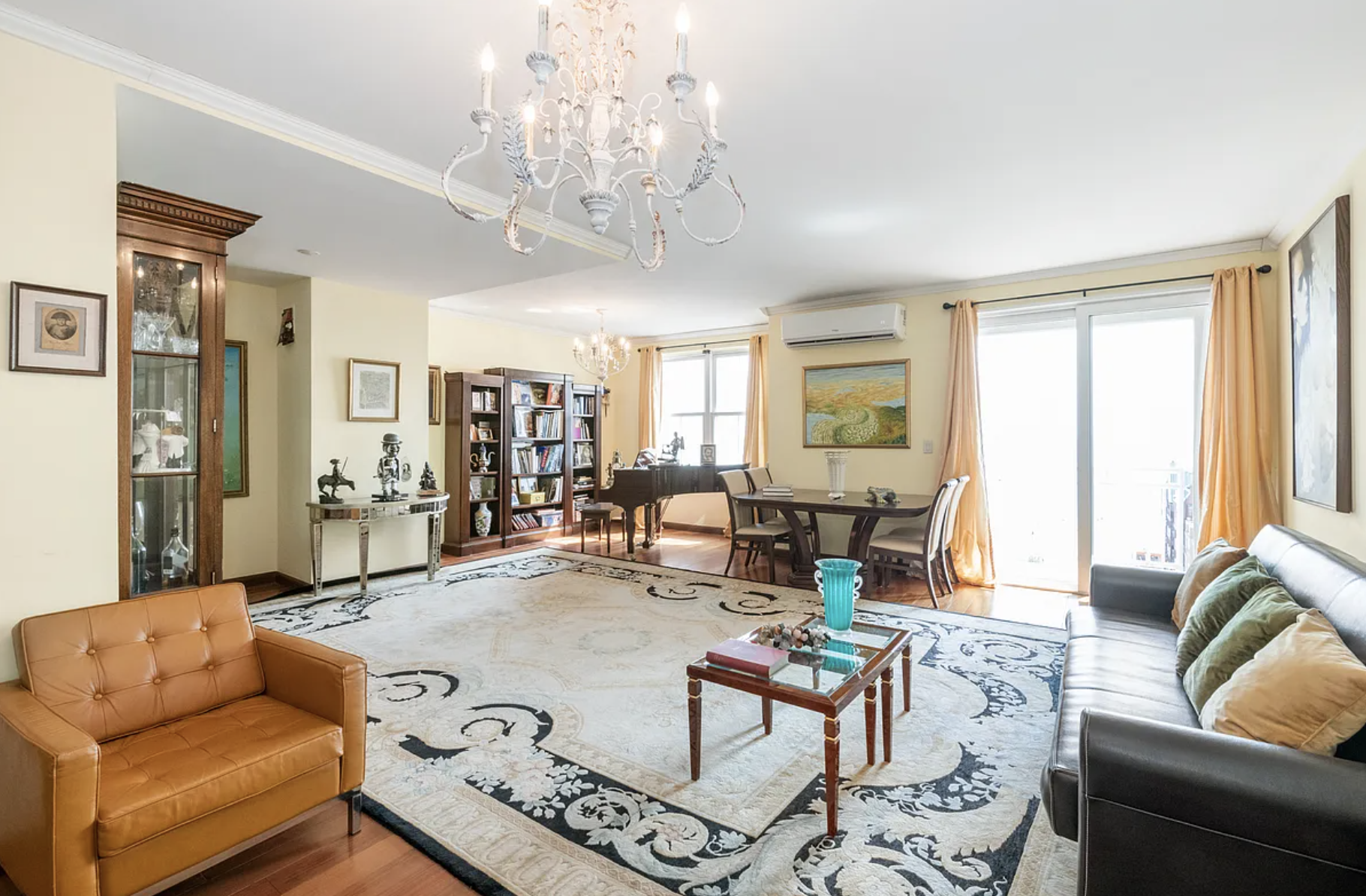 This 1,401-square-foot condo penthouse, listed for $1.689 million, has two bedrooms, two baths, high ceilings, hardwood floors, a double balcony overlooking the beach, washer/dryer, and an eat-in kitchen with stainless steel appliances. The 12-story, 68-unit development, which opened in 2001 as part of the Oceana Condominium & Club complex, has a gym, swimming pool, valet parking, and 24-hour security.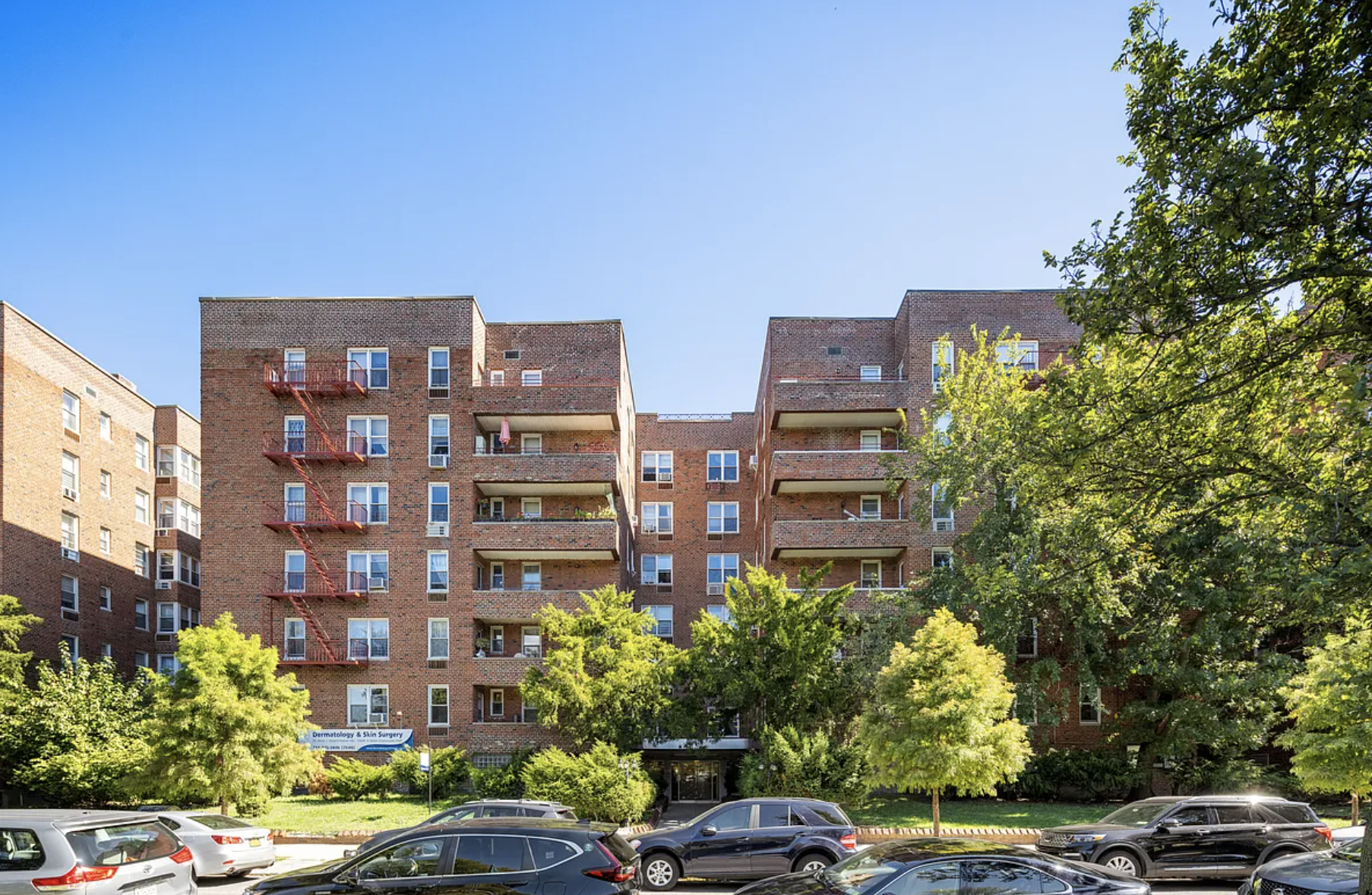 Listed for $209,000, this 500-square-foot studio co-op features an office/den, parquet floors, and three closets. The circa-1956 building, which has six stories and 174 units, offers indoor and outdoor parking, a live-in super, and newly renovated lobby.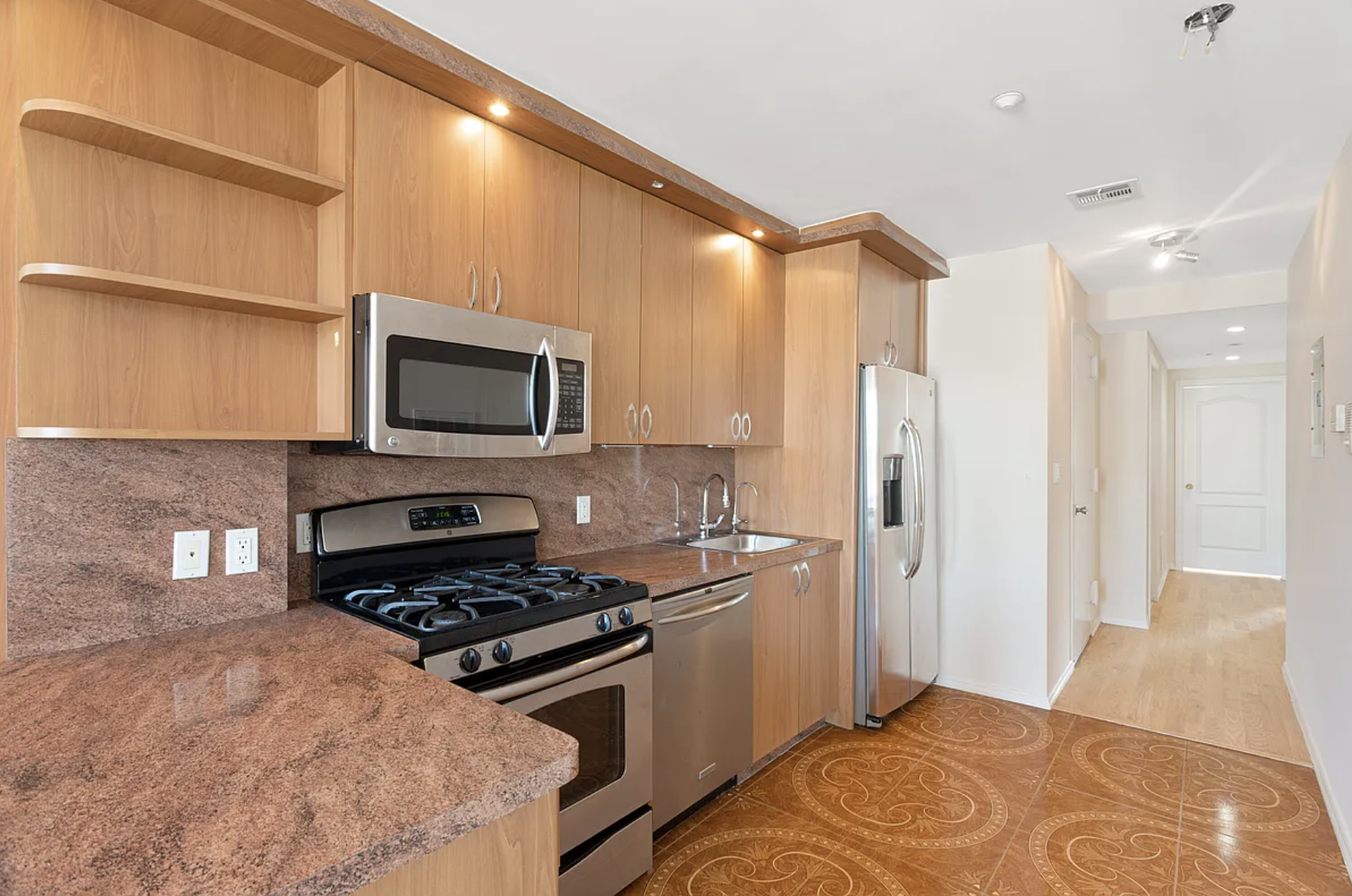 This two-bed, two-bath, 1,060-square-foot condo is listed for $639.000. It features two balconies, a washer/dryer, hardwood floors, central air conditioning, and a private parking spot. The four-story elevator building, which opened in 2006, has eight units and a laundry room.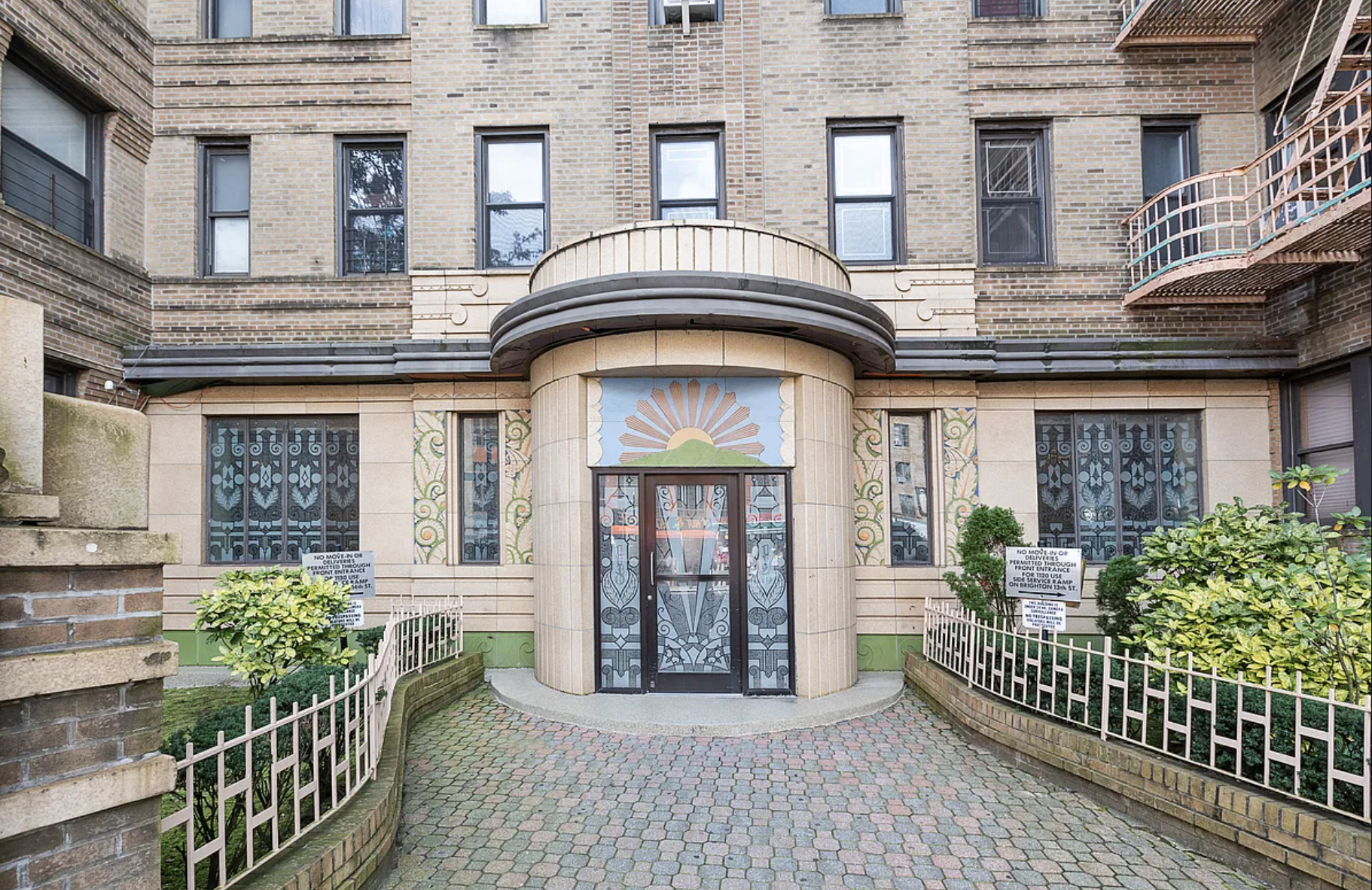 Located one block from the beach, this 900-square-foot co-op has one bedroom, one bath, 9.5-foot ceilings, and parquet floors. It is listed for $375,000; parking is available for $250 per month extra. The Art Deco elevator building, which dates to 1935, has six stories, 157 units, a laundry room, storage rooms, and live-in super.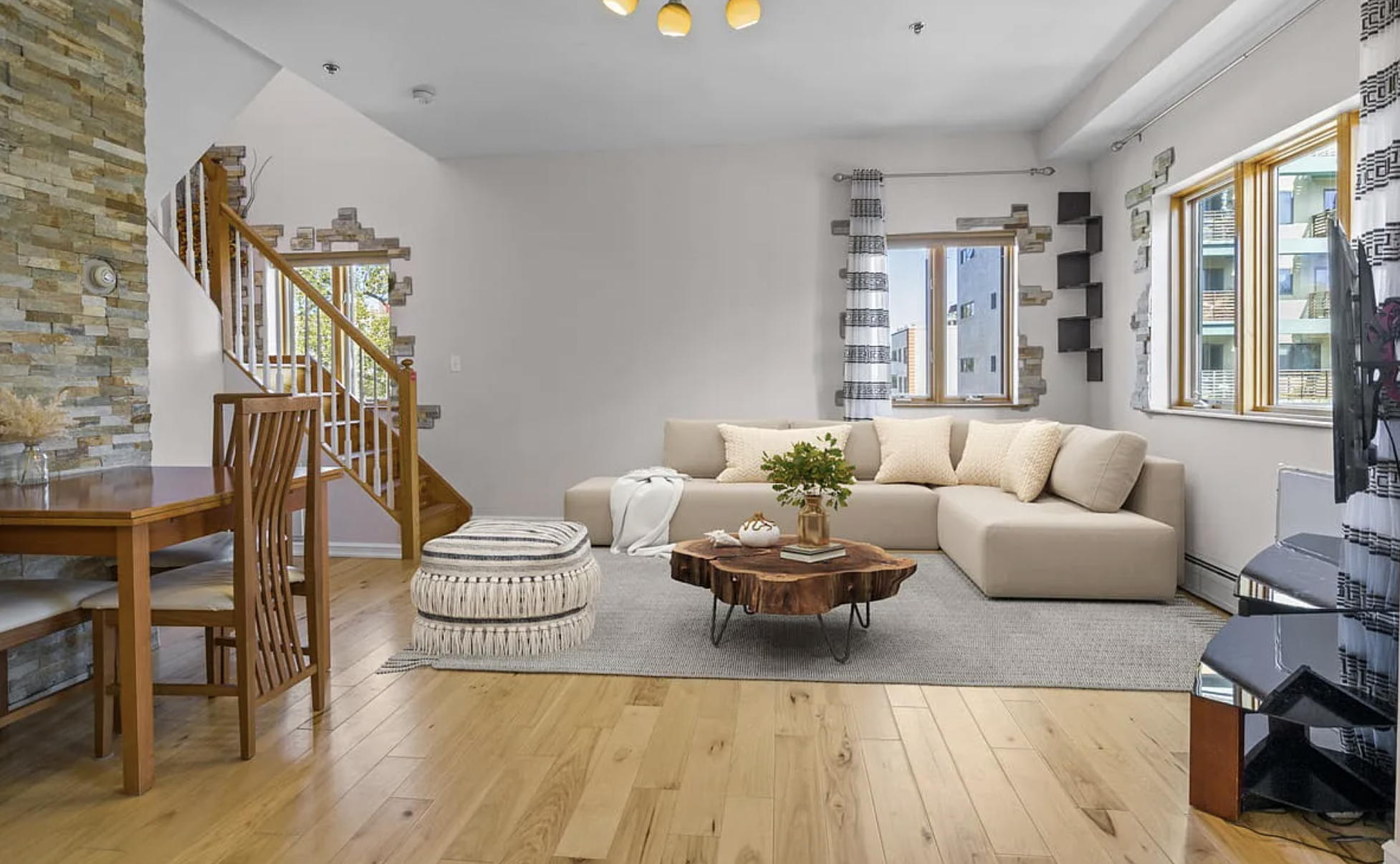 Listed for $590,000, this 1,000-square-foot condo has two bedrooms, one full bath, one half bath, a large living room, and chef's kitchen on two floors. Other features include hardwood floors, central heating and air conditioning, a washer/dryer, balcony, private elevator to the fourth floor, and deeded parking spot. The 2005 building has six units and six stories.
Nancy A. Ruhling is a freelance writer based in New York City.
Brick Underground articles occasionally include the expertise of, or information about, advertising partners when relevant to the story. We will never promote an advertiser's product without making the relationship clear to our readers.