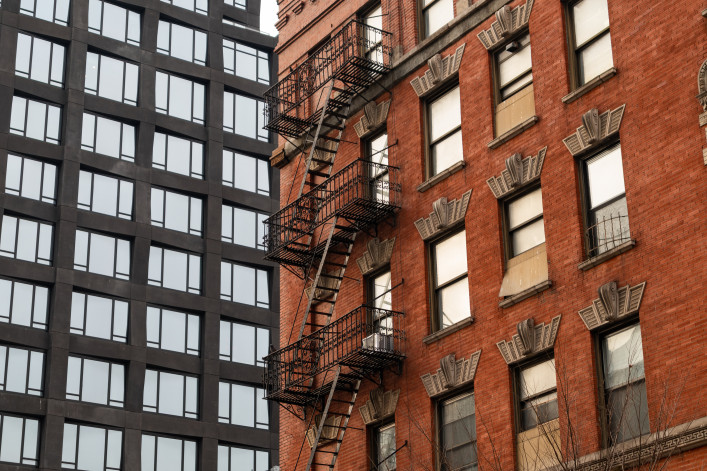 There's a huge range in the size and character of New York City co-op buildings, from full-service luxury buildings on Billionaire's Row to small multi-families in the outer boroughs. Limited equity housing cooperatives add another type of co-op building into the mix. 
They have the same structure as traditional co-op buildings—they are collectively owned by shareholder tenants—but the main difference is that limited equity co-ops have income restrictions for buyers and are therefore sold at below-market prices. 
---
[Editor's note: A previous version of this article ran in November 2018. It has been updated with new information for August 2022.]
---
Keeping apartments affordable 
Unlike traditional co-ops, there's a limit on the profit shareholders can make on the resale of their units. The below-market asking price, together with restrictions on resale, keep the apartments insulated from NYC's sky-high prices, making them an affordable option for generations of the city's medium- to low-income residents.
The rules in NYC mean you can only buy shares in a limited equity housing cooperative if your household income is below 165 percent of area median income. AMI is often criticized as a poor measure for affordability: The current AMI for a three-person family in New York City is $120,100. This means residents could only join a limited equity co-op if their income was below $198,165. This is arguably not a very low income and as you would expect, prices have risen in recent years.
HDFCs are limited equity housing co-ops
Both market-rate and limited equity housing co-ops in New York are usually formed as corporations. For limited equity co-ops in the city, most are formed under Housing Development Fund Corporations with approval by a government agency like the State Division of Housing and Community Renewal or more locally, NYC's Department of Housing Preservation and Development. There are benefits to Housing Development Fund Corporations that aren't available to other types of business and cooperative corporations.
Community loan programs can help with the purchase
Generally, there will be some kind of financing arrangement in place to help buyers pay the initial purchase costs. 
"Having a small-share loan program available for people buying into limited equity housing cooperatives is critical for New York to help grow affordable housing," says Mary Alex Blanton, a spokesperson for National Cooperative Bank (a Brick Underground sponsor).
The loans aren't pocket change, but at around $10,000 to $20,000, once you've factored in a bank's analysis, risk assessment, and administration, many traditional banks find it isn't cost-efficient to loan the funds. That's where financing partnerships come in. National Cooperative Bank works with a local New York-based Community Development Financial Institution called HomeOwnership Lending to offer small share loans for limited equity housing co-op residents.
Each co-op will have its own rules of governance and resale. The goal of the programs is to support low-income residents so most co-ops require owner-occupancy and limit subletting. Most are also subject to flip taxes. According to the city, HDFC rules state the sale price of a limited equity housing co-op unit should be "low enough such that a purchasing household would not spend more than 30 percent of its income on housing costs, which include mortgage payments, maintenance payments, and other potential costs."
Brick Underground articles occasionally include the expertise of, or information about, advertising partners when relevant to the story. We will never promote an advertiser's product without making the relationship clear to our readers.