Worried that you'll never be able to find an affordable two-bedroom in Manhattan? This $519,000 two-bedroom, one-bath co-op at 1793 Riverside Drive in Inwood could be the place you've been dreaming about—with a few upgrades, that is. We spoke with architect Gordon Kahn of Gordon Kahn Associates about what this apartment already has going for it, and what changes he suggests before you move in.
"The living room doesn't look too bad and the master bedroom is in pretty good condition," says Kahn. In addition, "there's quite a bit of original detail intact, including panel moldings. And the floors look okay." That said, there are a number of things Kahn would fix.
His recommendations: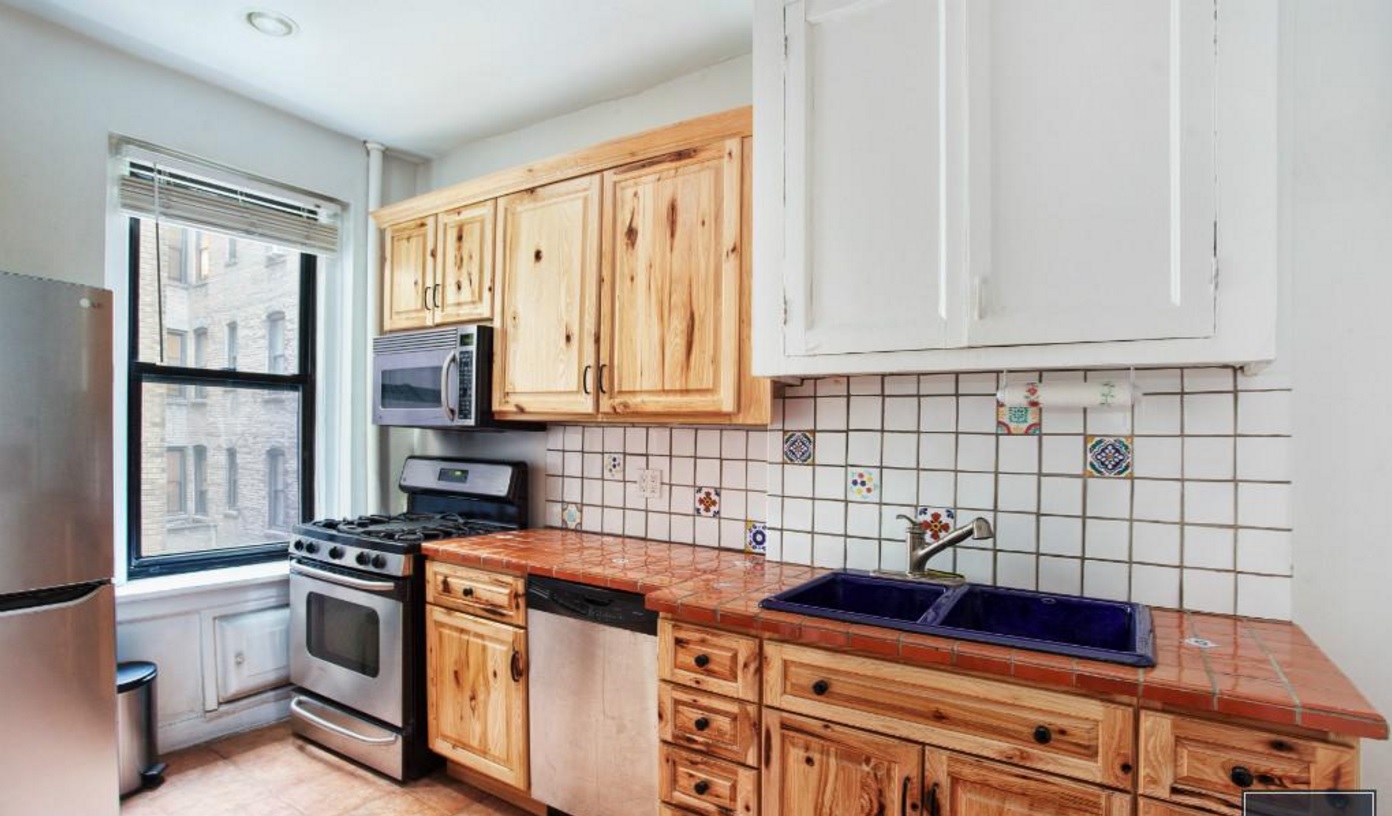 GUT THE KITCHEN
There's a tile floor, a tile backsplash, and a tile countertop. "That's three different kinds of tile in this small space," points out Kahn. "It looks very busy." He suggests putting in a new countertop ("possibly Caesarstone" since it's "durable, attractive, and can be more cost-effective than natural stone"), replacing the backsplash with something simpler, and learning to live with the floor since it looks like it's still in decent condition. 
Additionally, he'd keep the stainless-steel fridge, oven, dishwasher and microwave since they seem "fairly new," but he'd replace the funky blue sink with a stainless steel one that would match the appliances. He also proposes painting the rather rustic-looking cabinets plain white. (Of course, you could always replace the cabinets entirely, but that's a much pricier project).
Price: Kahn says the entire kitchen can be facelifted for under $5000. "A new countertop is around $2500. A new sink is about $1000. The backsplash is $500." And the paint and labor to redo the cabinets would amount to about $500.
If you choose to put in new cabinets, Kahn says they can cost anywhere from $5000 to $6000 for IKEA-type cabinets or up to $12,000 for better quality stuff.
ADD RADIATOR COVERS
"Exposed radiators could look cool if you paint them a cool color like a bright orange or red—depending on what other colors are in the room—so they stand out," says Kahn. "But they get hot, of course, so if you have small children or pets running around, you'll want to install covers."
Price: Stock covers (like these) cost around $300 each. "Or done custom, they can be as much as $4000," says Kahn.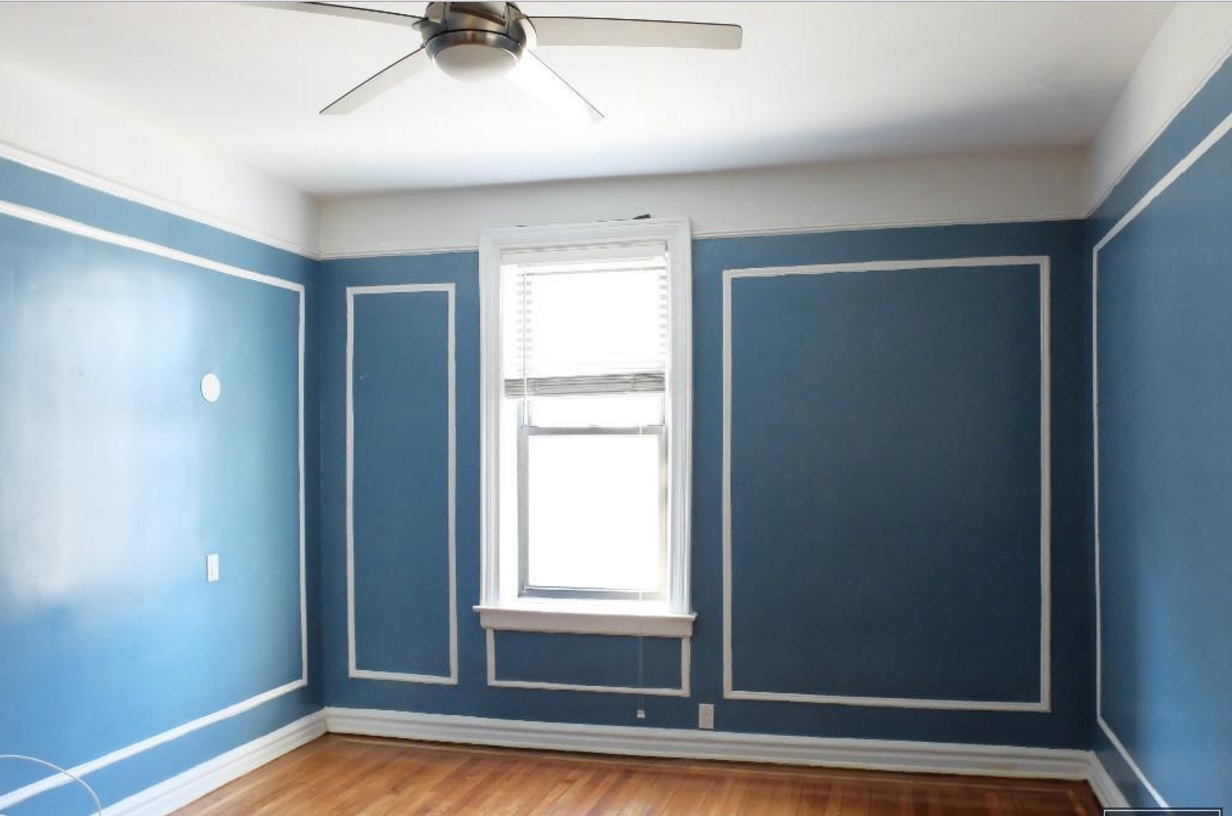 PAINT EVERY ROOM
Kahn "isn't wild about the yellow-ish tone" in the living room and master bedroom, or the blue in the second bedroom, shown here. He'd prefer "a more up-to-date palette with white or soft gray" and recommends Benjamin Moore Simply White.
Price: You can buy a gallon of the aforementioned paint for $69.99. Labor will obviously be more.
STAIN FLOORS
It might be the lighting in the photos, but Kahn feels that the floors look a little orange, and thinks they could benefit from being stained a darker tone. Kahn suggests walnut. "It'll make the floor look less busy in the space."
And make sure it's matte, not shiny, says Kahn. "So it looks like the finish is in the wood and not on top of the wood."
Price: Buckets of wood stain can be purchased for under $10. Labor costs more.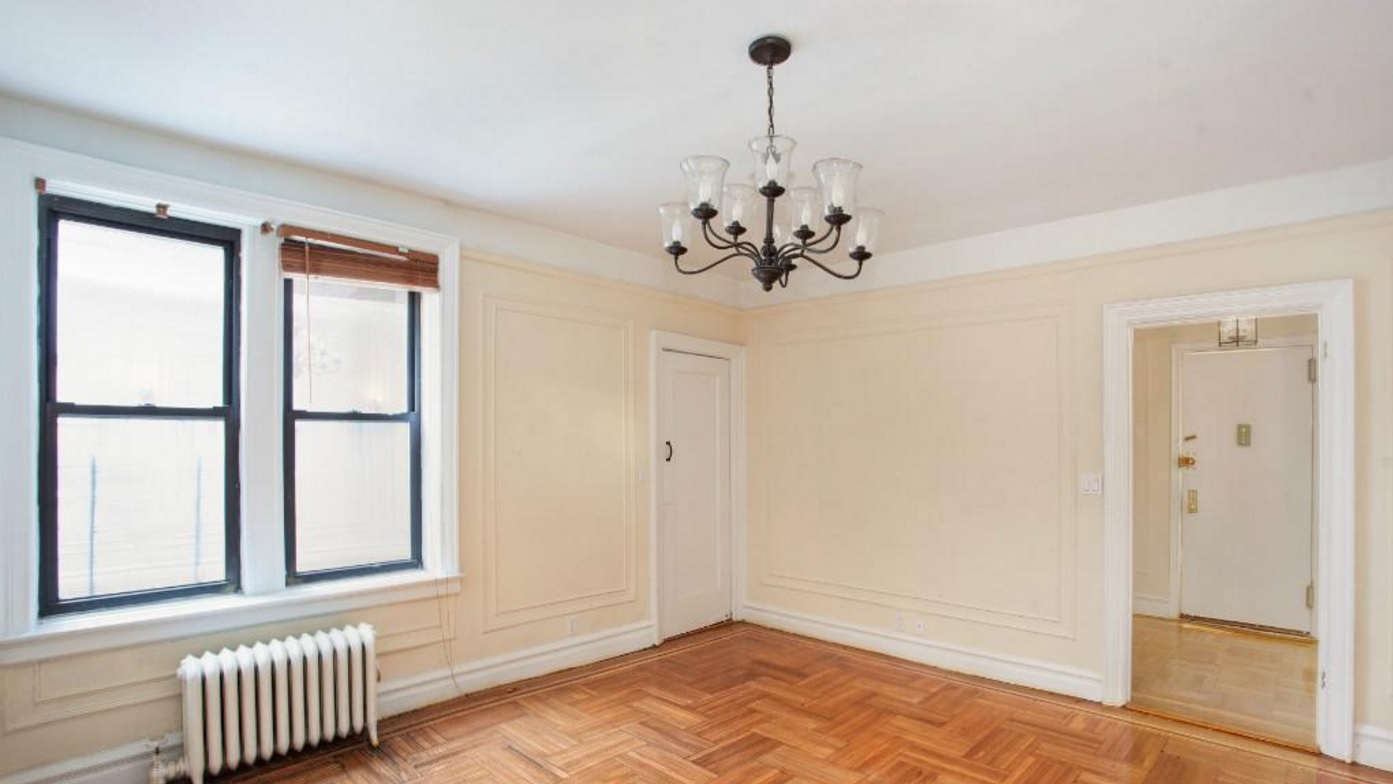 ADD A CLOSET TO MASTER BEDROOM
After examining the floor plan, Kahn is of the assumption that the master bedroom was actually once used as the apartment's dining room. "It's a little awkward," he says. "The bedroom seems to be smack in the middle of everything and access to the bathroom is through said bedroom." There doesn't seem to be a closet in the room—which would make sense if the space was meant to be a dining room.
Price: Kahn believes that building a new closet should run between $3000 and $4000.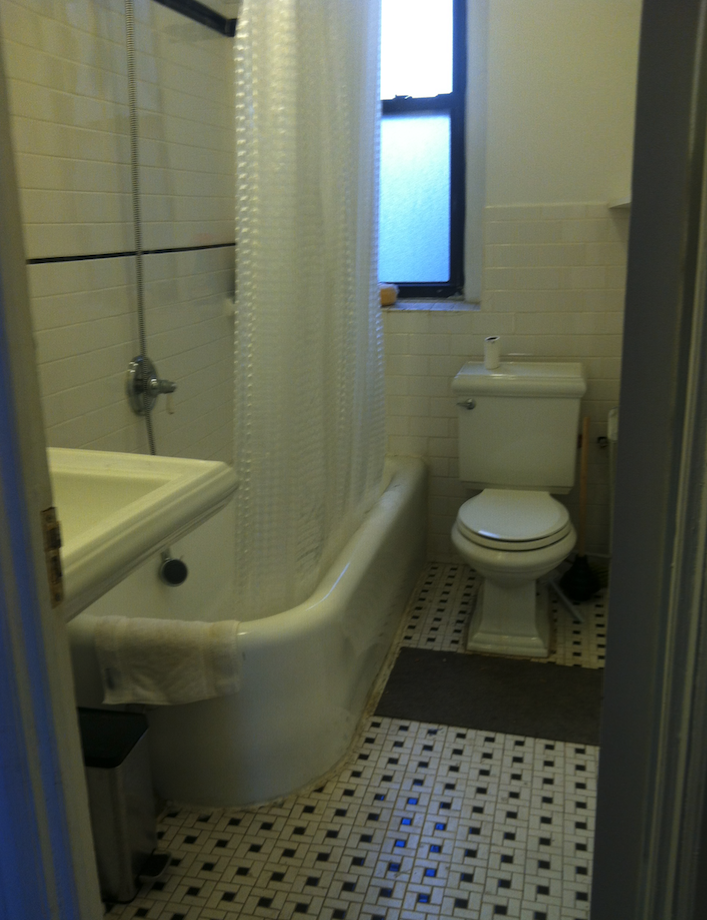 BUILD BATHROOM STORAGE
Although the bathroom looks original, Kahn doesn't believe it is, noting that the toilet and pedestal sink look to be from the Kohler Memoirs collection, which is decidedly modern. He also believes that the tile and shower valve look new. That said, he does think that the space could benefit from more storage. He'd add some shallow cabinets into the wall, as well as window treatments—"either vinyl or roller shades."
Price: Kahn says the cabinets should be around $1500. "Shades can be anywhere from $50 to $800, depending on what you choose," he says.
REPLACE THE HARDWARE ON DOORS
The solid-core wood doors look to be in good shape, but according to Kahn, "the old hardware probably doesn't work so well," meaning the doorknobs won't turn or the locks won't actually lock.

Price: Kahn says you can get a decent new hardware set for $70 or more.
Brick Underground articles occasionally include the expertise of, or information about, advertising partners when relevant to the story. We will never promote an advertiser's product without making the relationship clear to our readers.