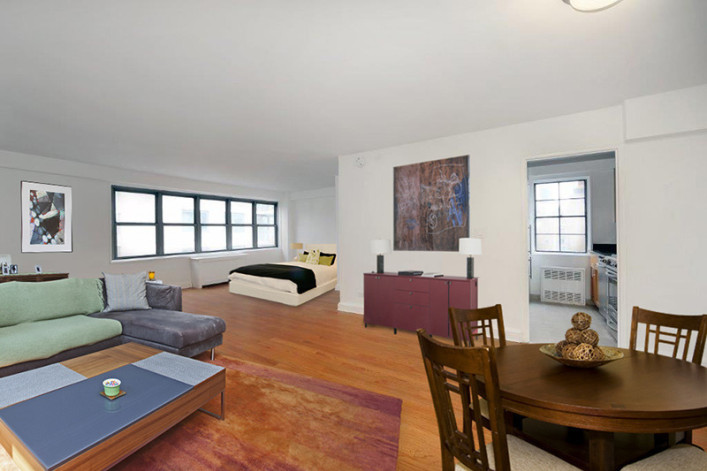 Afraid that your somewhat spotty employment record means that you'll never be approved by a co-op board? Guest broker Holly Sose of City Connections Realty tells you why you might be the perfect candidate for a sponsor apartment in this week's Buy Curious.
THE WISH LIST:
What's the deal with sponsor co-ops?  Can you recommend some for me?
THE REALITY:
Sponsor units are created when a rental building is converted into a co-op (or condo) and some apartments are kept as investments by the developer—or "sponsor"—of the conversion. When purchasing these types of units, buyers can completely skip over the (sometimes harrowing) board interview portion of the process. Applications are submitted only to the sponsor, so board members get zero say in whether or not the sale goes through. If your offer is accepted, the place is yours.
"The strenuous board approval process is the obstacle most buyers dread," says Sose, likening it to rushing a sorority since neither has to provide any reasons behind their sometimes head-scratching decisions. "Many people find it stressful to know that even though they have spent time hunting for a new place, winning the bid in this really competitive market, and going through the underwriting process by their bank for a mortgage, they still might be rejected by a co-op board," she says.
This fear is even held by folks who seem like perfect candidates to pass a board interview, so you can imagine how freelancers and other underemployed folks might feel. Enter sponsor units.
"Sponsor units are perfect for people who are not working, but have enough assets to purchase, first-time buyers, parents buying for children or people with unsavory public profiles who would rather steer clear of board scrutiny," says Sose.
But while getting to bypass the board is a huge pro, Sose cautions would-be buyers to remember that there are a number of cons, too. Most sponsor units oblige the buyer to pay the seller's transfer taxes, which are typically between 1.4 and 1.8 percent of the purchase price. Of course, "in a bad market, a buyer could ask to be credited this cost," says Sose. "But in current market conditions, fat chance!"
Furthermore, there simply aren't that many sponsor units on the market at any given time. According to StreetEasy.com, there are 31 co-op sponsor units currently up for grabs in Manhattan, ranging from a $359,000 Midtown West studio to a $19 million three-bedroom in Lenox Hill. "They're few and far between," says Sose. 
They're also often in less than perfect shape since many sponsor units are located in pre-war co-ops and still have their original plaster walls with lead-based paint that contains asbestos. They'll therefore probably be more affordable, but keep in mind that you'll have to cover up those walls  or remove them entirely—and that job's not cheap.
Check out these sponsor units:
Upper West Side one-bedroom/one-bath co-op, $995,000: The sponsor of this one-bedroom at 245 West 74th Street between Broadway and West End Avenue is paying for this unit to be gut-renovated. The work is estimated to take two to three months to complete. The original wood flooring will either be restored or replaced with new white oak flooring, and the walls will be painted linen white. Kitchen renovations will include new white wood cabinets, Caesarstone countertops and stainless steel appliances. The pet-friendly co-op has a live-in super, a part-time porter and a common storage and bike room.
Murray Hill one-bedroom/one-bath co-op, $689,000: This renovated apartment at 20 East 35th Street between Madison and Park Avenues features a terrace, a custom kitchen with stainless steel appliances, and high ceilings. The unit has many of its original details, including brass hardware and doorknobs, solid wood doors and parquet inlaid floors.  
Midtown West studio/one-bath co-op, $359,000: This north-facing alcove studio at 424 West 46th Street between 9th and 10th avenues offers high ceilings with recessed lighting, hardwood floors, a decorative fireplace and a pass-through kitchen with a dine-in granite countertop. The co-op building has a video intercom system and on-site laundry.
Upper East Side one-bedroom/one-bath co-op, $749,000: Located at 1160 Third Avenue between East 67th and 68th Streets, this sponsor penthouse duplex has a private terrace, a renovated kitchen and bathroom, and good closet space. The full-service co-op building has a doorman, a concierge and a garage.

Related:
The pros and cons of buying a sponsor unit
Is a co-op sponsor unit the best bet for freelancers? Plus, five listings on the market
Brick Underground articles occasionally include the expertise of, or information about, advertising partners when relevant to the story. We will never promote an advertiser's product without making the relationship clear to our readers.