With a new season of The Real Housewives of New York (season 8 starts tonight on Bravo), there are certain assurances. There will, of course, be contentious cocktail parties, long-lasting catfights, promotion of the women's many brands, and, of course, pricey real estate.
While the other versions of the Housewives franchise (e.g. Beverly Hills and Atlanta) often show sprawling mansions, the New Yorkers have plenty of NYC-style aspirational real estate themselves, including uptown co-ops, downtown condos, and townhouses all over the place.
If you want to see inside some of these ladies' apartments, Bravo's got you covered, with tours of past and present NY housewives' homes in New York City, the Berkshires, and Miami (there's also a peek into relative newbie Dorinda Medley's closet).
But in honor of today's season premiere we thought we'd look back, and present you with six particularly memorable real estate moments from the past seven seasons:
1. Bethenny's homeless comment
Thanks to her ongoing divorce, Bethenny Frankel lost her dream Tribeca apartment (we saw her design it on one of her many Bravo shows—we've forgotten which one, there have been so many). Last season, in a crossover with Bravo's Million Dollar Listing, broker Fredrik Eklund showed the Skinnygirl Cocktails mogul a bunch of new places. During that search she breaks down and cries about her "homeless" status. When viewers criticized the comment, Frankel stressed that she'd actually said she was the richest homeless person in New York. Because in Real Housewives vernacular, homeless actually means flitting from high-end hotel to high-end hotel. By the end of the season, she'd moved into an over-$4 million dollar SoHo apartment (see below).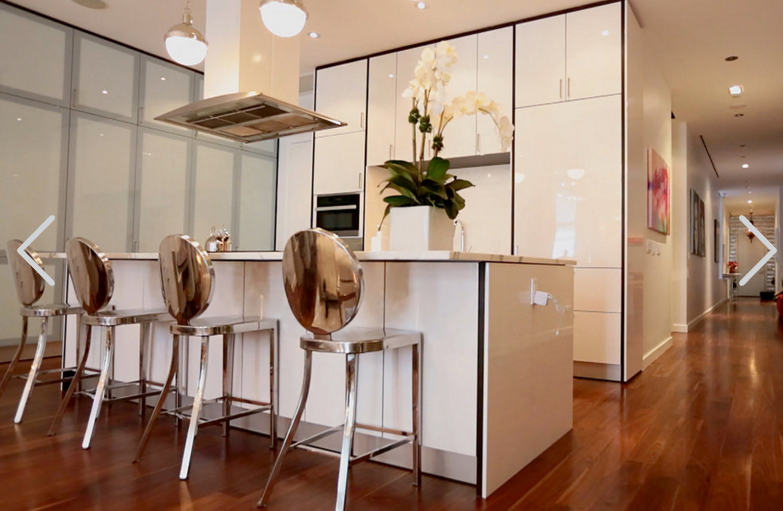 2. Carole's co-op board run
Author Carole Radziwill gets the most NYC cred for not only turning her West Village co-op's kitchen into an office, but also running for her co-op board, giving non-New Yorker viewers a taste of what it really means to own an apartment in the city. 
"Each building runs as its own little municipal town. Much like you might be interested in knowing what is happening in your town because it has a direct effect on the value of your property," she told Bravo about her decision to make a play for the board. "In the beginning, I must say I was more self-interested. There were things I was not happy with in the building and thought I needed to be part of the decision-making process. As I spoke to the other residents and listened to their concerns, my run became more about what I could do for the building and not what the building can do for me." (Sound familiar? Radziwill was married to a cousin of the Kennedys.)
And she won the election. "In the end," she told Bravo, "I think it's just a matter of asking people for their votes. And even though negative campaigning works in general elections, I am glad I ran an honest and decent campaign." Her win may have had something to do with her  "campaign consultants," who apparently worked for Rudy Giuliani's presidential campaign and Andrew Cuomo's race for governor. See how serious some NYC boards can be?
3. Hamptons vs. everywhere else in the world
The ladies—perhaps unsurprisingly—have a lot of Hamptons real estate between them (in fact, Luann de Lesseps' post-divorce waterfront Sag Harbor "downsize" is the kind of house Hamptons dreams are made of). 
And it seems their East End pride (snobbery?) runs deep. Just try inviting them to other vacation spots and you'll hear about how they don't match up. From Ramona Singer's digs at Heather Thomson's Berkshires home (seen below, which by the way, we love) to Sonja Morgan's shock and awe at being invited to a party at (former) housewive Cindy Barshop's Quogue home (which apparently was just a little too far from Southampton to travel).
Lesson: Don't bother inviting the ladies to hang in your Rockaways share this summer.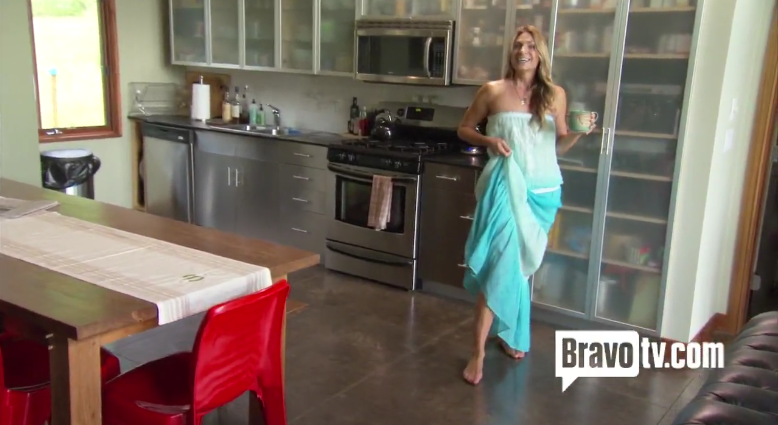 4. The brouhaha surrounding Alex and Simon's (gasp!) Brooklyn townhouse
In the same vein, the ladies of the first season were somewhat horrified when two of the characters (from the beginning of the franchise) wanted them to come to Brooklyn (where?!) to see their newly renovated townhouse. They seemed to believe Brooklyn was next somewhere between Saturn and Jupiter, and the Manhattan-centric crowd tried their hardest to avoid it.
When Alex McCord, the owner of said brownstone (which sold for a nearly Housewives-worthy $2.695 million), came head-to-head with Jill Zarin, another former housewife who was particularly horrified by the County of Kings, she yelled at Zarin: "You are mean girl, and you are in high school. And while you are in high school, I am in Brooklyn, trying to survive in this economy. Working." Preach it, Alex. (By the way, Alex appears to have been prescient; parts of the borough are now hotter and more expensive than Manhattan.)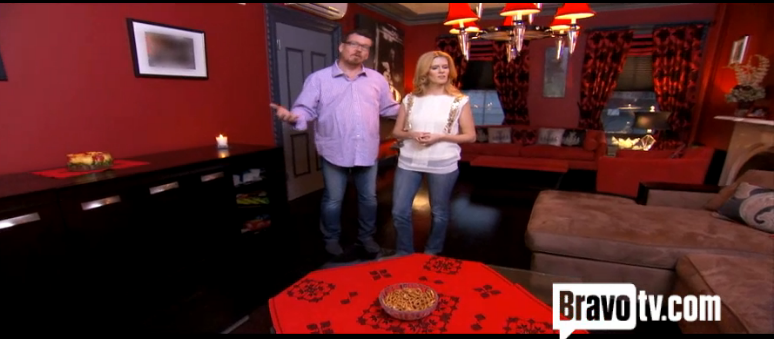 5. Aviva Drescher's filming-inspired move
Rumor has it that former housewife Aviva Drescher's co-op wasn't cool with her filming in the building, and so the former housewife (who has an ex-husband who'd slept with several Housewives!) chose to rent an Upper West Side townhouse for $20,000 a month just to film in.
If only Carole had been on that board she may have had a better shot at staying put (granted that would have to be before the ladies' season-long fight surrounding whether or not Radziwill hires ghostwriters for her book).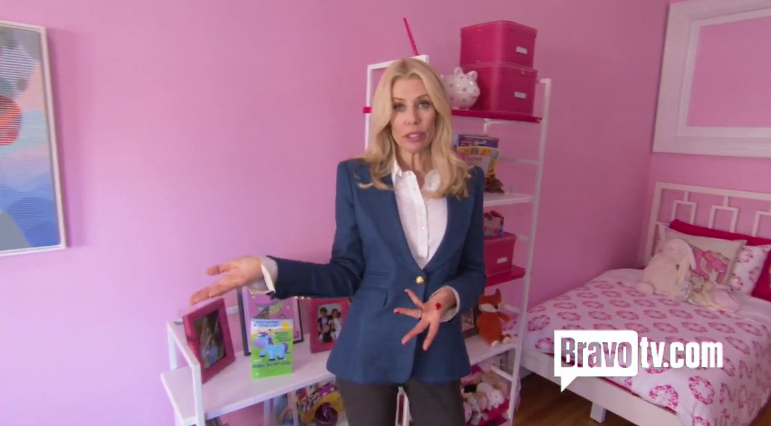 6. The drama around Sonja's house
Sonja Morgan, who was once married to John Adams Morgan (of JP Morgan fame), lives in a five-story Manhattan townhouse (with elevator!) that has a bit of a Grey Gardens vibe. (There was a major only-on-Bravo argument once about Sonja making her friends wait for her in the vestibule in her house instead of letting them come inside.)
Whether or not she'll lose the house amid lots of legal issues has been a persistent topic on the show. She's held on to it for now, and we're glad. There's nothing quite like seeing Sonja's many "interns" rush around the house working for her.