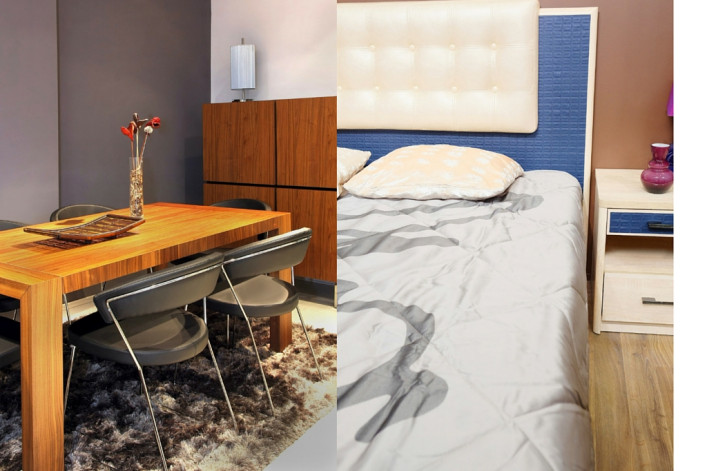 Like it or not, holiday entertaining/out-of-towners-visiting season is almost here. Of course, we all want to be hospitable and make our friends and family comfortable—but maybe not too comfortable? 
We asked five city dwellers: If you could have more space, would you rather have a whole separate dining room, or a small second bedroom? 
Every square foot must earn its keep Personally, I would like a second bedroom myself with a Murphy bed (which is what we have actually) because it can be more flexible. We use it for occasional guests but it's an office/storage room when it's just us. —Ross, Chelsea (pictured)
Wine and dine in comfort Here's the thing: No matter how hard we try, when we have people over for dinner (which is often), we always stay talking at the dinner table. Our dinners are very informal, and we don't clear the table after dinner, so maybe it's the food and wine being right there to keep coming back to? Even if it's hours later and we're just talking, we stay at the table. So a dining room with large comfortable dining chairs would be ideal. —Serena, Upper East Side
Works both ways If I had a dining room, I'd probably just end up using it as a second bedroom eventually. I'm not from New York originally so I have a lot of family that comes to stay with me and I'd love to make them—and of course me—comfortable. —Stephen, Harlem 
Flexibility is key I would rather have a formal dining room. Bedrooms can be shared and additional bedrooms are not as flexible as additional living spaces. A dining room can be a library, extra bedroom for guests, living and dining. Our dining room is a library and we live in that room. Our living room has a dining table and
is a living room. —Anna, Upper East Side (pictured)
A bedroom for our needs A second bedroom, definitely. Because, it's more flexible for a growing family. Actually, my young son will soon be moving into the tiny windowed dining alcove off our kitchen. Yes, we'll miss having the separate dining space, but the separate room for a toddler is the priority. —Emile, Hamilton Heights
Verdict: Just call it the "city that wants to sleep." Second bedrooms are in demand!
Related:
Walk-in closet vs. half bathroom: Which will it be?
Would you prefer 25 percent more apartment space or another bedroom?
Brick Underground articles occasionally include the expertise of, or information about, advertising partners when relevant to the story. We will never promote an advertiser's product without making the relationship clear to our readers.