Buy Curious
Looking to make some money off of your home? What to know about multi-family homes in NYC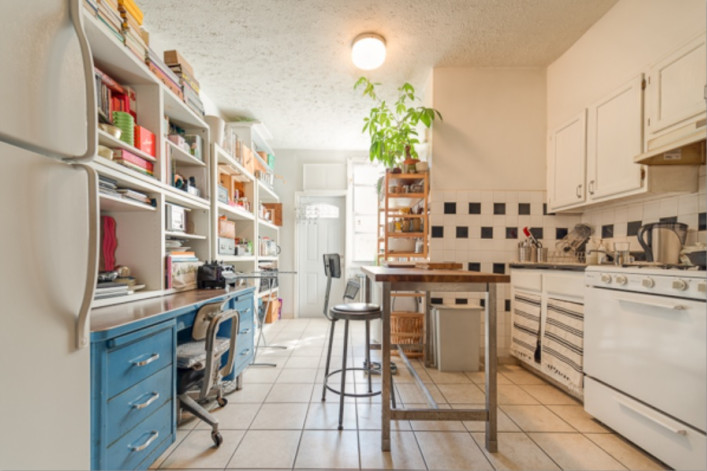 Want to buy a multi-family home, but aren't sure what it'll be like to live among people who pay you rent? James Guimaraes of Ideal Properties Group gives us the pros and cons of being a live-in landlord in this week's Buy Curious.
THE WISH LIST:
I'm thinking of buying a multi-family house (two or even way more) and living in some of it while renting out the rest. What should I know? Which neighborhoods are best?
THE REALITY:
One of the best ways to invest in real estate—especially for first-time investors—is to purchase a multi-family home. "Multi-families give you the hybrid experience of living in and managing a building wrapped up in a neat package," says Guimaraes. "While there is a financial risk associated with purchasing this type of property"—since you're reliant on your tenants to pay rent—"the benefits include tax deductions for your mortgage and that anything that benefits the rentals can be written off as operating cost. What's more, there has never been a shortage of people looking to rent apartments in New York City."
When choosing a neighborhood, there are a lot of factors to consider, the most important of which is: Where do you want to live? "Where do you feel most comfortable?" asks Guimaraes. "Are you looking for waterfront views or proximity to a park? Both?" Do you want to live near (or far) from family and friends? Are you looking to stay in an area that's familiar to you or do you want to try somewhere new and exciting? Knowing what you're looking for is half the battle when embarking on a real estate hunt. 
However, "a multi-family purchase will restrict you to neighborhoods in which these buildings exist," says Guimaraes. "For example, Downtown Brooklyn and Manhattan's Financial District have virtually none of these properties, whereas Harlem and Bedford-Stuyvesant are practically painted with multi-family brownstones." Also, since price is more prohibitive than buying, say, an apartment, that will likely affect what neighborhoods you look in, as well. On the bright side: "You can use the rental income to qualify, so you have more buying power with relation to debt to income," notes Peter Lucia of Mortgage Master Brooklyn.
After narrowing down your location, there are several financial components that need to be addressed. "First, any building with three or more families will require a commercial loan," explains Guimaraes. "This means a larger down payment—typically at least 25 percent—and a higher mortgage rate when compared to buying a single-family or even a two-family home. Second, there may be service contracts for the building, a superintendent for example, with specific terms-of-employment. Third, you'll need to know if the rent roll will cover your mortgage and expenses." Additionally, not as many lenders will be willing to work with a multi-family property, says Lucia, so you'll have fewer options when it comes to financing.
If a building is delivered vacant, you'll need to get an inspector in there pronto to determine what work, if any, will need to be done ensure that you can charge (and get) the highest rent possible.
And what if your building already has tenants? If they don't have leases, your options include letting them stay, offering them a lease or giving them a month's notice to vacate the premises. "You cannot discriminate or intimidate them into leaving, but if they haven't paid rent, you can give them less than a month's notice," says Guimaraes.
"If the tenants are rent-stabilized, their leases follow the building, not the owner," he says. "They will be paying below-market rent and you'll have to incentivize them to leave." In other words, buy them out if you can, because they're legally within their rights to stay put indefinitely.
If the tenants are paying fair-market rent, "it's important to assess if their rent is comparable to the neighborhood," says Guimaraes. If they're paying below-market, when do their leases end? "You'll want to raise their rent to the appropriate rate at the end of that period." If, however, the tenants are paying a fair price for the area and you'd like to keep them on, go for it. "The most important aspect of a multi-family home is the interpersonal relationship between you and your tenants," he says.
"If the tenant above you orders delivery every night and it bothers you, it'll be a long year for you both," says Guimaraes. But if you click, your tenant can "become a new family member in your household. It's not uncommon to hear about landlord-tenant Thanksgiving meals!"
Just remember that "when you own and live in a multi-family house, you are the property manager, owner and sometimes the super, as well," says Guimaraes. If you think you can juggle all those responsibilities and be a decent housemate, too, then owning a multi-family property could be for you.
Here are some places you might like:
Upper West Side townhouse, $3,995,000: This multi-family townhouse at 331 West 87th Street between Riverside Drive and West End Avenue has five units for rent, as well as an owner's unit on the parlor floor. The house, which was built in 1900, has tons of original details, including a bridal bench, a skylight, original restored floors, a Juliet balcony and fireplaces with their original mantelpieces.
Bedford-Stuyvesant brownstone, $875,000: Located at 824 Quincy Street between Ralph and Patchen Avenues, this pre-war two-family brownstone townhouse has its own private garden and low real estate taxes ($253 a month).
East New York rental building, $485,000: This two-story stone-sided structure at 709 Hinsdale Street between Linden Boulevard and Dewitt Avenue has four spacious one-bedroom units, all of which will be delivered vacant. There's also a large basement that can be used for storage or as a rental conversion (with a bathroom already in place).
Hamilton Heights townhouse, $3,500,000: Currently configured as a homeowner's triplex and a garden rental duplex, this home at 405 West 148th Street between Saint Nicholas and Convent Avenues is 6,630 square feet of beautifully preserved original details. The hand-carved maple and oak paneling, staircase and railing have all been carefully restored. But the upgraded kitchen and bathrooms are decidedly modern.
Related:
5 Brooklyn nabes where you can (still) buy a house for under $1 million
Top 10 reasons NYC's small landlords are becoming extinct
When your landlord is like family, the rent is low and the boyfriends tiptoe
Brick Underground articles occasionally include the expertise of, or information about, advertising partners when relevant to the story. We will never promote an advertiser's product without making the relationship clear to our readers.