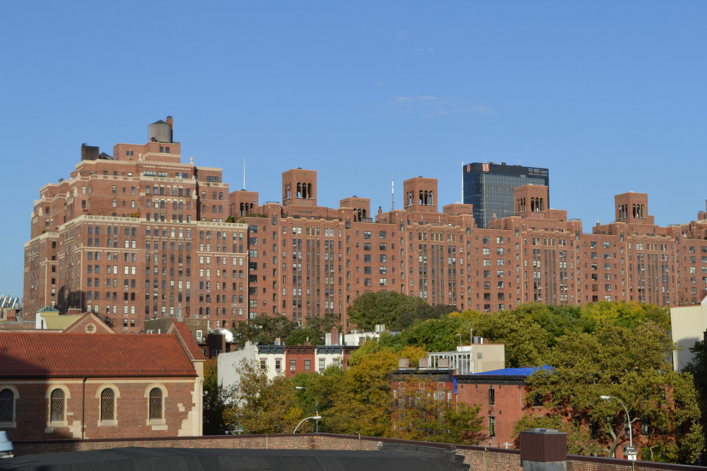 Technically, London Terrace isn't a neighborhood; it's actually a block-wide collection of co-ops and rental buildings on West 23rd and West 24th streets. But considering it comprises a large chunk of land and is steeped in fascinating history, we thought it worthy of a closer look, official neighborhood designation or no. Below, five things you might not know about the scenic Chelsea apartment complex:
1. The same man who wrote a children's Christmas classic had a hand in developing London Terrace.
T'was the night before construction, and all throughout Chelsea — or something like that. In any case, the land on which London Terrace now sits was once the domain of Clement Clarke Moore, who wrote the iconic tome, T'was the Night Before Christmas. Moore, as it turns out, was as gifted with city planning know-how as he was with rhyming (and had parents who were particularly real estate-prescient).
When he inherited this large parcel in 1813, according to Andrew Alpern's Luxury Apartment Houses of Manhattan: An Illustrated History, he sculpted the block, which was part of the original Moore family farm, as well as other sections of Chelsea. (The New York Times has him leasing it to a William Torrey by 1845, "who erected the row as it stands.") By the 1880s, rents on these three-stories, included in a Times article on how increased demand had spiked prices by 15 percent, were going for $1,200 to $1,500 a year. (Sob.)
2. It was the site of an epic battle between a powerful developer and a resident holdout. (So: NYC is the same as it ever was.)
It's no animated tearjerker like Pixar's Up—nor does it resemble the Seattle house that Disney tied into its promotion of the movie (and which has its own warring past)—but London Terrace's history bears the imprint of a massive real estate tug-of-war. Per the blog Daytonian in Manhattan, a woman named Tillie Hart was leasing one of the houses Moore built on West 23rd Street when developer Henry Mandel, who'd bought the houses by the late 1920s, had razed all but Hart's. (His vision included the construction of 10 large buildings that would comprise the new London Terrace; he also kept the name.) She was refusing to move out; reports had her shutting herself in and lobbing bricks at anyone who came close. With the help of the sheriff, Mandel was able to move her out and tear the house down.  
3. Despite it being named after the English metropolis, it's actually Italian in (architectural) feeling.
More precisely, a Times  article on a recent restoration describes it as "ornamental Tuscan style." And yet, there's no doubt Moore and Mandel were inspired by the Brits. For instance, the London Terrace Facebook group, run by a Corcoran broker who handles many listings in the building, shows a circa-1930s photo of its doormen who were then called "Bobbies," after the British police.
In any case, Mandel built it for greatness, with an eye toward staking a claim as "the largest apartment building New York and the world had ever seen," reports LondonTerrace.com, the official site for the rentals in the complex. (LondonTerraceTowers.com is for the co-ops.) During the Great Depression, it wound up foreclosed and divvied up between rentals and co-ops.
4. It's gilded with amenities (one of which has led to arguments among tenants).
Though it seems like a period project through and through, London Terrace has surprisingly modern perks (some of which have existed since Mandel built it), such as a five-lane pool, a fitness center, a garden, and a roof deck. The pool, specifically, has been tinder for in-building arguments; according to the Real Deal, an attempt to exclude the pool as a perk already covered and paid for in leases in 1992 caused consternation among renters. (That matter was settled.) But 21 years later (aka 2013), a similar debate resurfaced, reports the Times, with owners asking tenants to pay up for pool use (and the DHCR ruling that for now, the building has to give tenants a rent reduction if it plans to revoke their pool access).
5. It's a celebrity magnet.
Many buildings have hosted boldface names, but London Terrace's call sheet is particularly impressive. To wit: actress Nicole Kidman, The Sopranos creator David Chase, photographer Annie Leibovitz (who dated her neighbor, the author Susan Sontag), SNL's Bill Hader, singer Rufus Wainwright, and First Daughter Chelsea Clinton.
Some moved in before they were famous (though not when monthly rents were advertised at the envy-inducing and reachable-sounding $54 for a studio with a kitchenette and $76 for three rooms plus a kitchen) and others when they had already made their name (and could easily afford current leases, like the one-bedroom asking $4,350 a month, per Streeteasy — the complex has 921 apartments — and current asking prices that run about $1000 to $1500 per square foot).
Related:
Manhattan Valley: What you might not know about the Upper West Side's neighbor to the north
The 24 best neighborhood blogs
Moving to NYC: A crash course in finding an apartment here
Brick Underground articles occasionally include the expertise of, or information about, advertising partners when relevant to the story. We will never promote an advertiser's product without making the relationship clear to our readers.