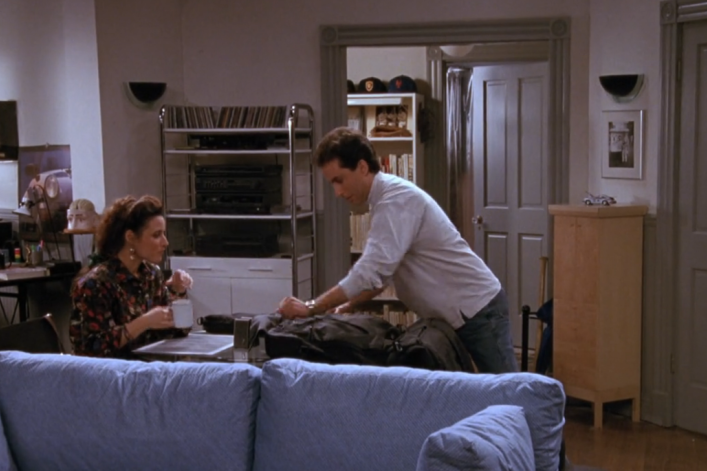 When a movie or TV show is set in New York City—and if the people making it are savvy—real estate becomes part of the story itself. In Reel Estate, we look at some of the more memorable homes to grace the screen.
Like most people with an Internet connection, we spent the cold, rainy portion of this past weekend mainlining newly available episodes of Seinfeld on Hulu, and found ourselves confronting a long-forgotten reality: Back when Vandelay Industries was just a twinkle in his eye, George used to be a broker.
The third episode of the first season, "The Robbery," opens with Jerry warning Elaine about his apartment's manifold defects — a fridge in which everything goes bad, hot water that takes forever to heat up, etc. — to prep her for a weekend of house-sitting. After George appears unannounced (the buzzer is broken and the front door of the building open, yet again), he tries to talk Jerry into scoping out one of his new listings, a two-bedroom in a "great building" on West 83rd, a half block from the park. (We're assuming he means Central Park, since Riverside wouldn't have exactly been a huge draw back in 1989.)
The rent is twice as much as Jerry pays now, but Elaine pressures him to take a look at it, too, so she can then move into his current place, and get away from her "waitress/actress" roommate's incessant singing. After his TV and VCR get stolen out of the apartment (thanks to Kramer leaving the door open), Jerry agrees to see the place, which is one of the sound stage-iest "New York" apartments in the entire series:
George hasn't actually seen the place, and when they all get there to take a look, sees its outdoor patio and fireplace, and decides he wants it for himself. (George is about as god-awful a broker as you'd expect him to be.)
When Jerry (rightly) balks at signing a three-year lease, George offers to take the apartment off his hands if he has any qualms, and they end up playing odds and evens for who'll end up getting the place, with Elaine agreeing to move into the apartment of the winner. Jerry wins, but George sulks so much about it that he decides not to take the place, and a waitress at the diner who overhears their conversation ends up moving into the apartment with her husband.
As a thank-you for the hookup, she invites them to the housewarming:
We're curious about what exactly this place cost that a waitress could have afforded it even in the pre-Bloomberg years (and how much Jerry was making with his standup that he could even consider doubling his rent for no real reason). But back to the robbery: We find out that Jerry doesn't have renter's insurance, having spent all his money on the ClapCo D29 Lock, "the most impenetrable lock on the market today:"
Doesn't seem like the smartest investment, but maybe they could've used one down at that Seinfeld apartment replica before a fan went ahead and busted down the door.
Related: 
Reel Estate: Buy an apartment in Seinfeld's infamous "doorman" building
A replica of the Seinfeld apartment is coming to the West Village
Manhattan Valley: What you might not know about the Upper West Side's neighbor to the north
Reel Estate: Kimmy Schmidt actually has a pretty great apartment
Brick Underground articles occasionally include the expertise of, or information about, advertising partners when relevant to the story. We will never promote an advertiser's product without making the relationship clear to our readers.