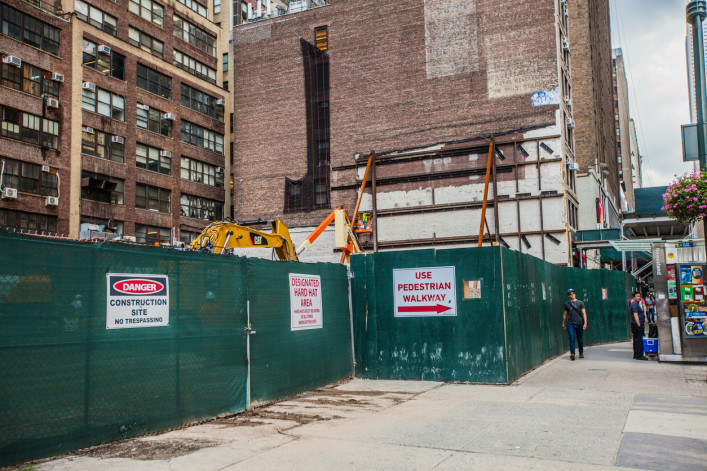 I just received some paperwork from my landlord that claims that I have to leave because they're going to demolish my building and put up a high rise. Can they do this? What are my rights? Am I entitled to relocation money?
Your landlord is within their rights to demolish the building and give you the boot, but if your apartment is rent regulated, you should be entitled to a hefty buyout, says Sam Himmelstein, a lawyer at Himmelstein, McConnell, Gribben & Joseph, who represents residential and commercial tenants and tenant associations. 
But first thing's first: For your landlord's demolition plans to even be legitimate, they'll need to have followed protocol. This involves sending you two documents: a copy of their initial application to demolish that's been submitted to the Division of Housing and Community Renewal, as well as a notice of non-renewal of your lease, says Bill Gribben, also an attorney at Himmelstein, McConnell, Gribben, & Joseph who has worked on numerous demolition cases. Often a lot of time elapses in between the application and the DHCR's approval of demolition, and you're under no obligation to move until the DHCR issues a final order. 
What types of demolitions are landlords allowed to do?
There are different types of demolitions a landlord may undertake. A standard demolition involves taking down the entire building and constructing a new development from the ground up. But in other cases, a landlord may intend to just gut the building and reconfigure the apartments, or convert it into a townhouse, allowing them to rent these new units at market rate.  
Of the latter type, known as a partial demolition, Himmelstein says, "The tenant community argued that that's not a demolition—a demolition means you knock down the building and put up something new. But the DHCR decided to count these gut renovations as demolitions."
And they may be becoming more common, Himmelstein adds, in the wake of the 2019 rent reform legislation. "Given the new laws, which repeal vacancy deregulation, this is one of the only ways that landlords can get their buildings out of rent stabilization," he says.
And the regulated tenants who have to move out for this kind of demolition tend to receive less substantial buyouts, since the landlord is not putting up a new tower and making millions in profit.
However, this may not be the case for much longer. The DHCR has drafted new regulations to close a loophole in the Housing Stability and Tenant Protection Act of 2019 that allows landlords to raise the rent on rent-stabilized apartments beyond the percentages set by the Rent Guidelines Board. Currently, if two neighboring apartments are vacated, a landlord can undertake a renovation to combine them and charge a much higher "first rent." The proposed regulations include a new rule that for a building to be considered demolished, it would have to be completely leveled, rather than only gutted, The Real Deal reports.
"Gutting a building would no longer be a basis to evict tenants," Himmelstein says. "Landlords are currently able to do demolitions where they gut the interior of buildings, but if that is limited, there really won't be any way to throw out an entire group of tenants in order to gut renovate."
How big a buyout can I get?
If the demolition is indeed legit, tenants are entitled to one of three different types of reimbursement. The landlord can move you into housing at the same or lower regulated rent than what you pay now, and throw in an additional $5,000 in moving expenses; they can move you into a pricier rental and agree to pay the difference for the next six years; or they can offer up a lump sum buyout based on the number of rooms in your apartment and how much you've been paying.
The buyout is by far the most common option, and if your landlord is undertaking a full demolition and you play your cards right, you're likely to wind up with millions of dollars, Himmelstein says. The landlord/developer is likely beholden to lenders whose contracts involve specific timetables, meaning that it's in everyone's best interest to avoid a long, drawn-out case that delays construction for several years.
"What happens here is that they budget a certain amount of money for tenant buyouts into these projects, and approach the tenants for negotiations," Himmelstein says. "Tenants are almost always looking at seven figure settlements." Don't go to the landlord directly unless you've gotten a notice from the DHCR that requires action within a certain timeframe—in this case, you can request an extension while you seek out legal counsel.
Tenants who are approached about buyouts should also be aware that landlords do not always reveal that they intend to demolish the building.
"Some landlords approach tenants before filing the application for demolition, in the hopes of getting as many vacancies as possible, or even of clearing out the building," Himmelstein says. "If they can get everyone out, then they don't have to file with the DHCR at all."
In these situations, tenants may be under the impression that the landlord wants them out in order to renovate apartments. And if the tenants accept the buyout offer, it could also mean a much smaller payday than what they'd get from a demolition.
Tenants can investigate whether a demolition is likely in a few ways.
"One sign is that apartments in the building are being vacated, but not re-rented," Himmelstein says. "Another is that the same person owns the buildings on either side of the one you're in, so it looks like a larger development is being assembled."
You could also look into your building's zoning and air rights to get a sense of whether your landlord may be planning to build something taller. Finally, scan local real estate publications, which often cover major real estate purchases.
The online database ACRIS also reveals if multiple buildings are owned by the same entity, and the Department of Buildings information system could show whether your landlord has already filed some paperwork about their plans for the building. Who Owns What in NYC is another helpful investigative resource.
And tenants who suspect their landlord may have plans for a demolition can monitor application filings through the Department of Buildings information systes.
"This way, you can have a little advance notice of what's going to happen," Himmelstein says, noting that he currently represents clients who spotted such a filing on the DOB site. Although they haven't been served any notice yet by their landlord, they're already preparing for negotiations with him.
Where to get legal help for negotiating buyouts
It's also a good idea to hire an attorney to help you investigate. And if you do find that your landlord is planning to demolish the property, you should approach him and demand a larger buyout offer.
"You should negotiate, and say that it looks like you're demolishing the building, so the buyout should be far greater than what you offered," Himmelstein says.
In some cases, it may be possible to stop the demolition plans entirely and stay put in your apartment. Himmelstein cites one case of an Upper West Side landlord who claimed he wanted to gut an apartment building and convert it to a townhouse. The tenants pushed back, and the case reached the DHCR and went through several postponements before being dropped.
"They never offered what the clients were demanding for a buyout, and the day before the hearing, the landlord dropped the case and all the tenants got to remain rent-stabilized," Himmelstein says. "This leads me to believe a certain number of demolition cases may not be legit."
To up your chances of a large buyout—and make the process more streamlined for everyone involved—Himmelstein recommends talking to your neighbors, forming a tenant association, then as a group hiring a lawyer with demolition experience. "What gets people the biggest buyouts in these cases is being able to deliver a vacant building to the landlord," he says. "So if everyone is working together, that's when the biggest money is going to be thrown around."
Related:  
Ask Sam: I want to negotiate a buyout with my landlord. Should I wait out the coronavirus? (sponsored) 
Ask Sam: My landlord is offering me a buyout to leave my rent-stabilized apartment. Can I negotiate for more? (sponsored) 
Ask Sam: How do I find out if my apartment is rent-stabilized—and if the landlord owes me money? (sponsored)
Read all our Ask a Renters Rights Lawyer columns here.
---
Sam Himmelstein, Esq. represents NYC tenants and tenant associations in disputes over evictions, rent increases, rental conversions, rent stabilization law, lease buyouts, and many other issues. He is a partner at Himmelstein, McConnell, Gribben & Joseph in Manhattan. To submit a question for this column, click here. To ask about a legal consultation, email Sam or call (212) 349-3000.
Brick Underground articles occasionally include the expertise of, or information about, advertising partners when relevant to the story. We will never promote an advertiser's product without making the relationship clear to our readers.