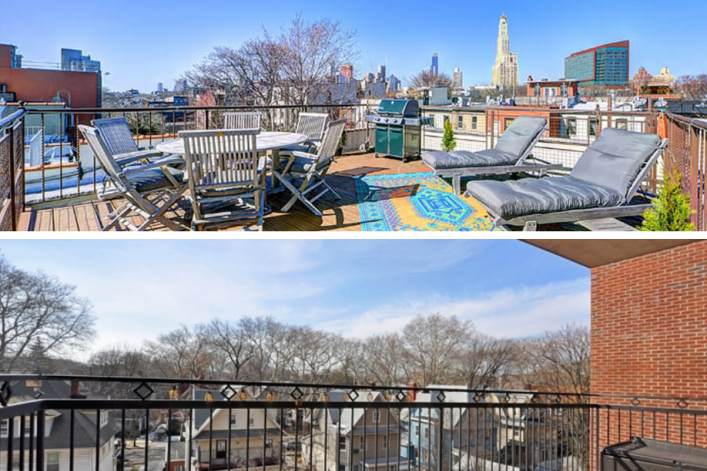 In case you haven't noticed, winter is finally over—good riddance!—and we're starting to enjoy the great outdoors again. Or, more accurately for NYC, the great outdoor space. We asked five New Yorkers: Would you prefer a small private balcony, or is a communal building roofdeck more your style?
More space = more fun Considering most of the balconies I've seen in New York City, I would prefer a common rooftop terrace. A private balcony is nice, but they tend to be on the small side, unless you're in a penthouse apartment or something a mere mortal can't really afford. The first reason outdoor space would be great is for inviting people over and having a party. The second is a view of the city. A rooftop is usually the best for that kind of thing. My building has a fantastic view from the roof. It's not built with a terrace yet ... but I hear that's in the works! —Martin, Hamilton Heights
Privacy please I'd choose a private balcony over a common roof terrace because I do love a solitary moment in the morning and wouldn't want to go all the way to the roof for that. Private dinners on the balcony? Sunbathing on the balcony? Hello? Of course I want a private balcony. That's assuming it gets sun, and is large enough to actually sit and eat on. I've seen what passes for a balcony in a lot of apartments around the city and seriously? They are glorified flower boxes. —Hannah, Morningside Heights
Say no to naughty neighbors For me, it depends on your neighbor situation. A rooftop terrace would be great, in theory. I live in a building with a huge shared rooftop and I barely use it because of my neighbor "situation." I don't like many of my neighbors. If it were different, I'd be there all the time, working on my laptop and getting some sun! But as long as I had room for a couple of chairs and a towel to lay out, yes please: I'll take a balcony. Though I'd take a backyard first. —Bethany Kay, Hells Kitchen
Plant potential A common roof terrace has so much more potential than a lonely balcony. It's my dream to be able to put raised beds on our roof and get some urban gardening happening with my neighbors. It would be a fantastic way to build community, teach sustainability to kids, and get local, organic, produce!  —Nannette, Yorkville
Battle of the balconies I love having a balcony. Mine is pretty large (about 13 x 10). We're on the second floor of a brownstone. My upstairs neighbor who also has a balcony has complained a lot about our barbecue smoke and finally we agreed that I'd always tell her if I'm about to fire up the grill so she can close the windows. She retaliates by watering her plants in a way that our balcony gets drenched. Even if we're sitting there eating, she'll water her plants. If you're not fast enough, your food gets wet. The next door neighbors have no balconies and get barbecue smoke from us and our upstairs neighbor. They take revenge by having loud parties in their backyard and blasting music till all hours.  So there you go. Summer in the city. Can't wait for it to start again! —Lee, Harlem
Verdict: 3-2, it's a  balcony bonanza (with some caveats)
Related:
Would you rather have a terrace or a backyard?
How to grill on your terrace or in your backyard- legally
Terrace test: Make sure yours is safe
Childproofing your NYC apartment from top to bottom
The Great NYC Outdoors: FAQs for those lucky enough to have terraces, roofdecks and gardens
5 reasons to get apartment insurance if you have outdoor space 
Brick Underground articles occasionally include the expertise of, or information about, advertising partners when relevant to the story. We will never promote an advertiser's product without making the relationship clear to our readers.