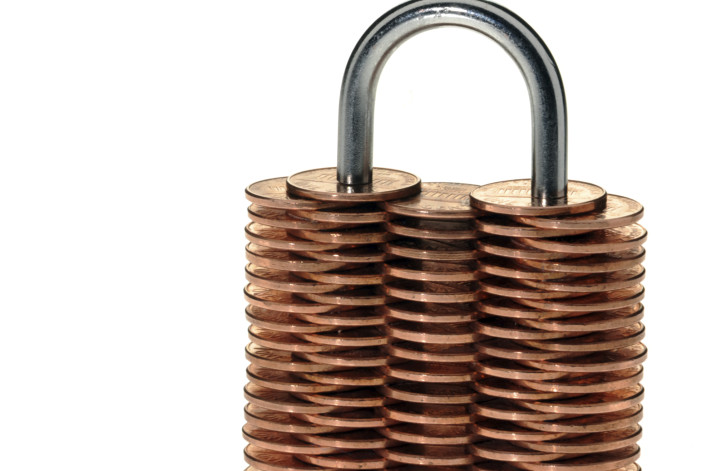 When you're applying for a mortgage, chances are  you'll come across some terms you've never heard before. We're here to demystify one for you: the rate lock. Brittney Baldwin, a vice president and mortgage loan officer at National Cooperative Bank in Manhattan, tells us more.
What is a rate lock?

At its most basic, "it's a guarantee of a certain interest rate for a certain amount of time," says Baldwin. It protects borrowers from interest rate fluctuations during the lock period (but it also means that if rates go down during that period, you won't benefit).
Borrowers lock in rates rate when they're applying for a new mortgage or refinancing.
And it's not optional. "Your rate has to be locked before you can close your loan," says Baldwin. "Floating interest rates," as they're called, are a no-no.  
When should you lock in your rate?
Your rate has to be locked in by the time you close on your apartment. But when exactly you do the lock is  somewhat up to you.
NCB, for one, requires a full application in order to get a rate lock, and most banks won't allow you lock in a rate until the seller has accepted the offer.
Because interest rates are so low right now, people tend to want to lock in as soon as they can, but that's  not always a great idea, says Baldwin. You don't want to lock in a rate too early in case your sale is held up and you end up having to file for a rate lock extension (more on that below).

NCB offers rate locks for 30-, 45- and 60-day term periods. "Typically in the New York market we lock in for 60 days just because of how long it takes for the closing process, and to ensure you're not up against an extension," says Baldwin.  
Pro Tip:
Looking to buy a co-op? Get information on rates and pre-qualification from National Cooperative Bank. NCB has been providing co-op unit loans in New York for over 40 years. Call us at (646)-201-4714 or email Brittney Baldwin at [email protected].  NMLS #507535.  Equal Housing Lender. 
What happens if you close late?
Some banks charge extension fees if you don't close within that alloted rate lock period. NCB will sometimes offer extensions (the average is about 15 days)  for free. "We try to offer a one-time extension for free," says Baldwin. "We may charge if there are multiples."

What happens if the rates go down during your lock — can you pay a fee to get out of it, or buy the right to 'float down'?

"We do not do float down as an option," says Baldwin.  Some banks may.
Do rate locks cost extra?

Some banks do charge a rate lock fee. NCB does not. "When I first got into the business, people were charging a fee. It used to be 1 percent of  your loan amount, and some still charge that.  Sometimes it's a one-time fee of $500 dollars."
The lender will disclose the rate lock fee on the good faith estimate (GFE) when they are disclosing the interest rate to the borrower.
Does a longer rate lock typically involve a higher interest rate? If so, how much higher is a 60-day lock than a 30- or 15-day?

Yes. "Sometimes a longer rate lock may have a slightly higher rate [about 1/8 to 1/2 a percentage point]," says Baldwin. But that can depend on the lender, and the market.
---
Brittney Baldwin (646-201-4714) is vice president at National Cooperative Bank in Manhattan. 
More from National Cooperative Bank:
Selling your NYC apartment? Your top 5 mortgage questions answered
5 ways to get a lower mortgage rate
Get the 411 on financing an investment property 
Top 12 questions New Yorkers ask their mortgage bankers
Buying, renovating or refinancing next year? 5 mortgage trends to watch in 2014
4 good reasons to refinance your super's apartment
Brick Underground articles occasionally include the expertise of, or information about, advertising partners when relevant to the story. We will never promote an advertiser's product without making the relationship clear to our readers.