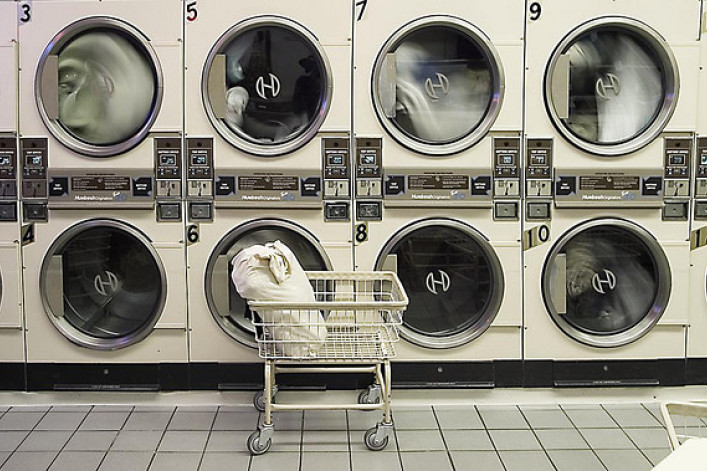 Laundry's hard enough to do in a city deprived of apartments equipped with their own washers and dryers. Harder still when the number of Laundromats are shrinking. Adding kids to the equation seriously complicates the task: The weekly load allotment jumps to three or more, the job no longer easily accomplished on the fly. (Who watches the kids while you race down to the laundry room or out to the laundromat?) Here, how New York families deal with their dirty duds, and why you shouldn't necessarily be envious of those who seem to have a better laundry set-up  than you:
• In-unit washer/dryer: Yes, it has come to this: An in-unit washer and dryer is the ultimate family apartment amenity. It's yours alone; you can run it any time of the day or night; you can load and unload on your schedule, and it doesn't require mountains of change to run.
Reality check: Many buildings won't allow you to install one of your own. And if they do, you'll need enough space—at least 2 to 4 inches of clearance beyond the dimensions of your desired unit—and hook-up to the building's plumbing, electricity or gas lines, plus access to outside wall for venting. And don't rule out the common laundry room for large, bulky items (think heavy-duty bedding like duvets and quilts) and doing multiple loads at once.
• Floor-by-floor laundry rooms: If you can't have your own washer-dryer, a laundry room on each floor of your building is the next best thing. It's convenient and feels more legit to leave your kids in the apartment with your front door open while you dash down the hall to throw in a load than running to the basement of your building.
Reality check: Just because your building has machines on each floor doesn't necessarily mean you won't have to wait to use them. "There tend to be fewer washers and dryers on each floor than in a typical building's common laundry room, so if all the machines are in use, it can be very frustrating," says Randy Karn, National Sales Manager for Maytag Commercial Laundry, who has worked extensively in New York City supplying machines to commercial laundry distributors.  Laundry vendors recommend roughly one washer and dryer for every 10 apartments, but "it might be more if the building has a lot of apartments with two and three or more bedrooms," says Seth Breitman, vice-president of Sebco Laundry Systems, a laundry service provider to apartment buildings and other multi-housing properties on the East Coast. 
Common laundry rooms: The days of hoarding quarters for laundry use are—hallelujah!—becoming a thing of the past as more and more common laundry facilities are going coin-free. On the horizon: washer/dryer availability, load status and payment all via your Smartphone. 
Reality check: The building laundry room may be less accessible to parents with kids—you may have to schlep them along—but what they lack in convenience they make up for in cleaning power: numerous industrial-sized and extra-powered machines, so you can do fewer, larger loads in less time. What's more, says Karn, "since the laundry room is for the building's tenants only, the machines tend to be less abused than those in public laundromats."
Laundromat: Definitely not all that convenient an option if you have kids in tow. (Imagine yourself pushing a stroller while pulling a laundry cart through the streets of New York on a cold wintry day, not to mention what you'll do with the kids once you get there.) But like the common laundry room, it offers an abundance of high-powered machines so you can get the job done quickly.
Reality check: Certain times of the week (often Saturday and Sunday) are busier than other times, warns Karn, so try to get that intel before you set out.
Related:
Bye bye laundromat: how to get a laundry room in your building—for free
Ask an Expert: advice for choosing a new laundry room vendor
Laundry made easy: washing pods, iPhone apps, and more
Ask an Expert: what's the worst that can happen if I install a washer/dryer without permission?
How to put a washer-dryer in your NYC co-op (or condo)
Brick Underground articles occasionally include the expertise of, or information about, advertising partners when relevant to the story. We will never promote an advertiser's product without making the relationship clear to our readers.