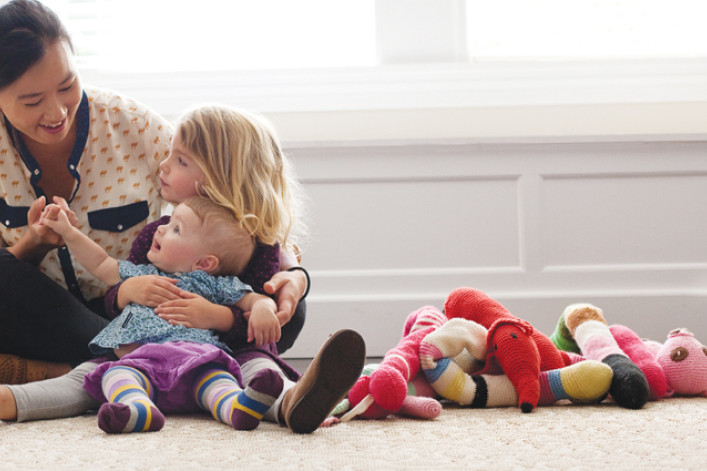 In any other city, the idea of live-in childcare would be almost a no-brainer (after all, pretty much any finished basement can be transformed into a so-called nanny suite). But in New York City, where it's not unheard of for entire families to co-exist in a one-bedroom apartment, it's another story altogether. Here's what to know to make it work:
SPACE: Step one is finding a place for the live-in to, well, live. Professional nannies are generally given their own room in the family's home, though the type of room is flexible to some extent. It could be an existing room, a walled off space within a larger room, a converted closet etc.—but it probably comes with its own bathroom (even a half bath will do). While legally a bedroom must be at least 80 square feet with a minimum of eight-foot ceilings and one window onto a street, yard or balcony, says real estate  attorney Terence Oved,  in practice, families sometimes take a less rigid approach to housing nannies. A babysitter exchanging childcare for room and board might be open to bunking with the kids or bedding down in any number of nooks and crannies within a home.
Joanna B. and her 7-year-old daughter share a three-bedroom, one-bath apartment, so it's been pretty easy to accommodate a live-in. Their babysitter, a student who has been with them almost two years and trades sitting for room and board, has her own room that came furnished with a twin bed, a chest of drawers and a bookshelf. Holly S. had to get a bit more creative. She shares her two-bedroom, one-bath apartment with her six-year-old daughter. To accommodate their live-in, she moved her daughter in with her—making use of a loft structure that already existed in that room—and gave the sitter the other bedroom.
On the other hand, families that go the au pair route (which is an official program overseen by the U.S. State Department that details regulations for agencies and participants, including living arrangements) must be prepared to supply their foreign live-in with a private room within the host family's home.
The luckiest families already have an extra bedroom available or can make space for an au pair by having kids bunk together so that an extra bedroom can be freed up. Bridget B.'s family of four was comfortably spread out in their three-bedroom, two-bath apartment. When they decided to hire an au pair they simply moved their daughter in with their son and gave the au pair the free room, a situation that has worked out well in part because her children are just 4 and 2. But Deirdre S. had to retrofit her two-bedroom, one-bath apartment to accommodate the au pair. To do so, she built a wall within one bedroom and moved her six-year-old daughter in with her—an arrangement that is working well—for now.
PRIVACY: Inviting a stranger into your home is going to affect privacy whether you live in 800 or 2,800 square feet.  That said, most NYC apartments don't afford a whole lot of personal space to begin and the au pair will have a front row seat to moments of conflict (be it between spouses, children or both) and intimacy.
With her child at a sleep over, one single parent with a live-in found herself unable to invite a date home after a great evening out because her au pair was in the apartment that night (they ended up at his place, a situation that made her feel as though she was back in high school and not a grown woman). Another NYC parent with a live-in recommends off-hours trysting (when the au pair is out with the kids) to avoid any potentially embarrassing situations. To increase their own privacy, many families with live-ins actually encourage their sitters' social life since it gets them out of the apartment for periods of time. That said, overnight guests are generally verboten.
CLOSE ENCOUNTERS: When sharing close quarters, the occasional uncomfortable incident is just inevitable. One single mother with a live-in reports her South American au pair walking into her bedroom one morning and catching her in the nude when the phrase "just a sec," was lost in translation. But she considers that type of humiliation almost to be expected in a NYC apartment—and a small price to pay for a sitter she and her daughter adore.
Related:
For the space-starved NYC parent, toy storage made simple
6 NYC homes with extra room for the nanny
Are these NYC's best buildings for families?
Raising kids in an apartment building: 7 classic dilemmas solved
Brick Underground articles occasionally include the expertise of, or information about, advertising partners when relevant to the story. We will never promote an advertiser's product without making the relationship clear to our readers.