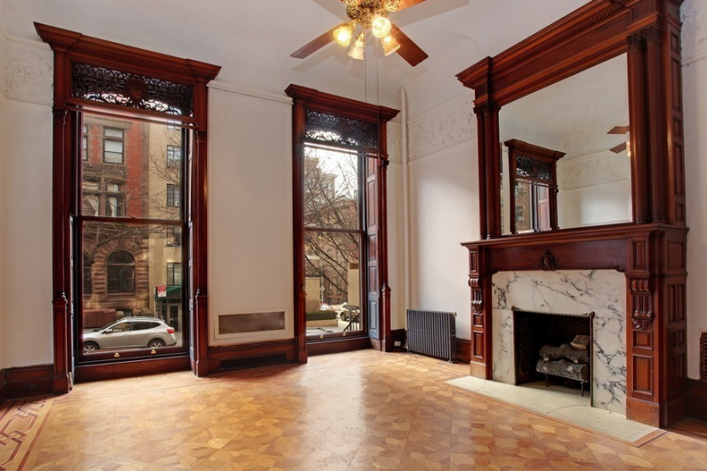 Brooklyn brownstone living isn't just for families and the ultra-wealthy—it's an option for renters, too, especially given that many of the borough's townhouse owners rent out a floor (or two) of their building for extra cash. But for the uninitiated, know that townhouse living has its own set of quirks—and prices—that set it apart from your typical large rental building.  (While brownstones and townhouses aren't technically the same thing, when it comes to rentals, you can bet that listings will use the terms interchangeably, and for the purposes of this article, so will we.) 
"There are certainly pros and cons to renting in a brownstone building," Miron Properties Managing Director Jeffrey Schleider tells us. The appeal is clear enough: "There tends to be beautiful architecture, high ceilings, pre-war details, thicker walls, and often, you can get the full floor or private garden use," he says. And any Brooklyn neighborhood known for its brownstones will likely have options for renters, too, says Urban Compass agent Amy Mendizabal—think Boerum Hill, Cobble Hill, Brooklyn Heights, Bed-Stuy, and yes, Park Slope. But this cozy vibe often comes at the expense of your privacy, and in older brownstones especially, period details replace shiny new amenities.
Here's what to expect when your apartment is housed in, well, someone's house: 
LANDLORDS:
If you're renting in a brownstone, the landlord may well be your neighbor, too, as these buildings are "usually owner occupied," Schleider notes. Depending on your preferences (and the landlord's personality) this can come with its own ups and downs. 
"I actually happen to live in a townhouse, and my landlord lives directly below me," says Mendizabal. "Some people could see this as a nerve-wracking situation, or think that it's awesome. I've lucked out and my landlord is amazing, but I've heard nightmare stories, too—I have a friend who lives above their landlord and gets complaints every time there's any noise or music playing."
If you're a party animal who'll regularly stagger in at 3am or host loud soirees of your own, it may be wise to ask a live-in landlord about their hours before signing that lease—if it's a couple with young kids, for instance, this may not be the right fit for you.
The flip side to a little lost privacy? A landlord who lives in a building—or only owns a couple of small properties—is one with a vested interest in getting things fixed and responding quickly to problems that may come up. "The apartments tend to be very well taken care of, and problems get addressed quickly," says Schleider.
There are also financial advantages that tend to come with renting from a small landlord. "When someone's entire portfolio of rentals is the two apartments above where they live, they tend to be much more reasonable with their tenants," says Schleider, who says it's also common for tenants in these kinds of buildings to do some bartering with the landlord (we've got tips on how to pull that off here). If the person collecting your rent check has to see you in person every day—and not just as a number on a spreadsheet—they're far more likely to cut you a deal, provided the two of you have a good relationship.
The bottom line here: be prepared to give up some of your anonymity in exchange for a landlord who's likely more attentive than your average management company. "In a smaller brownstone situation, you have to be a little more neighborly, and you're exposed to more scrutiny," says Mendizabal.
RENTS:
While Brooklyn brownstone prices are notoriously high, they're a relative bargain for renters—up to a point. For anything with fewer than four bedrooms, according to StreetEasy's December market report, townhouse rentals were cheaper than their counterparts in larger buildings (though more likely to come with a broker's fee attached, possibly because so many new developments waive broker's fees to lure in renters): 
The price difference is likely due to "attractive amenities in the larger buildings," according to StreetEasy data scientist Alan Lightfeldt. So why do townhouse apartments become the higher-priced option once you're looking for something with four or more bedrooms? "[These] are likely to include the entire townhouse rather than just a single unit within the building," Lightfeldt says.
SOUNDPROOFING: 
Granted, noise is a problem in almost every New York apartment building—the cliche of the disgruntled downstairs neighbor jabbing the ceiling with a broom exists for a reason. And while pre-war walls tend to be thicker and more soundproof—and you'll likely have an entire floor to yourself— in an older building with creaky hardwood floors, be prepared to deal with noise issues. While most leases include the so-called "80 percent rule"—in which apartment dwellers are required to cover 80 percent of their floors in carpeting—Schleider warns that "in a brownstone, it's more likely to be enforced" if the landlord lives in the building and is therefore directly affected. 
As for your own peace of mind, when you're looking at apartments, "you want to stick around and see if you can hear the subway rumble, or people walking on the stairs," Mendizabal says. 
LOW-TECH LIVING:
The downside of a quaint apartment in an older building can be, well, that it's a quaint apartment in an older building. As such, brownstone apartments tend to lack perks like washer/dryers or video buzzers, and if you're looking for a building with a doorman or an elevator, you'll want to take your search elsewhere. 
"In older buildings, you don't have control of the heat," says Schleider, who also notes that most brownstone landlords won't want to let you use the fireplace or the rooftop, even if the place has them. (Both are seen as major liability issues from the landlord's perspective.) 
"It's case by case," says Mendizabal. "There are a lot of outdated buzzer systems, etc., but you just have to get creative in how you greet guests or accept packages." If you're having a party, warn people to call your cell instead of looking for a buzzer, and maybe get friendly with the neighbors if you're expecting a package to arrive while you're at the office. "There's a little more planning involved, but it's not the end of the world," she says.
Related: 
Want cheaper rent? Master the art of bartering with your landlord
The 8 best websites for finding a no-fee apt in New York City
Get your landlord to fix that broken buzzer
NYC landlords on what makes a perfect tenant (aka how to make your landlord love you)
How to appeal to a small landlord... and keep him/her happy
Brick Underground articles occasionally include the expertise of, or information about, advertising partners when relevant to the story. We will never promote an advertiser's product without making the relationship clear to our readers.