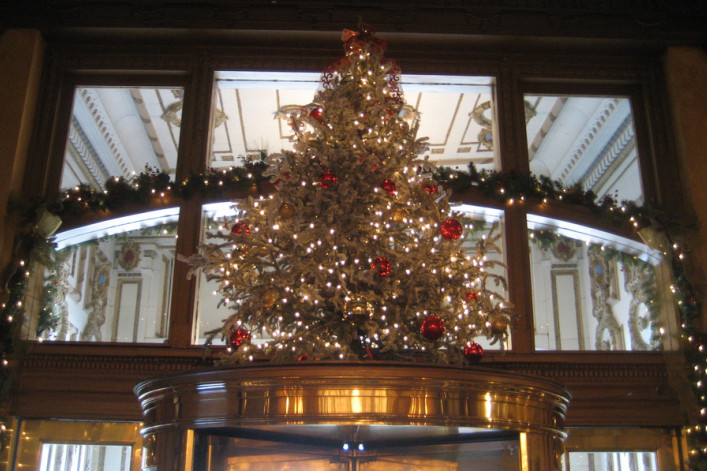 Whether it's the Scrooge who'd rather skip December or the evergreen enthusiast whose wreath puts the Rockefeller Center tree to shame, apartment owners tend to have strong opinions about how to decorate this time of year.
That's especially true when it comes to the building's common areas: a lobby dolled up for the holidays gives an impression of what the building is all about, and how much condo and co-op owners care about their residences. Before you break out the tinsel, read on. We spoke to experts to clear up some of the most common questions on this contentious topic.
Who gets to pick the decorations?
Officially, common areas like lobbies and hallways are under the co-op or condo board's control, so board members will have the final word on that "Seasons Greetings!" banner. "If you want to decorate, you have to get permission, and some buildings will have rules concerning that," says real estate attorney Steve Wagner of Wagner Berkow LLP. Often, however, boards will assemble a holiday decorations committee made up of residents who want a say on the design, and they'll recommend a plan to the board. "There should be a dedicated group, a committee that is in charge of it," says Kathy Braddock, a managing director of real estate brokerage William Raveis New York City.
How much should we spend?
Holiday decorating budgets vary widely depending on the building and the amount of spending money they have in the coffers, experts say. One board will reuse the same fake tree for a decade, while another may lay out $1,000 every winter, says Mark Levine, executive vice president of Excel Bradshaw Management Group, a property management firm.
Either way, the board of the finance committee should set the budget, Braddock says. "That may change from year to year as well as any money that might be set aside for a holiday building party," she adds. Funds for decorations ultimately come from the residents' pockets—by way of their monthly fees—but would be counted as a monthly expense in the building's operating budget, so it wouldn't cost anyone extra come the holidays, Levine says. 
What decorations should we use?
"Most of the time, buildings usually repeat the same decorations year after year unless someone has had an issue," says Braddock. If your building does decide to invest in new decorations, your safest bet—no surprise here—is to avoid overtly religious items. Not only are winter-themed decorations less liable to cause offense, they also have a longer lifespan—all the way into the New Year, notes Levine.
However, plenty of buildings decorate with Christmas or Hanukah-themed ornaments, so if you do go the religious route, be sure to include symbols from all the building's faiths. "It's always a good idea to spread the love equally so nobody feels left out," says Levine. "Especially in New York City, you have a variety of different religions represented in any given building." Also, match the design to the look and feel of the building, recommends Braddock. Think a sleek silver menorah for a modern condo or a classic cluster of poinsettias for the prewar co-op. "Usually, less is more," Braddock adds.
And avoid?
The holidays are always better without fires, accidents and injuries, so steer clear of open flames (no real menorahs!), and keep everything away from heating elements, Levine says. Make sure nothing is leaning over and everything is sturdily reinforced, he adds.
What if I don't like the design?
Complaints about tacky or offensive decorations go through the same channels as any building issue—in writing to the board or managing agent, Levine says. Whether management acts will depend on how many people are put off, so convince your neighbors to register their complaints as well. "If there's a rallying cry from the general population of the building, then just like anything else, it will be addressed," Levine says.
Are we in danger of violating anti-discrimination laws?
The Fair Housing Act prohibits apartment buildings from indicating a preference for one religion over another, but the issue is less about using decorations that celebrate the season's religious holidays and more about using imagery from a single faith, which could communicate favoritism, Wagner explains. In other words, putting up a Christmas tree, a nativity scene and a crucifix might be considered discrimination, but a Christmas tree, a menorah, figurines of carolers and fake snow likely would not, Wagner says.
It's also worth noting that the U.S. Department of Housing and Urban Development has ruled that Christmas trees, Santas and menorahs are not considered religious symbols, but banners that proclaim, for instance, "Happy Birthday Jesus!" are, according to the Fair Housing Institute, an information source on housing run by two lawyers. So best save that message for your own living room, which none of your neighbors can touch.
Related:
A building-wide ban on Christmas trees: legal or not?
Brick Underground articles occasionally include the expertise of, or information about, advertising partners when relevant to the story. We will never promote an advertiser's product without making the relationship clear to our readers.