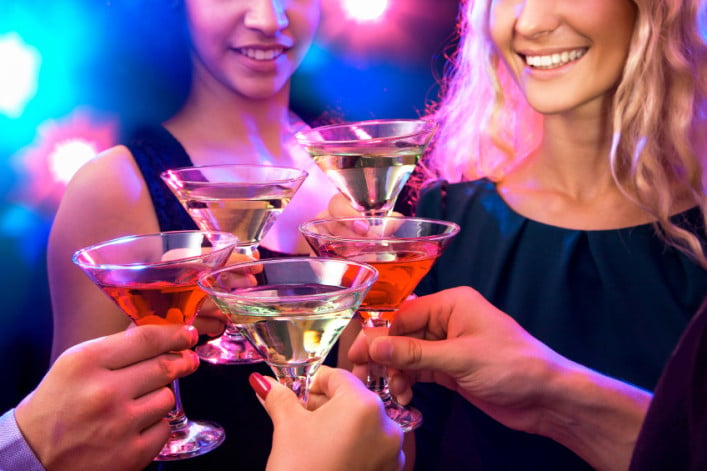 December is party month. If you're hosting, it's not the guests alone that you'll need to keep happy. We asked party planners, etiquette experts and veteran hosts for tips on throwing a party in a New York City apartment without antagonizing building staff and neighbors.
Don't throw a surprise party
Advance warning is in everyone's interest. A few days before the event, give neighbors above, below and next door a heads up, especially about start times, so they can plan for noise and foot traffic and share any concerns. "People like to be in the loop, and the more they know the less likely they will be to get upset about your having a party," says Patricia Fitzpatrick,  founder of Etiquette School of New York.
A note slipped under the door is fine for neighbors you don't know well—they might consider a knock on the door an imposition—but stopping by in person is best if there's only one or two other units on the floor. A written note is useful, too, since you can include contact information and suggest they call or text if it gets too loud, notes Brooklyn condo owner Jane Lerner, who's hosted everything from baby showers to "ragers."
Still, make sure you're not asking permission, advises Anna Post of the 
Emily Post Institute
. "You might open up the door to them to say no, and you're not going to cancel your party," she says. "You'll just need to negotiate with them."
Lastly, if the soiree is well-attended, consider inviting them—​another good way to head off complaints. "I always invite my immediate neighbors, the president of the co-op board and anyone whom I've sold an apartment to in my building," says broker Barbara Fox of 
Fox Residential Group
, who has hosted her company's holiday party in her Upper East Side apartment for the last decade. 
The Sound and the (hopefully minimal) Fury
Roll out the red carpet—not for your guests, but for the neighbors below.
"If you have 20-plus people in high heels upstairs, that'll affect people downstairs," says Post. 
Particularly if your night will involve dancing, consider covering the floors with a low-pile throw rug
—
these ones are cheap
. (In fact, most apartment dwellers are required to cover 80 percent of their floors with carpeting under their rental leases or co-op or condo by-laws, but few comply.) 
Move your stereo away from shared walls, and test how high you can crank your speakers without alienating other residents. "Turn on the music, close your door and step outside into the hallway to get a sense of how loud the party is," Post says.
A good rule of thumb: Quiet down by 10pm or 11pm, even on the weekends, Fitzpatrick advises. "If you've got little kids with bedtimes or people who are older, you may want to err on the earlier side," says Post. 
If things get out of hand, a handwritten note or small box of chocolates will go a long way toward patching things over with your neighbors the next morning. "If you ever want to have a party again it can be helpful," says Fitzpatrick.
And make room inside so people don't spill outside. "Remember that it's an apartment, not a house. Clear out the rooms to make space for people," says Michelle Timothee, caterer and owner of La Talaye Catering. Relocate as much furniture as possible, either to your bedroom or,  ideally, outside the apartment altogether, like in a storage room or a neighbor's apartment.
Doormen do's and don'ts
If you have a doorman, let him know you'll be entertaining so he can send guests up without announcing each one separately (a hassle for both of you). "I prefer that they do that because it saves me a lot of work," says Christian, a doorman in an Upper East Side rental building. "And if people ask where the noise is coming from or why there's so much traffic in the elevator, I can tell them."
For any building staffers who help out—​from doormen taking guests' coats to elevator attendants whisking attendees upstairs—a thank you in the form of food or cash is a welcome tip. "The awesome doorman in my building always requests my hot cider," says Lerner, who plans to host a whopping four holiday parties this month, and routinely gives the doormen food to reward them for the extra work. 
"You're going to be giving them a holiday tip, but that's for all year," says Fitzpatrick. "Give them maybe up to $50, depending on the number of people who were there and depending on whether they've gone above and beyond the call of duty."
Related:
NYC apartment dwellers: 10 tips for throwing a holiday party without pissing off the neighbors/staff/guests (or getting bed bugs)
Ask an Expert: Co-op consequences for a teen's wild party
Brick Underground articles occasionally include the expertise of, or information about, advertising partners when relevant to the story. We will never promote an advertiser's product without making the relationship clear to our readers.