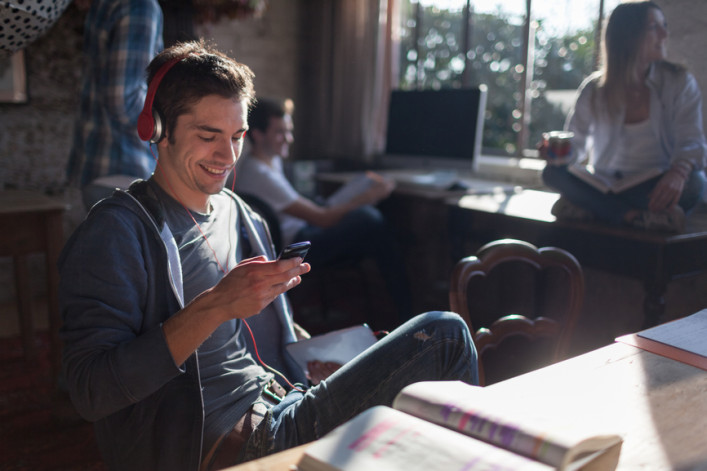 Back-to-school time means a lot of things for college students (and parents of college students)—empty nests, an expensive trip to the campus bookstore, and, of course, a whole new set of insurance questions.
To ease the transition—and save you headaches down the road— apartment insurance broker Jeff Schneider of Gotham Brokerage breaks down the FAQs of renter's insurance for the college crowd:
When I move into the dorms—or an off-campus apartment—will I still be covered by my parents' policy? 
Most standard policies will cover you if you're an undergrad living in a college dorm, but if you're moving off-campus (or are in graduate school), you'll want to check in on your family's specific policy, as you might not be included.
What about my roommates?
The coverage you get from your parents won't extend in any way to your roommates. If you're living off-campus and getting your own insurance, you'll likely be able to split the policy with one other roommate, but not an entire house full of your friends. For more info, click here.
Will my college or landlord force me to get renter's insurance?
Colleges won't insist that you have a policy but most of them do offer relatively inexpensive plans for students with lower deductibles, which are good for covering your personal belongings. These policies are usually somewhat limited, offering $5,000 or $10,000 worth of coverage for less than $100 a year.
Off-campus, many landlords require you to have renter's insurance that will cover significantly more, often between $300,000 to $500,000 worth of personal liability coverage.
Will I be covered if my laptop gets stolen? 
If you're staying on your parents' policy, check the deductible. A lot of family plans have relatively high deductibles around $2,500—as well as policies that might not cover theft outside of your home (or dorm room)—meaning you won't necessarily be reimbursed for, say, electronics. Policies offered by schools usually have lower deductibles and are better for this, and in any case, make sure you get "replacement cost coverage," where your policy will pay you the full value of what you lost. On the flip side, there's also a limit to what's covered, so if you're coming on campus with priceless family jewelry, you may be doing so at your own risk. Be sure to confirm with your insurance broker that the policy covers theft outside the residence, as not all do.
As a rule, it's also smart to save receipts, model numbers, and ID numbers of your electronics (and other high-priced items), as well as to take digital photos and store them online. If anything ends up damaged or stolen, this will speed up the claims process. 
Does renters' insurance work like auto insurance, and cost more for young people?
You may pay a little bit more for not having a credit history, but the price difference will be a small one.  At around $10 to $20 a month, basic renters' insurance polices are extremely affordable
What do I do when I graduate?
If you won't be needing your coverage when you leave campus, be sure to cancel it, otherwise it will automatically renew (and you'll automatically get billed). If you're staying in-state your policy can come along with you, but otherwise, you'll need to set yourself up with a brand new policy.
---
Gotham Brokerage Co., Inc., an insurance brokerage, has been serving NYC renters, co-op and condo owners for over 45 years. For a free quote, click on over to Gotham Brokerage or give them a call at 212-406-7300. 
More from Gotham:
5 things all roommates need to know about renter's insurance
4 insider tips for big savings on your apartment insurance
The top 3 apartment insurance claims in NYC
5 reasons to get apartment insurance if you have outdoor space
How to file a claim on your apartment insurance--the right way
There's an apartment INSURANCE blacklist too. Here's how to stay off of it.
8 questions you MUST ask before buying renter's insurance
The ultimate co-op and condo insurance checklist
10 things you didn't know were covered by renter's insurance
Brick Underground articles occasionally include the expertise of, or information about, advertising partners when relevant to the story. We will never promote an advertiser's product without making the relationship clear to our readers.