Perk Check
From bowling alleys to "Zen rooms": Parsing the difference between good and gimmicky amenities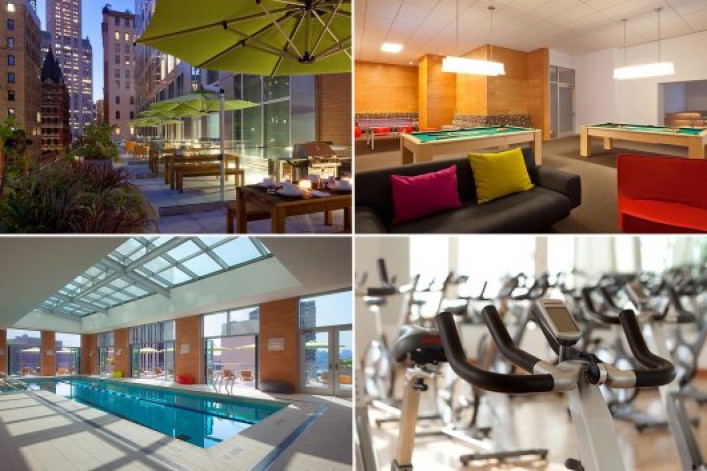 Not all luxury apartment buildings are created equal. Some are lousy with perks like rock climbing walls, pet spas, bowling alleys and the like. But do those kinds of things make life any better? Over the past six months, we've spoken to dozens of New Yorkers who live in the city's most amenity-packed buildings for our Perk Check column, discovering which extras are worth paying a premium for—and which are not so useful.
Below, we single out the most valuable amenities, the ones that residents barely use, and those that'll cost extra.
WHAT'S MOST USEFUL
When it comes to building perks, less really is more. In building after building, residents singled out nice doormen, convenient gyms, and good laundry services—rather than over-the-top extras like saunas or rock-climbing walls—as their most treasured perks, even though the bells and whistles attract the most buzz.
Gym: Many tenants said the athletic facilities were the only thing they used in their buildings. A resident at the Arias rentals in Park Slope said that he saved money by using the gym upstairs. "I kind of look at it as a rent break. I pay more to live here but canceled my $12-a-month gym membership," he explained. Another renter at Castle Braid in Bushwick likes the gym because it's "nice and super empty on weekends," a rarity in New York. Rental-condo hybrid The Aldyn on the Upper West Side had one of the most impressive gyms with a PGA golf simulator, spin studio, yoga, Pilates and kinesis movement classes, personal training, and courts for basketball and squash.​

Doorman: Everyone likes to have a friendly face greet them when they get home, and helpful doormen are a big plus for many residents. "The people who work here are all really enthusiastic. Even if you're calling them to help with a garbage disposal or some stupid little handyman project," said a resident at The Caroline in the Flatiron District. Residents at The Continental, a rental in Herald Square, all raved about the "hotel-style treatment" and how the doormen "go out of their way to know everyone."

Roof access: Having free use of the roof with a gorgeous view of the city is a major bonus. At One Hanover Square in the Financial District, a tenant said it was perfect for dates because "it's casual, no pressure, and a kick-ass view." At Avalon Chrystie Place, a rental on the Lower East Side, a resident said she uses the roof deck "every day that the weather allows" and it was a deciding factor when she moved in.

Laundry service: A professional to handle the spin cycle? Also popular. "The laundry service is amazing," enthused one resident of the Caroline. "It's crazy fast and a good price — so worth it."
WHAT BARELY GETS USED 
Relaxation spaces: News flash, luxury buildings: no one needs a whole room to relax (at least not in a building's common area). Some of the strangest and most gimmicky amenities, residents told us, were a relaxation pod at the Aldyn, the strangely named "social sauna" and a "Zen room" at the Platinum in Midtown, and the wooden swing and community graffiti wall at Castle Braid. One resident at Castle Braid summed up how he felt about weird amenities: "There are so many things you think of as perks at first but then you realize are just silly. I'm a grown man. What do I need with a wooden swing?"

Catering kitchen: This one would probably be more useful for someone who regularly entertains, but it was one of the biggest "WTF" amenities for renters and owners at 15 William in the Financial District. One person said it made him feel like he was on an episode of Bravo's "Real Housewives" series.

Over-the-top fun activities: Though these unique amenities sound exciting, not that many people are actually using them. It isn't because they aren't cool, but because people don't know about them! At One Hanover Square, a resident didn't know they had a rock wall, and someone at Arias was excited to learn they had a putt-putt course. The same went for the bowling alley at the Aldyn.
WHAT WILL COST YOU EXTRA
Though many buildings factor the cost of amenities into the price of buying or renting (and you can be sure you'll pay more to get into a place loaded with extras), others charge an additional fee to use the offerings.
For example, you'll pay $600 per year (or $1,000 per couple) for amenities including an entertainment lounge and sundeck at One Carnegie Hill, a rental building on the Upper East Side. But for a glitzier building like Mercedes House, a rental in Midtown West, you'll pay $960 a year for access to amenities like a bocce court, boxing studio, outdoor amphitheater, juice bar, spinning studio, and much more.
Overall, the gym is usually the amenity that tends to cost more. This can cost a pretty penny, but the convenience and state-of-the-art equipment can be worth it. The highest we found was $950 per year at Stuyvesant Town-Peter Cooper Village, the massive rental complex near the East Village, but other buildings were slightly more affordable, like the $70 per month at One Hanover Square and $300 per year at the Chelsea Tower rentals. Parking also often costs extra, ranging from $350 per month at Stuy-Town to $650 a month at the Caroline. Storage is also typically an extra charge, but most buildings we surveyed were $100 or less per month, some as low as $15.
Related:
See all Perk Check columns
When it comes to building perks, New Yorkers are divided
Buildings with free shuttles--a commuter's dream? 5 questions to ask before moving in
Where can I find a Manhattan condo without all the expensive extras?
Brick Underground articles occasionally include the expertise of, or information about, advertising partners when relevant to the story. We will never promote an advertiser's product without making the relationship clear to our readers.