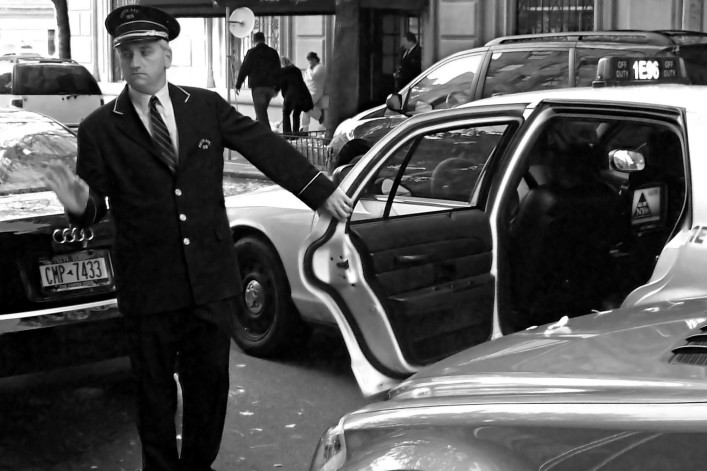 This week, we're asking New Yorkers to weigh in one of the most basic questions of city life: doorman or no doorman? Six Manhattanites share their thoughts. 
No shallow conversations, thanks I hate the notion of having to tip somebody to sit at my front door all day. I know they do more than just sit around. But honestly, whatever that service is that they provide, I haven't missed it in my life. And for minor inconveniences like taking packages … that's not really enough for me to change my mind about paying extra common charges and tips, and [having a] conversation [with] a semi-stranger. Some people call their doormen "friends." But I've never known anybody from a doorman building to invite their doorman "friends" over for dinner. Or have even anything more than shallow conversations with them about sports and the weather. - Glen, Harlem
An extra pair of hands The fact is, a non-doorman building does not have the cachet of a doorman building. It's very New York. It's a very desirable amenity due to the security it provides and then just that extra level of service you get. Look at it this way: who couldn't use an extra pair of hands? To open doors, or hail a cab when it's raining and you can stay dry in your lobby? Imagine coming home from vacation and not only having all your packages neatly stacked in your apartment, but your mail as well? It's like having a neighbor who has your key, but you don't ever have to return the favor. Except of course, that you should tip them accordingly, but still. It's a great load off my mind to be in a doorman building. - Catherine, Upper West Side
A better financial decision I remember this building when we had a doorman/porter at the door, even an elevator operator. It lent a tremendous amount of prestige and security to the building. When the last doorman retired, we got rid of the position. Truthfully, it was the best decision financially for the building. And everything works perfectly well without a doorman, except that we keep having to remind residents that they must make sure the door is shut behind them, and that they must not let anybody they don't know into the building. But truthfully, I do miss a doorman to take in deliveries, to welcome guests, to provide security and to do occasional favors for an old lady. - Jeanne, Harlem
Non-doorman by default I live in a non-doorman building now and I love it. But I loved living in a full-service, doorman building before, too. We left the neighborhood we were in [the Upper West Side] for a cooler, hipper neighborhood, and we much prefer living here. So, considering that I didn't like the doorman building type neighborhood, I'd say we prefer non-doorman buildings! - Lukas, East Village
Worth the cost of tips I do like having a doorman. I don't mind having to do the pleasantries everyday. It never gets awkward. Our guys know you're just trying to get out the house and don't take offense if you don't spend ages talking to them. I like the social aspect. We live in a huge building and hardly know our neighbors, but we know the building staff. They are great with our kids and it does help to be able to just leave them in the lobby while we unload groceries, or bags or whatever, and they also help with that. It's great. Well worth the extra dollars tip every now and again. - Ramesh, Midtown West
 Loving the quiet lobby I understand the practical reasons it would be nice to have a doorman. But I don't see how it's at all necessary! Besides, I really like coming in and immediately sensing the quiet of being home, even if it's still the lobby. I don't even like it when there are a ton of people coming out the elevators or loitering around the lobby because then you have to do this song and dance number, do the little jokes. It's just a social custom I can do without. Ditto the social custom of tipping more people than I have to come the holiday season. It's a drain on the finances of the building and its residents. Better to put the money toward repairs, improvements, or the reserves. - Mack, Hamilton Heights
Results: Doorman - 3 vs. Non-Doorman - 3
It's a tie!
Related:
18 ways to get the white-glove treatment in a non-doorman building
Which is better: A party 'hood or a sleepy spot?
"Nothing gets out the smell of affairs"--and other tales from NYC building staff
Brick Underground articles occasionally include the expertise of, or information about, advertising partners when relevant to the story. We will never promote an advertiser's product without making the relationship clear to our readers.