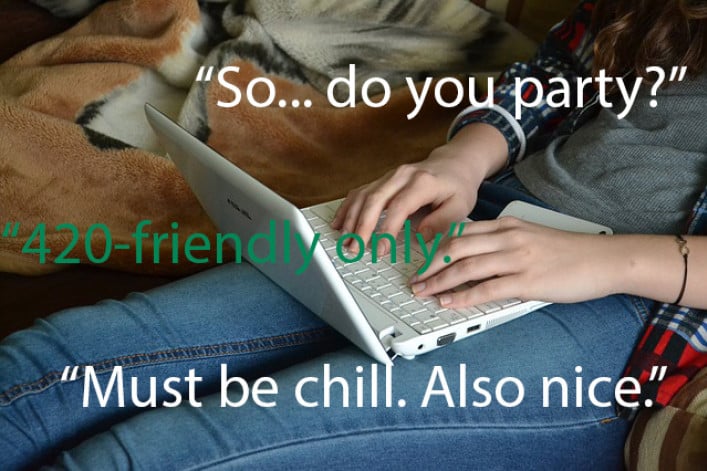 People are frighteningly good at hiding their crazy, as anyone who's ever shared an apartment (or worse, a dorm room) can tell you. No wonder renters with rooms to fill try to filter out the baggage-ridden ahead of time. And while there are some things you can't rule out in your roommates, certain phrases seem to come up over and over in the postings, as any seasoned Craigslist hunter can tell you (and as a recent afternoon spent trolling its shared accommodations listings confirmed). Below, some of the most common tropes, and what they really mean.
Young professional: Easily the most ubiquitous phrase we've seen in our time on Craigslist, this is more or less a legal way to roughly stipulate "college educated, not old." (It's tough out there for the over-40 roommate seeker, it would seem.) Most commonly seen for rooms that inexplicably cost $1,000 or more per month.
Employed: More loosely defined than the above, this one means "leaves the house with some regularity" just as much as it does "can afford to pay the rent every month." You'd think this would go without saying. That is, until you've landed with a roommate who never ... leaves ... the living room. And mysteriously manages to make rent every month in spite of it. 
Respectful: Doesn't steal food from the fridge. Doesn't steal clothes from your closet. Doesn't steal, period.
420-friendly. Barely even code at this point, but you can't exactly broadcast an ad reading "SO DO YOU LIKE WEED OR WHAT?" (Unless you live in Colorado or Washington, at least.) But so, do you like weed, or what? 
Female or gay male only: No messy, smelly Murray Hill bros. We'd note, though, that you never read ads from said bros specifying "SORRY, NO WOMEN." Hmm.
Doesn't bring the party home: No, your wasted friends can't come over for a "nightcap" after all the bars close. Neither can the stranger you're sloppily trying to seduce.
Chill: Not intimidatingly cool, but also not a joyless, judgmental shut-in. But then, no one sees "chill" in an apartment description and thinks "Mmm, chill? Nah, that's not me." As such, this stipulation is as good as useless.
Drama-free: Ugh, no psychopaths like that last girl, Erin. Unfortunately, as with chill, no-one really self-identifies as a wreck (though if they do, run for the hills). 
Also nice. You see a lot of ads that go something like, "I'm looking for a non-smoker who is clean and responsible, respectful but also who is a nice person!" Apparently, no one thinks responsible people are nice. (And once again, not many people see themselves as definitively not nice.)
​It's a slog, but worth it to try to set your expectations as clearly as possible so you spend a minimal amount of time interviewing prospective roommates who're a painfully inappropriate fit. (We've also got more wisdom on culling the best of Craigslist roomies here.) 
And yes, you really do need to go through with all those interviews. As this post for a room in an "artist's salon" in Bushwick puts it,  "We do interview bases only, it's very important to feel out each other's energies and See if its what each other are searching for." Couldn't have said it better ourselves.
Related: 
Find a roommate online: 9 websites that want to do the heavy lifting for you
How to find a roommate on Craigslist (and avoid the freaks)
What one Brooklyn guy learned from hosting a live talk show to find a roommate
Roommate report: are you better off moving in with a friend--or a complete stranger?
Brick Underground articles occasionally include the expertise of, or information about, advertising partners when relevant to the story. We will never promote an advertiser's product without making the relationship clear to our readers.