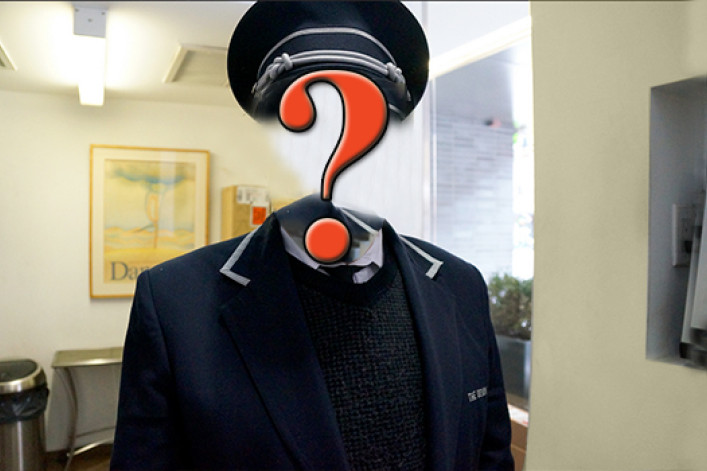 Anyone who's lived in a full-service building can tell you doormen do more than just open doors. They're bouncers, keeping unwanted guests (and menu spammers) out of the building, accepting packages and other deliveries when you're not home, and lending an extra hand by watering your plants when you're away or hailing a taxi when it's raining. 
Living in a building with doormen will cost you, though. Apartments in one in Manhattan rented for almost $1,000 more a month than their unstaffed counterparts in June, according to data from appraisal firm Miller Samuel. If you're buying a condo or co-op, you can expect to pay a 12 percent or 13 percent premium, respectively, for an attended lobby, says the firm's president, Jonathan Miller. And that doesn't factor in the significant chunk of change you'll drop on holiday bonuses and other tips over the course of the year. 
But it's still possible to live well and get all the services a doorman offers ​without spending nearly as much money or sacrificing your privacy. (In any case, plenty of New Yorkers would rather not have a witness to their late-night visitors or solo Domino's orders, and don't want to make small talk after a long day at the office.) How? Read on:
FIND A BODYGUARD
If safety is your main concern—​and security is often cited as the primary benefit of having a doorman—you might want to consider renting in a building with a security guard (or, better yet, convincing your landlord or board to hire one). 
While unionized doormen make close to $50,000 a year, plus benefits, a building could get by paying about half that to a security guard. At $15 an hour, their services would cost the building about $31,000 a year, with benefits covered by the security company that employs the guard.
To be sure, this person would provide a much more limited range of services. But considering that round-the-clock front desk coverage requires four employees, it could be the kind of compromise that puts your mind (and your wallet) at ease.
GO HIGH-TECH
You could skip hiring a human altogether. Electronic doormen systems have been around for years now, and they're not that uncommon, particularly at smaller condo and co-op buildings where fewer owners are chipping in to cover the cost of building staff. (Almost 230 apartments currently available to rent or buy advertise a remote doorman or concierge as an amenity, according to a recent search on StreetEasy.)
Although it's set up like a video intercom, the system is staffed by real people, who work for companies like Virtual Doorman, Cyberdoorman or BuzzIn and monitor the door remotely. So they can let in the FedEx guy, for example, and keep the door locked against any crazies. A system from Virtual Doorman takes about two or three days to install and costs between $5,000 and $40,000, according to a company rep. Ongoing fees depend on how many apartments a building has, but would be about $3,000 a month for a 100-unit building. 
If you want to go even more high-tech, the burgeoning field of facial recognition software may be the answer. A system created by FST Biometrics, an Israeli security firm, unlocks the door for residents and approved visitors by identifying their faces, even when they're in motion. Simply stroll up to the entrance and look at the camera, and the door will unlock. If you're not home, you can be notified of visitors and let them in using your mobile phone, according to the company. The system is already in use at Knickerbocker Village, a Lower East Side complex that spans 1,600 apartments and 12 buildings.
Of course, it'll probably be an uphill battle convincing your landlord—​and maybe even your board, if you own—to install a state-of-the-art security system. But if you're currently looking for an apartment, it's worth checking what kind of safety measures they have in place, whether a remote doorman, video cameras, a well-lit lobby or entranceway, or deadbolts on the apartment doors. 
HEAD FOR THE OFFICE
It's not a perfect method—​you can't necessarily protect your packages from your coworkers' prying eyes, and you still have to lug boxes home at the end of the day—but if you've ever ordered anything online, you've probably had some sent to your workplace already. In terms of logistics, it doesn't get much easier than using your office as your shipping address—just don't forget to include the suite number, company name or whatever your office building requires to get your mail safely to your desk.
SIGN UP FOR DELIVERY SERVICES
Along with security, the ability to accept packages and other deliveries is probably the key doorman duty. Luckily, in the last few years, a number of businesses have stepped in to address the plight of the doorman-less. 
HAVE EVERYTHING SENT TO YOU
New York City is a delivery paradise. Nearly everything—from laundry to groceries to furniture—can be whisked to your home. Not surprisingly, a lot of local companies have implemented delivery policies to cater to New Yorkers without doormen.
FreshDirect will deliver to a neighbor, and their boxes keep food fresh for up to two hours (though the company recommends that all frozen items are put in the freezer ASAP, so make sure your neighbor knows this).
Hamperville, a subscription-based laundry app, will pick up a bag of clothes outside your door if you give them a key to your building (though you probably want to check that your landlord or board is OK with this). Also, the company does office pick-ups, and will deliver your clean clothes to your workplace within two business days. Laundry costs $1.48 a pound if you pay as you go; monthly subscriptions depend on how much laundry you do every month, with additional clothes costing $1.33 per pound.
Plated, which sends pre-measured ingredients and recipes to your home, will also leave boxes—which are insulated with cold packs—at your doorstep or with a neighbor, and no signature is needed.  
Lastly, if you're really in a bind, you could try TaskRabbit, an online service where you can hire people to do odd jobs, including making deliveries. You may be able to find someone to pick up your items and drop them at your door when you finally get home after work, without the typical multi-hour windows from major shipping services. 
BANK ON YOUR LOCAL BODEGA
Yes, it's true: Build up a good relationship with the guys at your bodega, and you can count on them like a building's front desk. Have them accept packages, leave keys for a houseguest, or reserve the last Sunday Times. In fact, this can work at all kinds of businesses on your block; when I lived in Gowanus, we left an extra set of keys at the laundromat downstairs—a lifesaver for the times we got locked out.
The key is to become a regular—stop in for your morning coffee, smile and say hi—and make sure you're not asking for anything too intrusive, like having them hang onto something really big. Not all bodega workers expect a tip, but it can't hurt to offer if they go above and beyond. 
MAKE FRIENDS WITH YOUR NEIGHBORS
Cultivating a relationship with your fellow building residents is undoubtedly a more involved process than signing up for a package receiving service, but the benefits are manifold. (See above for all the services that will deliver to neighbors.)
And, sure, the process of befriending your neighbors seems obvious. But there are ways to make it easier:
Hang out in common areas. Enjoy a beverage on your stoop or read the newspaper in your lobby. It'll help people recognize your face and give you a chance to ...

Say hello. When you see neighbors in the hallways, even if your gut reaction is to avert your eyes and skip the small talk, make the effort to offer a smile, a greeting and maybe even a compliment.

Offer to help. A great way to get your neighbor working for you is to volunteer your services first. 

Invite them to a party. Throwing a shindig at your place? Let the folks on your floor know they can drop by

—

you'll not only get a chance to talk to them face to face, you'll circumvent potential noise complaints or bad feelings.  
TAP THE CAR SERVICE APPS
You really don't need another person to hail a cab for you—unless, maybe, they can do that two-fingered whistle thing. We'd be into that.​ But New Yorkers today are lucky enough to live in an era with not just one but two rideshare services that operate with a swipe of a smartphone screen. If you aren't familiar with Uber, which recently dropped its fees to less than the cost of a yellow cab, or Lyft, which launched in the city last month, get out from under that rock and download one of their free apps. 
BEFRIEND THE SUPER
A building with a superintendent generally won't come with the same kind of premium as a building with a doorman, but a super (particularly one that lives on-site) can take on some of a doorman's duties.
Whether you can rely on your super to receive your dry cleaning delivery or let the cable guy into your place will, not surprisingly, depend heavily on your relationship with him or her. At some buildings, residents are extremely tight with their supers, so much so that they'll provide childcare. At others, the super is only around part-time. Regardless, if your super is taking on extra tasks for you, be sure to tip.
Related:
Yes, ma'am, the doorman is judging you
What you'll live without if 30,000 building staffers go on strike
"Nothing gets out the smell of affairs"--and other tales from NYC building staff
Is security the main reason to live in a doorman building?
Brick Underground articles occasionally include the expertise of, or information about, advertising partners when relevant to the story. We will never promote an advertiser's product without making the relationship clear to our readers.