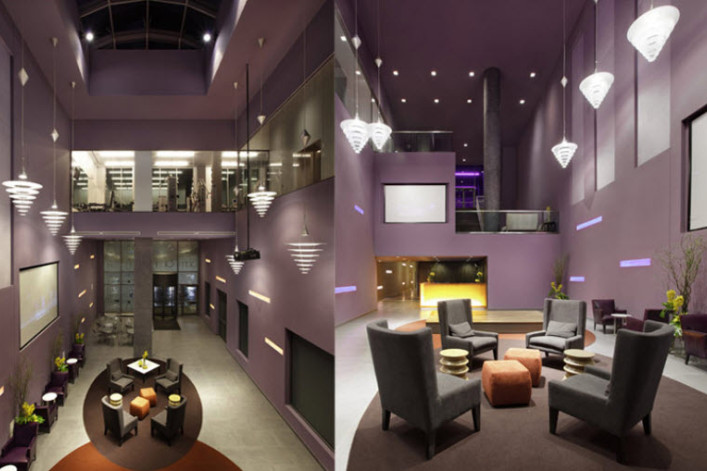 The building: OHM, 312 11th Avenue, between 29th and 30th streets
What you'll pay: Rentals available now start at $2,500 a month for a studio, while a one-bedroom is available for $3,750 a month, and a two-bedroom for $5,200 a month. 
Amenities: The Knitting Factory music venue hosts concerts in the lobby (though they haven't in over a year, according to building reps), bathroom medicine cabinets that lock, 2,100-square-foot gym, lounge with a billiards table and indoor shuffleboard, rooftdeck, 4,100-square-foot garden terrace, shuttle bus service, doorman
Which amenities do you swear by?
Erick: I use the [medicine cabinet] and the gym. The concerts I wouldn't say I go to regularly, but do walk through them and make it a point to stop when they're going on. I don't think I'd miss them though.
Santosh: I use the shuttle bus to get to the train every day.
Rec: Shuttle bus, gym, roof, doorman, lounge.
Ami: Mostly just the roof.
Smith: Nothing. I think it's all always under construction, so have never gotten the chance.
Madison: I barely use anything. It's really loud anywhere I go. It's more peaceful to just pay a [New York Health & Racquet Club] membership and use their facilities.  
Which do you never use?
Stephen: Honestly, I never use anything. I tried to use the gym, but it's so packed after work, so I just got my own membership.
Santosh: The music is unbearable. I wish I could get away from it. I'm not going to say I don't even use it because I don't have the choice, but if I did, I would silence the Knitting Factory. They haven't had a concert in a year, but still, I remember hating that a lot.
Rec: I don't use the game room or anything like that. That seems like kid stuff.
Ami: Don't use anything but the roof.
Smith: I don't bother using any of it. The staff is kind of unhelpful, so I don't want to bother with their amenities.
Madison: Pretty much anything, but I definitely wouldn't use the bus they have. Seems super overpacked. I don't even get the point, it isn't that far away from the train anyways.
What surprised you?
Erick: I think the locked medicine cabinets are cool, but I don't think I'd use them if I didn't have them. It's a funny story to tell people who come over though.
Santosh: It's much louder than I was expecting.
Rec: I thought I would get more use out of the amenities but no such luck. Seems like kind of a waste because they're a big part of my rent.
Ami: Not really, it's all pretty standard issue for a luxury building, they just try to seem cooler than the others. They're all kind of the same. 
Smith: I really thought I would be getting more bang for my buck. It's not as fancy or nice or helpful as my crazy pricey rent should make it.
Did you move here for the amenities?
Stephen: No, I loved the location and the view from my apartment. Otherwise, the amenities are cool but don't matter much to me.
Erick: Kind of. I liked having a gym and I liked the artsy feel. It wasn't really the stuff that sold me on it, it was the whole artistic vibe they put into the space.
Santosh: I think it might've at first but now, no, they aren't keeping me here or anything.
Rec: Sort of, I wanted a nice building, I didn't really care if they had concerts or anything though.
Ami: No, but it is nice to have, I just wanted to be near the water.
Smith: Definitely. And it was a letdown.
Madison: I think I wouldn't live here if my roommates didn't love it so much. 
Related posts:
At 15 William, the gym gets raves. But the catering kitchen is too "Real Housewives"
Tenants applaud Mercedes House amenities -- except ping pong
At the Edge in Williamsburg, the kids love the perks. But the virtual golf is a puzzler.
At Brooklyn Gold, the pool is a draw. But the parking? Not so much.
New York by Gehry residents: Wild for the workout spaces, but lukewarm on interior design tips
Amenities: icing on the real estate cake 
The technology concierge...and 6 other amenities we'd like to see
Brick Underground articles occasionally include the expertise of, or information about, advertising partners when relevant to the story. We will never promote an advertiser's product without making the relationship clear to our readers.