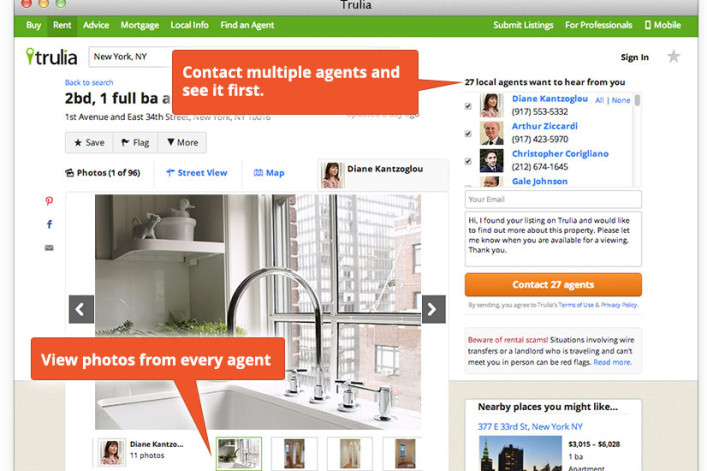 In the local landscape of New York City rental listings, two national giants are battling to gain a foothold in New York City—and competing against a host of native players also catering to the city's frustrated renters.
In August, Seattle-based Zillow made a splash when it bought StreetEasy, the popular Manhattan-based listings and data site.  Now, Zillow's main national competitor, San Francisco-based Trulia, is hoping to appeal to New York renters with a feature that it says will eliminate the problem of duplicate listings--in which the same apartment is listed ad nauseum by multiple brokers, the listings seeming to breed while the number of available apartments stays the same.
Trulia aims to make it easier on renters by compiling all the listing descriptions, photos and contact information from brokers on a single page, and clearly marking fee and no-fee rentals.
Pierre Calzadilla, the company's rentals spokesperson, outlined several features that he says set Trulia apart from Zillow-owned StreetEasy, including that Trulia will take open listings as well as exclusives and doesn't charge for the services. (Some StreetEasy features are behind a paywall.) Also, Trulia has "a vetting process to ensure that reputable brokers are front and center in the experience," he says.  
StreetEasy, for its part, only posts exclusive listings, in which the apartment owner picks a specific broker to market the apartment and find a renter. (In open listings, the owner makes property information is widely available, and the first broker to close the deal gets the commission.)
For that reason, StreetEasy doesn't have to weed out duplicates, says the company's general manager, Susan Daimler. "We also provide ways for consumers and agents to immediately alert the StreetEasy team should they see a listing that needs to be corrected," she adds.
At least three local competitors are already addressing the duplicate listing problem. 
Naked Apartments, a NYC rental search site (and a BrickUnderground sponsor), has been grouping duplicates for more than two years, says CEO Joe Charat. Apartment hunters can compare listing descriptions and photos, plus broker profiles and reviews.
"It's still one of our most popular features," Charat told BrickUnderground.
Meanwhile, RentHop ranks duplicate listings using its HopScore, with the highest score at the top, explains Lee Lin, the company's co-founder and CEO. Scores are based on how complete the listing is, how many renters have reached out about the apartment, and how quickly the broker has replied in the past.
"A broker will score higher by taking more photos, demonstrating a track record of promptly replying to clients, listing a comprehensive set of amenities, and supplying more accurate information about the building," Lin says.
Zumper, a relative newcomer based here and in San Francisco, also groups duplicate listings onto a single page. Additionally, it offers apartment hunters the ability to send a message to all the listing brokers at once, says Taylor Glass-Moore, Zumper's chief operating officer.
Related posts:
Low-Fee Rental Roundup: Fort Greene, Hell's Kitchen, Boerum Hill and more, from $2,100 to $6,190 a month (sponsored)
Price Check Rental Edition: Here's what you can rent across NYC for $3,400 per month
The 8 best websites for finding a no-fee apt in New York 
Brick Underground articles occasionally include the expertise of, or information about, advertising partners when relevant to the story. We will never promote an advertiser's product without making the relationship clear to our readers.