Neighborhood Intel
2014 Real Estate Forecast: What to expect in prices, neighborhoods, amenities, mortgage rates, foreclosures and more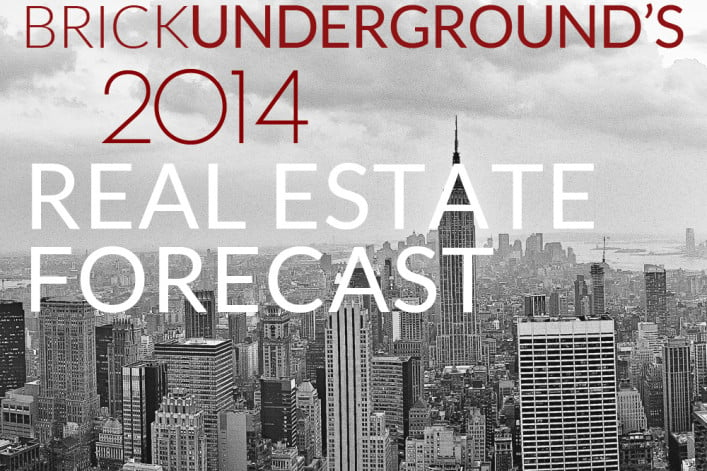 Green is in. Refinancing is out. Bushwick is so in, it's out. Co-ops may keep their snob appeal--and affordability, compared to condos--but condo-craziness will continue to rule. 
And while things will stay competitive for renters and buyers, the real estate market as a whole will likely experience "less drama" over the coming year, says real estate appraiser and market analyst Jonathan Miller of Miller Samuel.
"In 2013 we had a record summer in terms of activity and one of biggest springs on record, but we also had one-off situations--fiscal cliff, a flood of demand late in first quarter, mortgage rates spiking in late June, that brought a flood of people who were on the fence into the market," he says. "These were fairly complex. I see less of that, unless there is something we can't anticipate."
Those are just a few trends predicted for the new year...here's what else the experts are saying:
Resale market will see modest gain in inventory and prices
"If you look at the resale market only," says Miller, putting new construction aside, "we're going to continue to see modest appreciation in prices. I think with very limited inventory—which is at record lows now—we're going to see upward pricing pressure, but not runaway pricing."
While he admits that "it's hard to call it," Miller suspects inventory will also rise--albeit slowly.
"I think inventory will be low, but I don't think it can go any lower," he says. As price appreciation prompts some owners to cash out, "We're going to see inventory climb in a slow, gradual way, though it'll still be nowhere near where we need it to be."
Even with inventory low, tight credit and rising interest rates will likely keep prices from racing upward.
Miller notes that New York City is a bit of an anomaly as compared to the rest of the country in this regard.
"Around the country you're seeing higher rates of price appreciation than in New York, but that's because in those places there's a heavier concentration of distressed sales. We don't have as many foreclosures," he says. (More on the foreclosure outlook down below.)
Rents aren't going down anytime soon, but look for more concessions & negotiability in the first quarter of this year
"The vacancy rate in Manhattan has slowly but surely gone up in the last seven or eight months, so I think you're going to see some more value, especially in the beginning of this year, with more landlords offering concessions, and maybe a little negotiability for pricing," says Gary Malin, president of Citi Habitats.
Looking ahead, Malin says,"I don't necessarily see anything throughtout the year in terms of a major jump. I'd say the market will remain stable and the better deals will happen at the beginning of the year."
Miller agrees that rents will stay high, though not necessarily sky-high. 
"The economy is improving, jobs are better, and rental market responds much more quickly to changes in the economy than the sales market," says Miller.
That said, he doesn't predict a surge in rents. "I see it as a plateau, where we'll remain at a high level. I see rents bouncing along at high plateau," he says.
The price gap between Manhattan and outlier boroughs will continue to shrink, he predicts.
Miller notes that in November 2008, the median spread between rents in Manhattan and Brooklyn was $1,125; now, he says, it's $300, noting that part of the reason for the surge in rental prices in Brooklyn is that most new luxury developments in the borough are rentals.
"Brooklyn's gone through an amazing renaissance," says Malin.
New construction (especially for the one percent) is hot, but lacking all around
Demand for new condos will continue to outpace supply.
"The 2014 pipeline shows only about 1,200 homes coming on to the market south of Harlem—a number that usually ranges between 5,000 and 7,000 on average years," says Adrienne Albert, founder of The Marketing Directors, a new development marketing firm. 
"There is a huge need for smaller homes, especially in Manhattan," she says. "The mid-market is going to be underserved because land value is so high."
Miller agrees, noting that during the last new development boom, in 2006, buildings were targeted at the middle to upper end of the market, rather than just ultra-uxury.
"All the new development entering the market is targeted toward the top 10 percent because of land prices," he says, noting that the lowest entry sales price is around $3 million for luxury development. "There's no chronic shortage in the upper end like there is in the lower end—the other 90 percent."
He adds: "I suspect we'll see a fairly rapid uptick in new development, but I don't think it'll hit 2006 numbers." 
On the rental side of new construction, developers are seeing that "there's a desire for high-end rentals," says Citi Habitats' Malin. "There's a lot being designed and developed, a lot that won't be on the market for 2015 and 2016 and beyond."
Market pressure mounts for co-ops to behave more like condos, even as some condos start acting like co-ops
With co-ops keeping a tight reign on who can buy in, many buyers can't—or don't want to—pass muster. Brian Meier of Douglas Elliman suggests that co-ops start to rethink their scrutiny of applicants in order to stay competitive.
"There is a difference between diligent financial analysis of buyers and antiquated rules," he notes in his year-end report on the market. "This will come under greater scrutiny for co-ops, and some boards will have their own internal pressure to rethink rules and practices or face the reality of their own decreasing values." 
Meanwhile, more condos will become a little bit more like co-ops, particularly with regard to who is allowed to reside in apartments.
"We're getting more calls from condo boards about out-of-state corporations buying apartments and using them as employee crash pads," says real estate attorney Robert Braverman of  Braverman  Greenspun. "A good number of condo boards are going to modify their documents to have increased restriction on permitted occupants."
Tax exemption changes may be on the horizon for co-op and condo owners
Whether you own a co-op or a condo,  you'll be subject to changes in the city's STAR program, which offers certain tax exemptions for owner-occupied, primary residences, according to real estate attorney Dean Roberts of Norris McLaughlin & Marcus.
"It used to be a very straight-forward proposition for everyone and now it's a complex one. People should be very aware of their STAR issue—the city is making everyone register," Roberts says. And don't assume that because your neighbor has it, you will too.
"People in co-ops living side by side, one gets a STAR and the other one doesn't for somewhat arbitrary reasons," he warns, calling it a sign that "regulatory things in the city that will get only more complicated."
The neighborhoods: Fringe is still fashionable
Manhattan and Brooklyn, the top trending boroughs in 2013, will continue their march in 2014, going deeper into neighborhoods formerly considered too fringe to be fashionable, like Brooklyn's Bushwick, which proved that seemingly no neighborhood is too gritty or grim for a makeover.
Even Superfund sites will sizzle in Brooklyn
"The hot market of the day is Gowanus," says Aleksandra Scepanovic, managing director of the Brooklyn-based Ideal Properties Group, referring to the neighborhood that is home to both a Superfund-site and Brooklyn's first Whole Foods. 
"It is really well-positioned between Park Slope and Carroll Gardens—it's an in-between, go-to kind of neighborhood. Development is proceeding and people are willing to invest in the cleanup and see it finally flourish," says Scepanovic.
Downtown Brooklyn, meanwhile, long overlooked for its dullness and "Bargain Betty" retail, will continue its makeover, thanks in part to the Barclay's Center. More stylish retail such as Uniqlo, is moving in, and with condo developments such as the Toren and BF Schermerhorn filling up, brokers predict rehabs for commercial corridors such as Flatbush Avenue and Fulton Street will further transition the area.
Farther-flung areas like Bed-Stuy and Crown Heights are seeing small-scale new buidlings come to market. Greenwood Heights, near the historic cemetery, is on Scepanovic's radar, as are Sunset Park and Prospect-Lefferts Gardens.
But before people go too deep in Brooklyn (don't look for Sheepshead Bay to have its hip-code any time soon), more people will flock to Queens.
Queens is the new Brooklyn
Led by the migration to Astoria—including Manhattan restaurateurs like celebrity chef Michael Psilakis—more people will give Queens the royal treatment. 
"Queens is the new Brooklyn because you're seeing upward pressure in the borough as result of Brooklyn's makeover," says Jonathan Miller.
The development creep has moved up the shoreline from the glass towers of Long Island City to Astoria where a proposed 2,500-unit mega-development for Hallets Point, approved by the City Council, will break ground in late 2014. Also on the radar, but not yet approved, Astoria Cove, a proposal to redevelop a 8.7-acre site just north of Hallets Point, with 1,701 residences, a supermarket and elementary school. 
Farther out: Ridgewood, on the Brooklyn/Queens border, is catching some of the arty overflow from pricey Bushwick, and Sunnyside, a neighborhood of historic garden apartments, is attracting attention for its transportation access, views of Manhattan and budding dining district.
The Bronx will stay sleepy
Though artists have long taken up residence here because of the cheap rents and sunlight, don't expect a migration to the South Bronx any time soon. Projects such as La Central, a five-building, 985-unit development in the Melrose section, will focus on mixed-income housing but with a ground-breaking projected for 2015, don't look for much to happen here next year.
Manhattan's southern and northern-most tips get their due
From Canal Street to the Financial District, strong recovery after 9/11 will continue as services pop up to serve residents flocking to downtown for space, convenience and a sense of living on the frontier. East Tribeca, a historic cast-iron district, is newly aglow with condominium developments along the Broadway corridor. 
"Until about two years ago it was one of the last small, undiscovered corners of Tribeca, but not any more," says Richard Cantor of Cantor-Pecorella Inc., a real estate firm that's marketing developments in the area. 
'
At the northern end of the island, Washington Heights and Inwood will get their star turns. The George Washington Bus Station terminal is set to get a $183-million makeover to include retail, a fitness center and supermarket, which will give the housing-rich but amenity-poor neighborhood a boost. Inwood, already a bustling nightlife district, got its first Starbucks in December, just a few blocks away from its first modern apartment development, The Stack. And, if you build it, they will come, says Clifford Finn, the Douglas Elliman agent marketing the the 28-unit rental building.
"The people who are just interested in new development will seek it out because those kind of price points don't go very far when you're farther south in Manhattan," he says. The building, the first modular-construction building in Manhattan, comes to market in first quarter 2014.
Hudson Yards, a huge retail-residential project that will essentially become a city within a city on the far West Side of Manhattan, will see its first residential building -- a rental at 30th and 10th Avenue--open this spring. 
Eyes on Staten Island's northeast shore
With a couple of developments on the horizon, Staten Island may become more than a turn-around point on the ferry. Last fall, the City Council approved a plan for a commercial compound featuring a 625-foot Ferris Wheel, outlet mall and hotel in St. George on the northeastern shore of the borough--an area nicknamed "Battery Park West" by the borough's mayor.
Amenities: Smaller apartments, bigger socialization spaces
Whether you rent or own, hanging out is in, and that's reflected in the way new rental and condo buildings welcome residents—from ramped up community rooms to residential lounges doubling as coffee bars.
"Today the trend is to find a way for people to connect — and not just on the Internet," says Albert. " There is a trend toward quiet, inactive, socialization where you can hang out and get out of your apartment." The convention: the smaller the apartment, the more elaborate the socialization space.
"From a rental perspective when you're building a new building, if you don't build those amenities into the building it's hard to get the pricing you want," says Malin. "They've become standard. If you don't do it, you'll stand out, in a bad way"--particularly for large-scale buildings.
"Anything that makes the building a destination adds value," he says.
The 1,500-square-foot residents' lounge at 50 North 5th, a new 229-unit rental building in Williamsburg, is part of 15,000 square feet of amenity space that includes a roofdeck, courtyard, and indoor basketball court.
Dave Maundrell of Apartments and Lofts says he sees formal entryways giving way to integrated lobbies where people can gather café-style or in communal work station ala Starbucks. 
And that goes for outdoor space, too. 
"Buildings are starting to get in depth with their roof decks," says Maundrell.  "You'll see more elaborate landscaping, barbeques, game set-ups like shuffleboard, bocci, and swimming pools." 
Mortage rates head up....and home equity loans stage a comeback
Interest rates will creep up next year, with rates for 30-year-fixed predicted to approach 5.4%  in the fourth quarter, says Robbie Gendels, a senior loan officer in the New York City office of National Cooperative Bank.
Even though the rates are still historically low, many people refinanced into lower-priced loans over the past couple of years, so refinancing activity will be slow.   Apartment owners who need to pull out money for a renovation or other reasons will increasingly seek out home equity lines of credit instead of refinancing into a higher-interest rate mortgage.
The coming year will see tighter restrictions on borrowing, as banks lower the allowable debt-to-income ratio, says Julie Teitel of GuardHill Financial Corp.
"We used to be able to get up to 50 or even 54 percent [debt-to-income ratio]  with some banks, but starting this year, [the] ratios won't be able to exceed 43 percent," she says.
What does that mean for buyers? Either putting up a bigger down payment or buying a lower-priced home.
Complicating the process further: Buyers will now have to obtain and pay for appraisals up front before the bank can issue even a commitment letter, says Teitel,  adding cost and time to the purchase process. However, lenders will do away with pre-pay penalties.
Ups and downs in foreclosures
New foreclosures in 2013 trended up throughout the five boroughs, with most recorded in the Bronx and Queens, according to real estate data website PropertyShark.com.  At 350 foreclosures in the third quarter of 2013, that's a 54 percent increase from third quarter 2012.  But the good news, says PropertyShark senior data analyst Nancy Jorisch, is that it's almost half of what was recorded three years ago, and not epidemic. 
"When you look at that and say 350 in the huge city of New York, it's not as rampant as it is in other parts of the country," she says. Further, she says, "there's nothing that really indicates that foreclosures have impacted sale prices in neighborhoods."
Jorisch noted another positive trend: properties selling at auction after foreclosure are  being bought by investors or individual buyers—not banks.
"We think that's a show of strength. There's no heavy pocket of foreclosure activity, but what's encouraging is the investment back in the industry by individuals and investors," Jorisch says.  Going forward, she says, "There's no reason to believe there will be a spike in foreclosures in 2014."
Related:
Buying, renovating or refinancing next year? 5 mortgage trends to watch in 2014 [sponsored]
10 of the best NYC neighborhoods for recent college grads
Brick Underground articles occasionally include the expertise of, or information about, advertising partners when relevant to the story. We will never promote an advertiser's product without making the relationship clear to our readers.