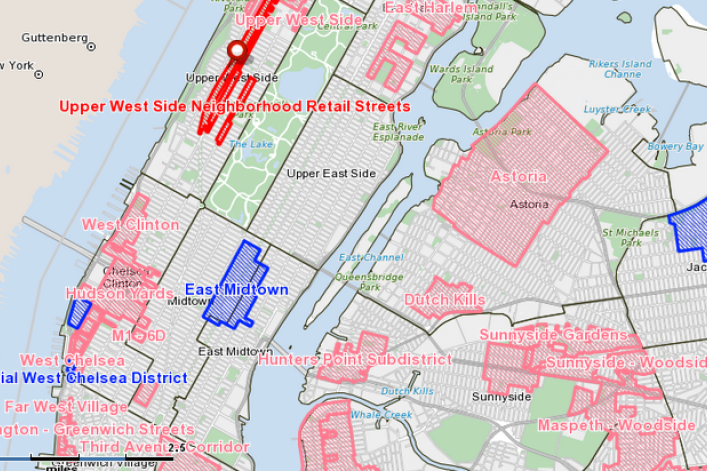 So you think you've met the co-op or condo of your dreams, at a price you can afford? Before you stroll too far down the path of home ownership, remember that the building—and what's around it--will affect your future happiness as much as the apartment itself. 
To spare yourself time, expense and heartache, it pays to do some sleuthing online even before you hire an attorney to review the financials and board minutes.
A great place to start is with the detailed Property Data Reports on real estate search site Point2 Homes, sister site of real estate data powerhouse PropertyShark.  
Bonus: You'll get four free property reports just for registering.
Here are seven questions to ask yourself and answer in just a few clicks on Point2 Homes before you make an offer or sign a contract:
1.    Are there any nuisances near the building?
You would probably want to know if an adjacent building has dozens of violations for vermin. Or if a nearby nightclub or construction site has triggered an avalanche of 311 noise complaints.
On the Point2 Homes homepage, look up your building by clicking "Look Up Any Property."
Now, scroll down, and click on the Area Information tab next to the Property Data Report tab. Beneath a list of recent sales, you'll find a map that can be filtered by several dozen useful criteria, including "311 Service Requests" and "HPD Violations." 
The 311 map displays recent complaints in the neighborhood about quality of life issues including construction noise and vermin, while the "HPD Violations" map shows the number of open and uncorrected violations on your building and neighboring buildings.  Click on any buildings that have an unusually high number of violations. Then open their property reports to see what the violations were for.
2.    Is the building located in a rezoning district?
If the building is in a current or proposed rezoning area, you and your attorney will need to do some due diligence to find out how the neighborhood around you may change.
To learn whether the building is in a district undergoing rezoning, click on the "Area Information" tab at the top of the report.   Scroll down beneath the map, and check the box next to "Rezoning Project Areas."  In the example below, the rezoning areas are shaded in red.
3.    Is the building near a toxic site?
In the Hazards & Environment section of the Property Data Report, a map shows any toxic sites in the building or the vicinity, from toxic dumps to garbage landfills, leaking oil tanks, hazardous waste sites and pollution discharges.   There's also a handy guide for decoding the symbols.
 

4.    Is the building in or near a flood zone, and if so, how was that affected by Hurricane Sandy?
Using the map under the "Area Information" tab, check the box next to "FEMA Flood Zones" to see whether your prospective building lies in an existing flood zone.  Now check the box next to "FEMA ABFE Zone (Post Hurricane Sandy)" to see how Hurricane Sandy changed flood predictions for the area.   
The first example below, for instance, shows existing FEMA maps of the far West Village. The second map, with the FEMA ABFE overlay, shows flood vulnerability based on Hurricane Sandy. This information will be considered by FEMA when redrawing its next set of flood zone maps.
 
5.    How well is the building managed?
In the Property Data Report, an excessive number of HPD violations can signal that the building is not in great physical condition, possibly as a result of inefficient management. It could also foreshadow expensive assessments, and a high number of violations can make it difficult to get financing in the building. 
6.    Is the building landmarked or located in a historic district?
If the building is landmarked or simply located in a historic district, that can be a boon to your property values but a hit to your wallet, as renovation and maintenance is often more time consuming and expensive.
Historic District and Landmark status is noted in the "Neighborhood" and "Building" categories of the Overview section near the top of each property data report.  

7.    What public schools is the building zoned for?  What schools (public and private) are nearby—or too nearby?
You can explore nearby public and private schools by clicking on the "Area Information" tab, scrolling down beneath the map and filtering the map by various school-related choices including School Attendance Zones, Proximity to Junior High School, Proximity to College/University, Public Schools, Private Schools and School Districts. 

To claim your four free reports, just register on Point2 Homes. Once the addiction kicks in, you can become a subscriber; New York Property Data Packages are $39.95 per month for up to 100 reports. 
Here are some helpful links to get you started.
---
Real estate marketplace Point2 Homes lets you browse thousands of NYC homes and discover priceless property data.  Start your search!
Brick Underground articles occasionally include the expertise of, or information about, advertising partners when relevant to the story. We will never promote an advertiser's product without making the relationship clear to our readers.