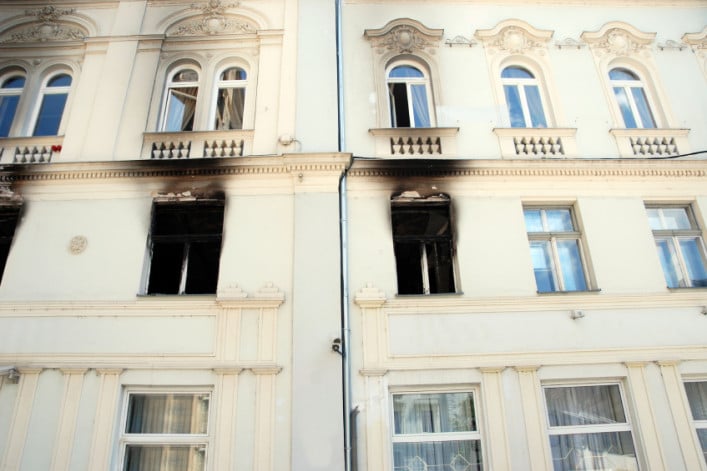 Landlords aren't the only ones with blacklists.  It turns out that insurance companies which underwrite co-op, condo and renter's insurance policies also make decisions based on shared information about your claims history.   
And even if you pay your premiums on time for years--and would never dream of filing a trumped-up claim--it is surprisingly easy to wind up on The List.
Here's what you need to know, says NYC apartment insurance broker Jeff Schneider, president of Gotham Brokerage:
1. Two-strike rule: Two legitimate claims in 3 years can get your policy canceled
In New York State, most home insurance policies can only be cancelled by insurers after three years, following an initial 60 day due diligence period says, Schneider.
At the three-year mark, your insurer will review your claims history.  A single questionable claim is enough to get you canceled. In addition, most insurance companies will either decline to renew your policy or significantly increase your rates even if you have two legitimate claims—and even if you've been faithfully paying your premiums without a claim for years before that.
"Whether you're at fault doesn't matter," says Schneider. "Most companies use a statistical model to determine whether you're a profitable client."
Note that there is one big exception to the two-strike rule: Claims from major disasters like Hurricane Sandy are considered "catastrophic losses" by the insurance industry and are not counted.
2. Once your policy is canceled, you'll have to buy high-priced alternatives in the non-regulated "excess" market until enough time passes without another claim
Insurers are allowed to share your claims history with one another--and they do.
"If you've had two claims with Allstate and go to State Farm, they'll look up your claims history and only take you later--at a higher rate than you were paying before--when you've had 1 claim in 3 years," says Schneider.
In the interim, he says, most apartment dwellers seek insurance in the costly 'excess market,' from reliable companies with non-regulated rates and stricter coverage requirements. 
"Your $300 a month co-op insurance policy could easily triple for the same coverage," says Schneider.
3.  To stay off the blacklist, pay out of pocket for small claims
Buy a policy with a high deductible ($500 for smaller apartments and up to $2,500 if you are insuring several hundred thousand dollars of value) and pay for smaller misfortunes out of your own pocket, says Schneider.
"Don't mess around with smaller claims," he says. "What tends to happen is incidents bunch up. People think, 'I've been paying my insurance for 6 years without a claim and so I'm going to file a small one to get some of my money back.' The next thing they know, a big one happens."
There is one important exception: Always report any situation in which it's difficult to assess the damage and could result in a serious claim or potential lawsuit later on down the road. 
Most commonly, this pertains to water damage from overflows and broken pipes.
"In one claim we handled, a mold situation developed two years after an overflow from an upstairs apartment," says Schneider. "The owner of the moldy apartment, who had taken out additional mold coverage, claimed medical sensitivity to mold and the apartment had to be gutted down to the studs at a cost of several hundred thousand dollars. The insurance company looked to hold the upstairs apartment owner responsible. Some insurers would refuse to cover liability for damage that initially went unreported."
The same goes for a situation resulting in personal injury—like accidentally whacking your squash partner in the head with your racket (yes, this is covered by apartment insurance). 
Damage from fire and theft, on the other hand, can usually accurately assessed at the time of the incident, and if it's not a huge loss, you may be better off paying it yourself,  says Schneider.
---
Gotham Brokerage Co., Inc., an insurance brokerage, has been serving NYC renters, co-op and condo owners for over 45 years. For a free quote, click on over to Gotham Brokerage or give them a call at 212-406-7300.
More from Gotham:
Got kids? Here are 10 reasons you need apartment insurance too
The foul-weather guide to apartment insurance: What you need to know about tornados, ice storms, blizzards and more
8 questions you MUST ask before buying renter's insurance
The ultimate co-op and condo insurance checklist
10 things you didn't know were covered by renter's insurance
Brick Underground articles occasionally include the expertise of, or information about, advertising partners when relevant to the story. We will never promote an advertiser's product without making the relationship clear to our readers.