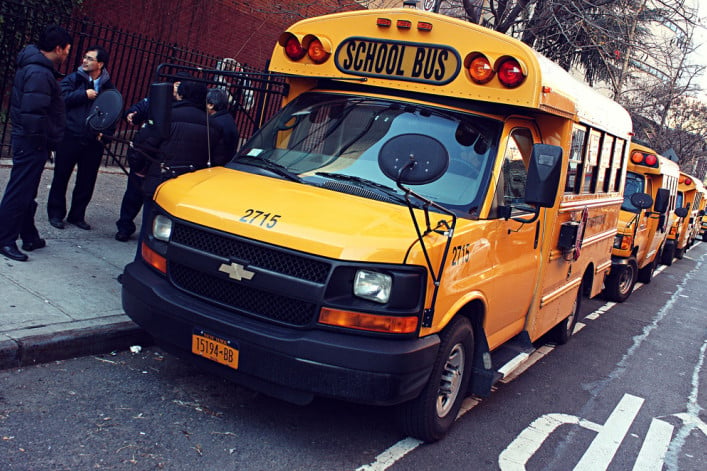 Updated September 8, 2015:
With back-to-school season upon us (New York City public schools start tomorrow!), we've been thinking about all the challenges—benefits, too!— of raising kids in this crazy city of ours.
We've put together a list, culled from our personal experiences as parents, of what to keep in mind when looking to move into a rental, condo or co-op with kids in New York City.
And when you think city living for families is all just too much, we suggest you reread this: "8 reasons your children should grow up in New York." (One totally legit plus: less fear over drunk driving.)
1. School zone
For most NYC parents, the school your apartment will be zoned for is the single biggest greatest housing decider (unless you plan to send your kids to private school or have kids older than elementary-school age and are already set). A zoned school is a neighborhood school meant to accept all kids living within its proclaimed parameters. If you're new to the NYC public school system, your first stop should be Insideschools.org, a superb online source of independent information about zones, specific school profiles, and the application process.
Once you've narrowed down your ideal school list, pop over to StreetEasy and use their Advanced Search options to search for apartments by school district (which is much broader than a school zone) or school zone. 
But before you sign any papers committing you to a new home, confirm and reconfirm that it's in the school zone you think it is. In theory, you can find out which school a building is zoned for by calling 311 or checking the Department of Education website but due to continual rezoning,this information has not always been accurate.  We suggest calling the school's parent coordinator (they all have them)  to double check that your building falls in that school's zone.  Also, note that some schools and zones are so oversubscribed that they have waitlists, so even if you find the perfect apartment/school combo, you may find your child being placed in a different school. 
We also recommend that you Google around and ask potential neighbors (or talk to parents at a nearby playground) about any imminent zoning changes or overcrowding, which can and do happen. 
2. Family-friendly building
A family-friendly building is often one with larger apartments versus a building predominantly comprised of studios and one-bedrooms. 
Life with small children can be much easier in a building that is truly "friendly" to families; take it from the parent of a toddler (ahem), parent friends and potential playdate partners in the same building are a major plus.
But you should know that due to fair housing rules, brokers can't legally come right out and say a building is family friendly (and they can't talk about local schools either). 
If you have small kids, you may want to visit during the day and spend a little time in the lobby of a building you're interested to see whether there are a lot of little kids coming in and out. If you have older kids, see what happens around school dismissal time (let the doorman know what you're doing). If there's a bike room, check to see if there are lots of little bikes. A playroom that looks clean and stocked with newish equipment is also a sign of a bumper crop of children and a building that caters to them.
You will also find that some family-oriented buildings come with tip-top amenities, like playrooms with "programming" (such as mommy-and-me classes you don't even have to leave the premises for), tween rooms, even basketball courts. 
No matter what kind of building you pick, we suggest you read up on our etiquette tips (e.g. don't hog the hallway with strollers).
3. Pet policy
If your dog ranks second only to your kids, you need to make sure your pet can come with you and the family. Check out a building's dog policy before you commit, and beware of weight restrictions. It's far easier, but not impossible, to find a building that will take a smaller-breed dog than a a large one, especially the 50-pound plus category. For help getting any dog, past a co-op board, click here.
If buying into a no-dog building seems fine right —say, when the kids are too little to even entertain the thought of bringing another dependent creature into your household—understand that you and your kids may feel quite differently in a few year's time, when the no-dog rule could be a heartbreaker.
4. Proximity to playgrounds
Playgrounds are New Yorkers' alternatives to backyards, so living within a few blocks of one is ideal (the closer, the better, though maybe not right next door). Some playgrounds are geared toward younger kids, with smaller slides and climbing frames, while others have larger facilities for older kids, like steeper slides and larger swings.
Also, keep in mind that a playground with shade is a very good thing during the summer heat. Not being too close to a rowdy middle school is another plus when you've got little ones.
For neighborhoods that are great for kids (because of playgrounds and a host of other factors), check out our very own "NYC's top 10 neighborhoods for young families (including 5  you may not have considered)."
5. Washer and dryers
Considering just how dirty little rugrats can get, who wouldn't want an in-unit washer and dryer? But if that's a perk you're unwilling to live without, expect to pay up. While there's been a recent trend toward liberalizing washer-dryer rules in older buildings, they're most common in newer, and therefore often pricier, rentals and condos.
Some buildings may allow portable washers and dryers that you wheel out when necessary and are hooked up to the tap. Be sure to ask if this is allowed.
6. Special building rules about kids
While some building amenities seem perfectly suited for kids, gilded with roof decks and pools, there can be major restrictions and conditions when it comes to kids' access to them. (We've even heard of a co-op that doesn't allow kids to ride elevators alone.) Check for all these potential rules and caveats ahead of time.
7. Buy an apartment for the family size you hope to have
If you're looking to buy an apartment, you need to think of your future and plan for the number of kids you (realistically) plan to have rather than the number you have at the moment. If you hope to have three kids within 10 years, buying a two-bedroom today (or an apartment with just one bathroom and no flexibility to add another) probably doesn't make sense, especially in a market where upgrading is increasingly tough thanks to fast-rising prices.
8. Think long and hard about walkups
Plenty of parents do it—and an in-unit washer-dryer combined with Fresh Direct grocery delivery can take the edge off—but living with a family in a walkup is not an easy feat. The first thing you should do if you're considering a walk-up and have (or plan to have) small kids is make sure you're able to leave your stroller downstairs. Also, keep in mind that it's one thing to do it with the first kid, but with a whole brood? That takes someone with a lot of organization (and great leg muscles).
Related posts:
Raising kids in an apartment building: 7 classic dilemmas solved
NYC kids want a doorman too, but not for the reason you think
Can you raise a family in Manhattan on $400k a year?
How to find a family friendly building
How to raise 4 kids in a 4th floor walk-up
Brick Underground articles occasionally include the expertise of, or information about, advertising partners when relevant to the story. We will never promote an advertiser's product without making the relationship clear to our readers.