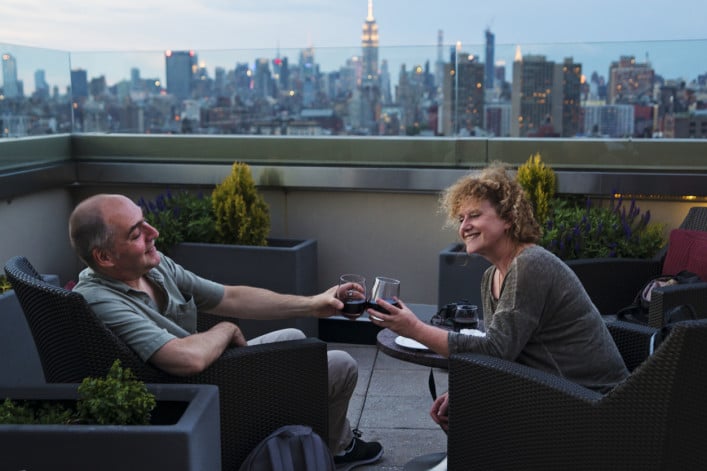 If you're a suburban empty nester considering a return to the city, you are not alone.
"All of our projects, all brand new, are attracting empty nesters who want to be done with the upkeep of a large house… who just want to live as though they're on vacation," Karen Mansour of Douglas Elliman Development Marketing told BrickUnderground recently. "Over 50 percent of the apartments in The Residences at 400 Fifth above the Setai Hotel, are occupied by empty nesters....Who wouldn't want to live in the center of the universe, walk to the theater, movies, shopping, restaurants?" 
Who indeed?  
While they're typically more financially prepared than the average twentysomething moving to NY, empty-nesters face their own set of challenges, ranging from what to do with all their stuff to where to stash the grandkids.  
Here are tips from four empty nesters -- all in their 60s -- who've made the move:
1. Jean, from Florida to a three-bedroom co-op on the Upper East Side:
"My husband and I moved to New York from Miami area and now live in an apartment that overlooks Central Park. I raised my kids first in New Jersey and then in Florida and always wanted to live in the city. My one regret is that I didn't insist on living here just as soon as we got married.

Our  hunt took one year. The idea of living next to Central Park didn't even factor into my choice. I had no clue then about how great that would be. Now I spend hours in the park, usually reading.  I've learned, living here, that there is no better place anywhere for empty nesters to live.
I watched my dad's retirement life in Florida where he was isolated. Once he was unable to drive, e was lonely and miserable. Here I can walk a block to a movie, have anything I want delivered, get anywhere in the city I want to go by walking, no driving required. I am thrilled to be here.  
Now, though, I'd like a place with one more bedroom so that my grandchildren can come to visit with friends and stay in their own space."
Her advice: "When you start to worry how expensive the move will be, remember that life is short and death is long. So go for it!"

2. Marilyn, from Westchester to a one-bedroom Upper East Side co-op: 
"We lived in Westchester for 35 years. Before our move to the suburbs, we lived in the city but moved out for the schools and space.  
My heart and soul were always in the city, so we bought a one-bedroom apartment on the Upper East Side. When we sold our five-bedroom house, we put almost everything into storage, thinking that we might buy a vacation home and would need our 'stuff'.
We decided that we didn't want to be tied to another house, to have to worry about the upkeep of another property.   
Soon we felt 'crowded nested' in our one-bedroom, especially after my husband retired.
So, now we are in the midst of renovating a two-bedroom apartment in this same building. We'll be moving into the larger apartment soon but we're still dealing with the 'stuff.'
I love living in New York. It's rejuvenated our marriage, we've reconnected with old friends, and we're not far from our grandchildren in Brooklyn."
Her advice: "Get rid of your stuff first. I didn't realize how great a burden it would be. I still have 100 boxes in storage but we're going through it all now and I just convinced my husband to throw out his college notes!"
3. Diane, from New Jersey to two-bedroom Upper East Side rental:
"Suburban New Jersey was a great place to raise kids but I wanted something different when they went off on their own.
My kids both still live in New Jersey and people joke: 'Don''t you like your kids?' Sure we do, we just love living in the city. Just to make sure that we really would love living here, we decided on a test-drive strategy. As soon as we sold our house, we rented a two-bedroom apartment on the Upper East Side with views of the East River.
Now that we're completely convinced that we want to stay in the city, we're looking for something to buy on the Upper West Side (easy commute to New Jersey).
But that's turned out to be not quite as simple as we had hoped. Inventory is tight and the lines are long at open houses. The space we can afford to buy is not as large as the space we're renting."
Her advice: "I would definitely advise folks who want to make the empty-nest move to do what we did and rent first. Living in the city is so different from visiting it. Navigating its streets, shopping in it, using public transportation—it all takes getting used to.
If you rent first, you can also decide exactly what neighborhood you want and whether the city really is where you want to be."

4. Patricia, from Long Island to Morningside Heights: 
"When I was single I wanted to live in the city but couldn't afford it.
For 28 years living in Connecticut and then Long Island, I harbored a fantasy of some day living here.
I was totally convinced that the city was the right choice for us after our kids were grown, but my husband wasn't.
So we did a trial run. We sublet a place on the Upper West Side from a family member, a fifth floor walk-up. My husband decided after a year that it was all good—except the stairs.  
When we set out to apartment hunt we wanted to stay on the Upper West Side—easy access to my daughter in Westchester—and near other friends and relatives.
We started looking, wanting a two bedroom with enough space for us to host holiday meals for 20 people, our budget was $500,000. That wasn't happening.  
We eventually bought an apartment for $610,000, and hosted this year's Seder for 30 at my daughter's house. We love the building, the location, all its conveniences, but think that perhaps I should have spent a bit more time looking. Maybe I could have found something with more space if I had compromised on neighborhood.
The wall that was put up to make the apartment into a two-bedroom may come down so that the big Seder can happen.  
Her advice: Start the hunt long before you need to move so that you can weigh all the many factors that go into the best possible final decision.

Advice from the experts:
Make a priority list. Doug Heddings of Heddings Property Group recommends that before empty nesters start the hunt, that they make a two-part priority list. First, are what he calls "lifestyle priorities"--what do you want to do when you get here--go to good restaurants, to the opera, to the theater? They can then figure out what neighborhood makes the most sense. Second are the "property priorities"--how many bedrooms, square footage, city view? Not seeing enough places for sale in your price range or target neighborhood -- and/or you'd like to avoid a bidding war?- Consider expanding your search to "off-market" listings. NYC real estate brokerage Triplemint, a Brick Underground partner, uses technology to mine public records and identify owners who may be ready to sell, meaning you can meet and deal with owners before their homes hit the market. 
Choose the right broker. "Have a cup of coffee or lunch with someone you know who has worked with an agent to get a first-hand reference," says Heddings. "Remember, all real estate agents are not created equal."
Act fairly quickly. Inventory for two-bedroom condos (popular with empty nesters) are dwindling—one reason he cites is  "fright capital," people from European economies who are taking their money out of their own country and investing in real estate here.   
Figure out if you afford it. Sharon McIntosh of The McIntosh Company says that you can find a two- bedroom, 600-700 square foot apartment that's "workable" for $550,000 and a two-bedroom with 1,100-square-feet in a nicely renovated doorman building for $1.2 million--both on the Upper West Side.  Figure on paying "north of $2 million" for three bedrooms, says Heddings.
Related posts:
7 things to figure out before starting your NYC apartment search as an empty nester
Housewarming gifts for urban-suburban neophytes
Inside story: My journey from owner to renter
Brick Underground articles occasionally include the expertise of, or information about, advertising partners when relevant to the story. We will never promote an advertiser's product without making the relationship clear to our readers.