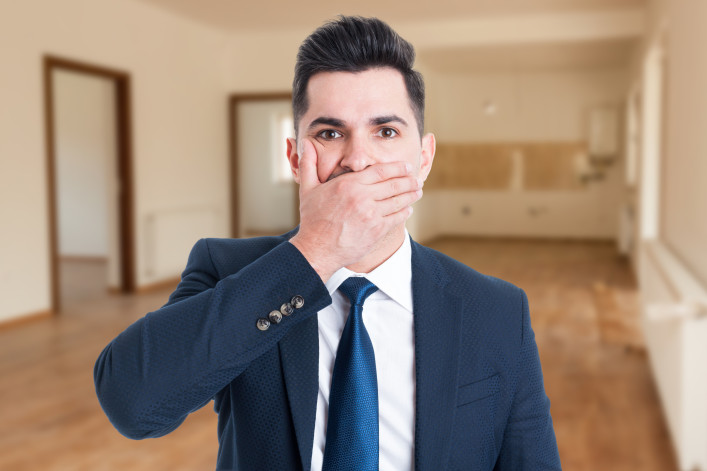 We know that a few bad brokers can spoil reputations, and imagine that most brokers are truly honest, hardworking people, not hustlers looking to push their clients into the quickest apartment rental for the highest broker fee.
[Note: This story was first posted in February 2012 and updated in May 2017.]
That said, if you are a broker, please avoid these 20 sins at all costs:
Brownsville is NOT Bushwick, Prospect-Lefferts Gardens is not the same as Prospect Heights, and Roosevelt Island is not the Upper East Side (it's a river away for goodness sakes). Don't be hesitant to accurately describe the neighborhood the apartment is actually in, since the prospective tenant is going to find out anyway. Fibbing isn't going to make your apartment rent any faster. Trust.

PLEASE DON'T USE ALL CAPS IN THE ENTIRETY OF YOUR AD. IT MAKES YOU LOOK NUTS OR SO LAZY YOU CAN'T BOTHER TO HIT THE SHIFT BUTTON.

If an apartment has a closet that houses the hot water heater and nothing else but pipes and a tank can fit in it, it is NOT a closet. Do not advertise it as such. Do not be shady and take pictures of the great row of closet doors when you know it is a completely unusable space to a tenant. 

Do not use text speak. Spell out "YOU" not "U" otherwise Imma no gonna call U. In fact, please check your spelling. And if you are in the real estate biz and think "Gramercy" is spelled "Gramarcy," quit today.

Do not say the building has laundry facilities when what you really mean is there is a laundromat a block away. 

If you have a listing for more than a few days and have not taken pictures of it, I'm skipping right by it. If it is your exclusive rental, you are an idiot for not having pictures taken and are doing a disservice to your landlord. As an apartment hunter, I need to see it.

That said, sucky pictures suck. If you can't hold a camera without shaking, hire someone who can. I understand if a unit is tenant-occupied, it is hard, but taking pictures of underwear on the floor, unmade beds or units taken at night just makes me hate you and your rental. (I do, however, think it is really cute to have the tenant's pet in the picture. Those pictures make me smile. And apparently I'm

not the only one

).

If a unit has been rented, please take it off your firm's site or add "RENTED" to the listing. I know this can be tricky and time-consuming but imagine how my heart leaps when I see the perfect listing only to realize it was posted 346 days ago. Heartbreak from Tinder I can take; heartbreak from StreetEasy I cannot. 

If it is a walk-up—particularly a sixth-floor one—say it prominently in your ad. In fact, the more descriptive and truthful you can be about EVERYTHING, the better. It will save you time from taking calls and answering questions and will save the hunter time trying to track you down to find out if there is laundry in the building or if the landlord allows big dogs. If you are not sure if it matters, assume it does. 

If you are a broker, NEVER EVER post in the By Owner Apartments Only (no broker) area of Craigslist. (And, yes, people still use Craigslist.)

Learn what a convertible is. Use the term sparingly. 

Do not list your studio—even if it also has a small alcove—as a one-bedroom. It is still a studio and you are wasting my time even reading through it.

DO NOT list a junior-four as a two-bedroom. If a room can't fit a bed, it is not a bedroom. If a room doesn't have a window, technically it is not a bedroom. 

DO NOT list a four-room railroad as a two-bedroom unless you specify one of the bedrooms must be walked through to get to the other. People looking for shares will want to know this and those who want privacy will not want to waste your time and theirs calling about this or arranging to see it. 

If you are suggesting the living room can be used as a bedroom, be clear about that. This is NOT to be advertised as a two-bedroom. A two-bedroom is a unit with two bedrooms AND a living area. 

Please, for the love of god, don't use photos of another apartment in a listing. It's unethical and sets us all up for disappointment.

If there is something odd about the apartment, like, say, a couch cannot fit through the doorway, be sure to write this on your apartment description. Someone may not think to ask and on their moving day may be stuck with moving men who can't get the couch in. This is time-consuming and expensive. It is guaranteed to result in tears and/or panic. It's called common courtesy.

Never show up to a showing on a Sunday morning when you are stoned (I know, this seems obvious, right?). A broker waked and baked and then tried to show one of us an apartment totally losing his train of thought several times, reeking of weed. 

Don't pressure your client into taking an apartment or claim there are a whole bunch of people putting in applications when they're not. Again, it's unethical. And you're much more likely to get repeat customers—hey, New Yorkers move a lot—if you don't choose these kinds of tactics.

Do not, under any circumstances, list any apartment as SEXXXY. If we wanted to live in a Swingers club we probably could find one in this city, and it would be a whole lot cheaper than your 15 percent fee.
Brick Underground articles occasionally include the expertise of, or information about, advertising partners when relevant to the story. We will never promote an advertiser's product without making the relationship clear to our readers.