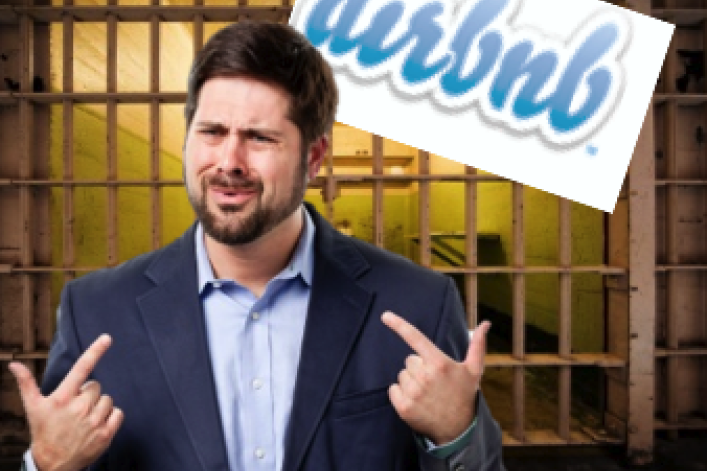 In the wake of the widely read AirBnB.com confessional posted here recently ("I made $14K on AirBnB.com at $99/night"), it has come to our attention that many of you are unaware that renting out an apartment for less than 30 days has actually been illegal in New York City since May 2011.
Websites that help find guests for your "notel" aren't exactly rushing to enlighten you, and when we pulled out the law ourselves, some important nuances eluded us--such as the penalties for getting caught hawking your studio apartment to tourists. 
We asked real estate attorney Steven Wagner of Wagner Berkow  to help pare the law down to the basics, including how it is being enforced and a semi-loophole you may or may not want to take advantage of: 
On May 1st, 2011, an amendment was passed to NYC's Multiple Dwelling Law prohibiting residents of rental, co-op or condo apartments (officially known as 'Class A multiple dwellings') from renting their apartment out for less than 30 days.  
While enforcement is largely "complaint driven" (meaning your unhappy neighbors or landlord—or undertipped doorman/super--asks the city to investigate), there is also a "multi-agency task force organized by the Mayor to curb illegal transient use of residential apartments," says Wagner. "Most recently, the police showed up at one an apartment owned by one of my clients, ostensibly to help the Department of Buildings enforce the law prohibiting transient use.  No one was at the apartment at the time, so the police left without issuing summonses or taking any other action." (Consider also this cautionary tale: An East Village renter who rented out his bedroom on Airbnb faced over $40k in fines, and eviction.)
If the city catches you, they can fine you and issue you a violation.  Fines vary, but start at $1,600 and can go up to as much as $5,000 for the first offense.  The fines increase exponentially for repeat offenders.   Also, your landlord, co-op or condo board can go to court to get an injunction preventing you from renting out your apartment illegally.   If you continue to rent out your apartment in violation of the court order, you can be brought back before the same judge and you may be fined or thrown in jail for contempt of court.  You'll also probably be responsible for the legal fees if you violate the injunction.
Renters and co-op owners can be evicted. 
Exception:  It is still legal to take in a short-term roommate, as long as you're occupying the apartment at the same time and all parts of the apartment are accessible to your paying guest.   Note, however, that while it may be legal, your lease, bylaws or house rules may contain certain restrictions such as requiring you to notify management of the presence of the additional occupants, requiring building identification, limiting the number of keys to the building or limiting the number of unrelated people who may occupy your apartment with you at one time.
Lastly, even if you're feeling lucky (or desperate), remember that in addition to the risk of fines, eviction, and bed bugs, there is a moral issue to consider before transforming your apartment into a piggy bank.
As a NYC apartment dweller explained it on a TripAdvisor discussion about the law, "I know my neighbors. I know who has keys to my building. I do not want to live in a 'hotel' with all sorts of folks coming and going. I raise my kids here, and the last thing I want is reveling vacationers when I am trying to sleep. This is an issue of both security and peace."
Recommended reading before you rent out your place:
A warning for hosts of Airbnb travelers (NY Times)
Airbnb responds to questions about local hosts breaking laws (NY Times)
Related posts:
I made $14K on AirBnB.com at $99 a night
How to get top dollar on your sublet
Related posts:
Moving to NYC? Here's a crash course in finding an apartment here
Stalled sublet - can my tenant move in anyway?
Rent Coach: Lighting a fire under the super to fix the stove; risky sublet business
Brick Underground articles occasionally include the expertise of, or information about, advertising partners when relevant to the story. We will never promote an advertiser's product without making the relationship clear to our readers.